Is 'Bones and All' streaming?
The new Timothée Chalamet romance has everyone talking, but is 'Bones and All' streaming anywhere yet?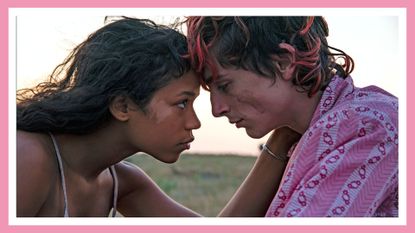 (Image credit: Yannis Drakoulidis/MGM)
The cannibal romance is getting bloody-good reviews but is Bones and All streaming yet?
Coming-of-age story meets retro road movie meets horror gore-a-thon, Bones and All marks the cinematic reunion of leading man Timothée Chalamet (Don't Look Up, Dune) and Italian filmmaker Luca Guadagnino, who directed the actor to his first Oscar nomination in Call Me By Your Name. Instead of 1980s Italy, however, it's '80s America and instead of leisurely summer days spent eating peaches, it's tense nights spent eating, uh, people. (Ironically, despite the subject matter, Armie Hammer was not included in the project.)
An adaptation of the 2015 novel of the same name by Camille DeAngelis, the film joins Chalamet with rising star Taylor Russell (Waves, Netflix's Lost in Space) as a young cannibalistic couple embarking on a road trip across the Reagan-era American Midwest. It's at times gorgeous, at times goofy and at times gory—just like regular growing up, right?
But if you want to enjoy this Chalamet title from your own home, here's all of the Bones and All streaming info you need.
Is 'Bones and All' streaming?
After having its world premiere at the Venice International Film Festival on Friday, September 2, Bones and All will have a limited theatrical release in the US starting on Friday, November 18, before its wide release five days later on Wednesday, November 23.
However, it is not yet known when Bones and All will hit streaming services, nor which specific platform it will be available on, as the title has no confirmed streaming partner.
We do know, though, that MGM nabbed worldwide distribution rights to Bones and All earlier this year. Around the same time, Amazon acquired MGM for a casual $8 billion, which means if we had to put money on it, we'd bet that if Bones and All does make its way onto a streaming platform in the next coming weeks, it'll be Amazon Prime Video. Stay tuned!
What is 'Bones and All' about?
Per the official film synopsis, Bones and All is "a story of first love between Maren (Taylor Russell), a young woman learning how to survive on the margins of society, and Lee (Timothée Chalamet), an intense and disenfranchised drifter, as they meet and join together for a thousand-mile odyssey which takes them through the back roads, hidden passages and trap doors of Ronald Reagan's America. But despite their best efforts, all roads lead back to their terrifying pasts and to a final stand that will determine whether their love can survive their otherness." Intrigued?
Despite the grisly experiences Maren and Lee have along the way, "I wasn't interested at all in the shock value, which I hate," Guadagnino told Deadline (opens in new tab). "I was interested in these people. I understood their moral struggle very deeply. I understood what was happening to them. I am not there to judge anybody. You can make a movie about cannibals if you're there in the struggle with them, and you're not codifying cannibalism as a topic or a tool for horror."
Watch the 'Bones and All' trailer:
Who is in the 'Bones and All' cast?
Timmy and Luca aren't the only Call Me By Your Name cohorts involved in the movie: yes, that's Michael Stuhlbarg you saw in the trailer, though here, he's decidedly less sweet and supportive than he was as Elio's proud papa.
Here's the full cast list and who the actors will be portraying:
Taylor Russell as Maren Yearly
Timothée Chalamet as Lee
Mark Rylance as Sully
Michael Stuhlbarg as Jake
André Holland as Frank Yearly, Maren's father
Chloë Sevigny as Janelle Kearns, Maren's mother
David Gordon Green as Brad
Jessica Harper as Barbara Kearns, Maren's grandmother
Anna Cobb as Kayla, Lee's sister
Kendle Coffey as Sherry
Looking for more movies? Here's streaming info on recent releases including Triangle of Sadness, Aftersun and My Policeman.
Bones and All is in theaters starting on Friday, November 18.
Christina Izzo is the Deputy Editor of My Imperfect Life.
More generally, she is a writer-editor covering food and drink, travel, lifestyle and culture in New York City. She was previously the Features Editor at Rachael Ray In Season and Reveal, as well as the Food & Drink Editor and chief restaurant critic at Time Out New York.
When she's not doing all that, she can probably be found eating cheese somewhere.