Is 'Vanderpump Rules' scripted, or is the Scandoval real?
Fans are questioning the validity of the Scandoval drama, but is 'Vanderpump Rules' scripted or actual reality?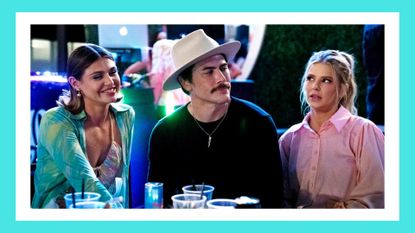 (Image credit: Nicole Weingart/Bravo)
Given the recent Scandoval shocker, it's no surprise that fans are questioning, "Is Vanderpump Rules scripted?"
After all, the much-publicized allegations that Tom Sandoval cheated on his longtime girlfriend Ariana Madix with their Pump Rules co-star Raquel Leviss is absolutely ratings gold—according to TV Deets, the first Vanderpump Rules episode to air after the cheating scandal went public was not only a season-high but also "the highest-rated episode in over two years."
But given how melodramatic everything has been in the Vanderpump universe since—Leviss recently filed a restraining order against co-star Scheana Shay after the latter allegedly punched her in the face, calling into question whether Shay will legally be allowed to attend the upcoming Vanderpump Rules reunion—many viewers are wondering if it was all staged to pump up that Pump Rules viewership.
So, is Vanderpump Rules scripted or is the reality TV show, you know, real? Here's what we know.
Is 'Vanderpump Rules' scripted or reality?
First thing first: was the Scandoval staged or is it legit? Former Vanderpump Rules star Stassi Schroeder believes the infidelity is "absolutely" real.
When asked on the March 8 episode of her podcast Straight Up With Stassi, "Is there any world in which something like this would be produced with like an EP, a very high executive at a high level, to like reignite a franchise that maybe has been having a couple of hard years?" the reality personality replied: "No, no, absolutely not."
"The thing about Vanderpump Rules that made it so great and at times so bad is that it's so real. When people say, last season sucked so bad, well that's because that was the sh*t that was really going on and just happened to not be that interesting. They're not making sh*t up for storylines. That's the beauty of Vanderpump," Schroeder said.
She continued: "I know for a fact that Tom Sandoval would never go through with something that would make him look bad just to keep the show going. He would go in planning things and he would plan before reunions...but everything was always to plan to make others look bad. He was so good at pointing to things that each of us had said and done five, six years prior that had nothing to do with anything, like, he would never go along with anything that would make himself look bad. So anyone who's saying that this is fake, no, like literally no...I just know it's not fake because I know everyone involved."
Even Vanderpump Rules leading lady and the gang's SUR boss Lisa Vanderpump herself had to weigh in on the rumors, posting on Twitter on Wednesday, March 15: "No I didn't pay cast members to sleep together for ratings #pumprules they do that on their own."
Ok no …#PumpRestaurant will be open as normal…#fake-newsOh and no I didn't pay cast members to sleep together for ratings #pumprules they do that on their own…#fake-news Have a beautiful day everybody.March 15, 2023
See more
And while the news has been a positive boost for Vanderpump Rules' rating, it has adversely impacted Sandoval's Los Angeles lounge with costar Tom Schwartz, Schwartz & Sandy's, whose Yelp page was flooded with negative reviews once word of Sandoval's unfaithfulness hit.
Things apparently got so bad that the team had to release an official statement on the bar's Instagram page on March 4: "Those of us who are not famous have dedicated our time, hearts, and money to make this restaurant a reality...please understand that the livelihoods of others also depend on this business."
However, just because the current Scandoval is seemingly legit, that doesn't mean that there aren't storylines on Vanderpump Rules that have been pumped up by producers. Former series star Jax Taylor told Us Weekly in March 2021 that the show "was getting a little bit too scripted" for him by season 8, which prompted his departure. "I just couldn't do it anymore," he said. "It wasn't fun."
And while fellow Pump Rules personality Katie Maloney did say in a 2016 Galore interview the show was "pretty not-scripted" and the cast does have an actual history together, she did note that producers "can't show everything, and they don't show everything that's positive but they definitely show everything that's negative, and that can paint people in certain lights that aren't true to form, but it still is real."
Fans are questioning the validity of #Scandoval:
Does anyone else think that from all this focus on Rachel and Scandoval that maybe Bravo knew. It just seems like it was a big focus to me. But yeah Lala was looking like a hypocrite too. Idk this all seems staged to me 🤷🏾‍♀️ #PumpRulesMarch 16, 2023
See more
If #Raquel is the "villain" This show is going down in flames 🚒🔥Still think this #Scandoval is #staged #PumpRules 🍸 pic.twitter.com/fD6beI1MRcMarch 16, 2023
See more
Im sure im not alone but im thinking #Scandoval was all staged. My theory - Ari and Tom told producers they were breaking up (reasons of their own). Producers swap Toms and implement the #ScandovalMarch 14, 2023
See more
I've entered the "I'm beginning to think it's all staged" phase of Scandoval.March 14, 2023
See more
I also thought the same. I felt for a few seconds that this whole debacle of Sandoval and Raquel affair was staged. There's not enough of the old cast to make the drama that usually happens. Last years cast was terrible so why not something shocking like an tragic affair.March 11, 2023
See more
Is this Scandoval staged for press for the show?? Like it's spinning way too far out of control for just another couple of cheaters????March 8, 2023
See more
Vanderpump Rules fans are so gullible. If U believe this "Scandoval" is not staged, you need therapy. Ariana & Tom probably broke up months ago and came up with this skit so the show could stay relevant for 2 more years... 🙄#VPRConspiracy #TeamRaquelMarch 9, 2023
See more
Don't want to miss one moment of the Vanderpump Rules drama, scripted or otherwise? Here's where can you watch Vanderpump Rules from anywhere in the world.
Christina Izzo is the Deputy Editor of My Imperfect Life.
More generally, she is a writer-editor covering food and drink, travel, lifestyle and culture in New York City. She was previously the Features Editor at Rachael Ray In Season and Reveal, as well as the Food & Drink Editor and chief restaurant critic at Time Out New York.
When she's not doing all that, she can probably be found eating cheese somewhere.