Is Will Byers gay on 'Stranger Things'? We finally have confirmation
Actor Noah Schnapp weighs in on those "Is Will Byers gay?" rumors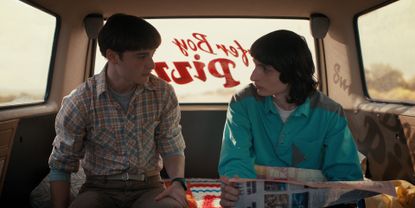 (Image credit: Netflix)
First, TV fans were wondering when we would get a Bridgerton queer character on the Regency-era hit. Now they're curious about the sexuality of another Netflix favorite: is Will Byers gay on Stranger Things?
Stranger Things season 4 premiered on the streaming platform on Friday, May 27, and the new episodes reignited a longstanding fan theory that Will Byers (played by actor Noah Schnapp) is dealing with a bit more than just getting stuck in alternate dimensions and having to fight off a new murderous monster every day of the week. He is struggling with his sexuality.
Eagle-eyed viewers have been quick to point out moments in the fourth season that seemingly back up this hypothesis, including Will's awkward reaction to attention from female classmates at Lenora Hills High School to his choice of Alan Turing (an English mathematician and computer scientist who was famously convicted of and later pardoned for his homosexuality) as his "hero" for a school project.
Another season 4 moment features an emotional chat between Will and best friend Mike Wheeler (Finn Wolfhard), during which the former reveals: "Sometimes I think it's just scary to open up like that, to say how you really feel, especially to people you care about the most because what if they don't like the truth?"
But what actually is the truth? What do we know about Will Byers' sexuality? Here's what the cast and creators have to say.
all will byers has done in seasons 3 and 4 of stranger things is walk around being sad and gay, he really is just like me frMay 28, 2022
See more
The moment when girl tried to flirt with Will 😶I immediately had gay panic vibes 🥴Will Byers is gay. He has to accept it🥺#StrangerThings4 #StrangerThings #willbyers pic.twitter.com/A6Xn6u6eB9May 27, 2022
See more
#StrangerThings if they ever became bestfriends they'd talk about their little gay crushes together like cmon pic.twitter.com/a5Iu7ytCFOMay 31, 2022
See more
Is Will Byers gay on 'Stranger Things'?
The series has never commented definitively about Will's sexuality, a move that had previously been supported by actor Noah Schnapp. "They never really address it or blatantly say how Will is," he said in a May Variety interview. "I think that's the beauty of it, that it's just up to the audience's interpretation, if it's Will kind of just refusing to grow up and growing up slower than his friends, or if he is really gay."
Castmate Millie Bobbie Brown concurred, telling the outlet: "It's 2022 and we don't have to label things."
She continued: "What's really nice about Will's character is that he's just a human being going through his own personal demons and issues. So many kids out there don't know, and that's OK. That's OK to not know. And that's OK not to label things."
However, Schnapp has since changed his tune and spoken more concretely about not only Byers' sexuality but also his character's feelings for his BFF Mike. "This season was a new thing for me. I had to explore him navigating his personal identity issues and struggling with growing up and assimilating into high school," Schnapp told Variety in a July 2022 interview.
"It's pretty clear this season that Will has feelings for Mike. They've been intentionally pulling that out over the past few seasons. Even in Season 1, they hinted at that and slowly, slowly grew that storyline," Schnapp told the outlet. In-depth discussions about Will's sexuality stretch back to season three when the character had a fight with Mike, who was choosing to spend time with his girlfriend Eleven (Brown) over Will. "It's not my fault you don't like girls!" Mike yelled at Will during the argument.
"I think for Season 4, it was just me playing this character who loves his best friend but struggles with knowing if he'll be accepted or not, and feeling like a mistake and like he doesn't belong. Will has always felt like that. All his friends, they all have girlfriends and they all fit into their different clubs. Will has never really found anywhere to fit in," the actor continued in the interview.
When asked if his earlier comments about Will's sexuality were in an effort not to spoil Stranger Things season 4 volume 2, Schnapp said: "It was always kind of there, but you never really knew, is it just him growing up slower than his friends? Now that he's gotten older, they made it a very real, obvious thing. Now it's 100% clear that he is gay and he does love Mike."
Executive producer Shawn Levy doesn't entirely rule out that Byers' sexuality might come up more explicitly in future episodes. "Without getting into where we go later in season 4 [Volume II], I guess I'll just say that there aren't many accidents on Stranger Things," Levy told Entertainment Weekly. "There is clear intention and strategy and real thought given to each and every character. So, if you came away from Volume I feeling those bread crumbs of plot and character, it's probably no accident."
All nine episodes of Stranger Things season 4 are now on Netflix.
Christina Izzo is the Deputy Editor of My Imperfect Life.
More generally, she is a writer-editor covering food and drink, travel, lifestyle and culture in New York City. She was previously the Features Editor at Rachael Ray In Season and Reveal, as well as the Food & Drink Editor and chief restaurant critic at Time Out New York.
When she's not doing all that, she can probably be found eating cheese somewhere.