Is 'Women Talking' streaming? Where to watch the Oscar-nominated film
The Claire Foy/Rooney Mara drama is a serious awards contender, but is 'Women Talking' streaming yet?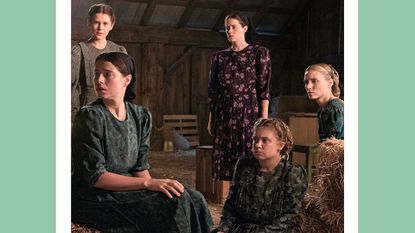 (Image credit: Michael Gibson/Orion)
It boasts the most formidable female cast of the year, but is Women Talking streaming yet?
Like films such as Babylon, Top Gun: Maverick and Triangle of Sadness, Women Talking is nominated for multiple Academy Awards this year, including Best Picture and Best Adapted Screenplay, and the cast—led by The Crown's Claire Foy and Nightmare Alley's Rooney Mara—already won the Robert Altman Award for Best Ensemble at the 2023 Independent Spirit Awards
Directed by Sarah Polley and inspired by the 2018 novel of the same name, the buzzy all-star drama follows a group of women living in a religious colony and raging against a patriarchal society that's turned radical and violent. (If you're getting The Handmaid's Tale vibes, you're not the only one.)
But can you watch Women Talking from home? Here's all of the streaming info you need.
Is 'Women Talking' streaming?
Women Talking is streaming on a subscription platform, but for a limited time only! To celebrate its Oscar nominations, the gripping indie drama will be available to view on Prime Video until Sunday, March 12—the date of the awards show ceremony—at 9pm PT/12am ET.
That means that you will need an Amazon Prime Video subscription to view Women Talking during Oscars weekend. Current Prime Video membership is $8.99 per month, or gain Prime Video access with a general Amazon Prime membership ($14.99 per month or $139 annually.)
After having its world premiere at the Telluride Film Festival on September 2, Women Talking began a limited theatrical release in North America on Friday, December 23, with a wide release on Friday, January 20. Aside from the Prime Video promotion, there is no official date set yet for a streaming release of Women Talking, but it is currently available to rent or purchase from digital retailers like Amazon, Apple TV, and Vudu.
'Women Talking' plot: what is it about?
"Women in an isolated religious colony struggle to reconcile with their faith after a series of sexual assaults," reads the official synopsis of Women Talking. The eight women—from young girls and new mothers to family elders—must decide to stay and fight, or leave the corrupt community once and for all.
"In Women Talking, a group of women, many of whom disagree on essential things, have a conversation to figure out how they might move forward together to build a better world for themselves and their children," Polley said in a statement. "Though the backstory behind the events in Women Talking is violent, the film is not. We never see the violence that the women have experienced. We see only short glimpses of the aftermath. Instead, we watch a community of women come together as they must decide, in a very short space of time, what their collective response will be."
Is 'Women Talking' a true story?
*Trigger warning: sexual assault and violence*
Both the book and film Women Talking was reportedly inspired by real-life events that occurred at the remote Manitoba Colony, an ultraconservative Mennonite community in eastern Bolivia.
For years, women were raped persistently by eight colony men while they slept; the horrific acts in the small Christian community were attributed to hallucinations or even demons, but really the males were using animal anesthetic to drug the women and render them unconscious.
The men were caught in 2009 and put on trial in 2011 when they were convicted of the rape and sexual assault of more than 130 townswomen and girls, though the true number of victims is thought to be much higher. The rapists were each sentenced to 25 years.
Who's who in the 'Women Talking' cast?
Rooney Mara as Ona
Claire Foy as Salome
Jessie Buckley as Mariche
Judith Ivey as Agata
Ben Whishaw as August Epp
Frances McDormand as "Scarface" Janz
Sheila McCarthy as Greta
Michelle McLeod as Mejal
Kate Hallett as Autje
Liv McNeil as Nietje
Emily Mitchell as Miep
Kira Guloien as Anna
Shayla Brown as Helena
August Winter as Nettie / Melvin
Watch the 'Women Talking' trailer:
Buy the 'Women Talking' book:
---
"When I read Miriam Toews' book, it sunk deep into me, raising questions and thoughts about the world I live in that I had never articulated. Questions about forgiveness, faith, systems of power, trauma, healing, culpability, community, and self-determination. It also left me bewilderingly hopeful," director Sarah Polley said in a statement about the 2018 novel by the ex-Mennonite author.
"I imagined this film in the realm of a fable. While the story in the film is specific to a small religious community, I felt that it needed a large canvas, an epic scope through which to reflect the enormity and universality of the questions raised in the film. To this end, it felt imperative that the visual language of the film breathe and expand. I wanted to feel in every frame the endless potential and possibility contained in a conversation about how to remake a broken world."
Christina Izzo is the Deputy Editor of My Imperfect Life.
More generally, she is a writer-editor covering food and drink, travel, lifestyle and culture in New York City. She was previously the Features Editor at Rachael Ray In Season and Reveal, as well as the Food & Drink Editor and chief restaurant critic at Time Out New York.
When she's not doing all that, she can probably be found eating cheese somewhere.