Yes, we're getting 'The Handmaid's Tale' season 6—here's everything we know so far
Season five just ended but 'The Handmaid's Tale' season 6 has already been picked up. Praise be!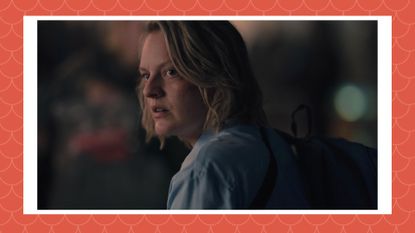 (Image credit: Russ Martin/Hulu)
Blessed be the fruit! Before The Handmaid's Tale season 5 even premiered on Hulu—the fifth edition debuted with a two-part premiere on Wednesday, September 14 and ended with a finale episode on Wednesday, November 9—we got word of the potential for The Handmaid's Tale season 6.
Adapted from the seminal 1985 novel by Margaret Atwood, the Emmy-winning dystopian drama stars Elisabeth Moss as June Osbourne, an American woman captured and forced to live as a "handmaid," a natal slave in a totalitarian Christian regime known as the Republic of Gilead.
At the end of The Handmaid's Tale season 4 (*spoilers ahead!*), Moss's June finally got her revenge on Commander Fred Waterford (Joseph Fiennes), one of the men who founded Gilead and the head of the household where June was enslaved as a handmaid. In No Man's Land—a free territory between Gilead and Canada, the latter of which June and other escaped handmaids have been living as refugees—June, Emily (Alexis Bledel) and a mob of women savagely beat the commander to death.
The show's fifth season dealt with the consequences of June's actions on not only her life but on those around her, including her husband Luke Bankole (O-T Fagbenle) and Fred's widow Serena Joy Waterford (Yvonne Strahovski). But what will season six have in store? Here's what we know so far.
'The Handmaid's Tale' season 6: what we know
On Wednesday, September 8, The Handmaid's Tale creator and showrunner Bruce Miller announced at the season five premiere event at the Toronto International Film Festival that the series had been picked up for a sixth season. It will also be the show's last.
"It has been a true honor to tell the story of Margaret Atwood's groundbreaking novel and chillingly relevant world, and we are thrilled to bring viewers a sixth and final season of 'The Handmaid's Tale,'" Miller announced, per Variety. "We are grateful to Hulu and MGM for allowing us to tell this story, which unfortunately has remained as relevant as ever throughout its run, and are in awe of our incredible fans for their unwavering support, and without whom we never would have gotten to this point."
Craig Erwich, president of ABC Entertainment, Hulu and Disney Branded Television Streaming Originals, added: "Five years ago, almost to the day, 'The Handmaid's Tale' made history when it became the first show to win an Emmy for a streaming service. In the time since, it has been a privilege and pleasure to work with some of the finest creative talent in our industry on this show—a distinct and exceptional group of people who continue to produce the highest quality television that has made and continues to make significant cultural impact."
"We have a very exciting announcement to bring you today," star Elisabeth Moss introduced in a post on September 9 on the show's official Instagram page. Fellow cast members including Yvonne Strahovski, Amanda Brugel, O.T. Fagbenle, Bradley Whitford, Samira Wiley, Max Minghella, Ann Dowd and Sam Jaeger then take turns reciting: "When we started this journey in season 1, we bore no more. In season 2, we reclaimed our name. In season 3, we set ourselves free. In season 4, we preyed together. In season 5, you'll see how some sins can't be washed away. And as to season six, our sixth and final season, well, you'll just have to wait and see. We can't thank you enough for supporting the show over the years. Much love to you all. Under his eye."
Do we know 'The Handmaid's Tale' season 6 release date yet?
As the fifth season has only just ended on Wednesday, November 9, an official release date has not be given thus far for the upcoming sixth season.
'The Handmaid's Tale' season 6 cast: who will return?
Like the official release date, cast information is scant for The Handmaid's Tale season 6; however, we would expect the following main actors to return for the sixth and final season:
Elisabeth Moss as June Osborne
Yvonne Strahovski as Serena Joy Waterford
Ann Dowd as Aunt Lydia
O-T Fagbenle as Luke
Samira Wiley as Moira
Max Minghella as Nick
Bradley Whitford as Commander Lawrence
Amanda Brugel as Rita
We already know that Alexis Bledel has stepped away from The Handmaid's Tale, so we won't be expecting to hear from her character Emily in season six. Also up in the air is the fate of Madeline Brewer's Janine, who is last season in the fifth season being hauled off by the Eyes from Commander Lawrence's house after ragefully dressing down his new wife Naomi Putnam, the very woman who took Janine's child as her own. Is this the last we'll see of the handmaid?
What will 'The Handmaid's Tale' season 6 be about?
"We're going to wrap it up on our own terms," Miller told Digital Spy about the show's final season. "It's something we never get with just the way the business is set up. And also, more importantly, not something everyone would give to the audience."
He added: "The book is so frustrating at the end, because the book just ends. And everybody's like, 'How could you, Bruce Miller… Who do you think you are, writing more?' I'm like, 'Oh my God, it's all I've ever wanted to do, to write the rest.'"
Will there be a 'Handmaid's Tale' sequel?
Another season is not the only good news: Miller also announced that he is "actively developing" a follow-up series that will be based on Atwood's 2019 novel The Testaments, a sequel book set 15 years after the events of The Handmaid's Tale.
The Testaments features some characters from the previous book, including June's daughter Hannah, known as Agnes in Gilead, and the brutally devout Aunt Lydia. Might that mean we'll see the terrifically terrifying Ann Dowd again? Here's hoping!
All episodes of The Handmaid's Tale season 5 are now streaming on Hulu.
Christina Izzo is the Deputy Editor of My Imperfect Life.
More generally, she is a writer-editor covering food and drink, travel, lifestyle and culture in New York City. She was previously the Features Editor at Rachael Ray In Season and Reveal, as well as the Food & Drink Editor and chief restaurant critic at Time Out New York.
When she's not doing all that, she can probably be found eating cheese somewhere.