Who is Jackson James White? Get to know the star of Hulu's 'Tell Me Lies'
You know his mom (and his girlfriend), but who is Jackson James White? What we know about the rising star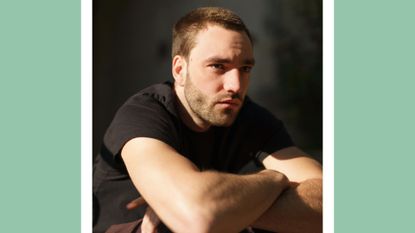 (Image credit: Josh Stringer/Hulu)
You've met Stephen DeMarco—now meet the actor who plays him, Jackson James White.
White is the leading man of Tell Me Lies, Hulu's adaptation of the best-selling Carola Lovering book of the same name, which capped off its first season on Wednesday, October 26. White's Stephen is an attractive, charming, gaslighting, potentially murderous contradiction of a college student who engages in "a tumultuous but intoxicating relationship" with freshman Lucy, played by Grace Van Patten. (Look for the dating green flags, Lucy, not the red ones!)
That's a lot for an actor to juggle, a challenge that White dug into in a recent Esquire interview: "Playing a pretty locked-up, repressed character created a lot of tension in me, a lot of physical tension, emotional tension. I felt very closed off. In real life I'm a really expressive, talkative, emotional person. I talk about everything, I'm very extroverted, and this dude is so locked up and secretive." he said.
"It was hard to take off that backpack at the end of the day and be like, 'Wait, I'm me. I'm cool. I'm relaxed,' White continued. "You get so tired being Steven DeMarco, holding all these secrets, and not moving your f**king face."
But before you see Stephen's toxic ways in Tell Me Lies, let's get to know actor Jackson James White and find out where we've seen him before.
Who is Jackson James White?
Born on March 1, 1996, 26-year-old Jackson James White is an American actor hailing from Los Angeles, California. He has been acting since 2016 and is known for his roles in film and television.
Where have you seen Jackson White before?
Prior to starring in Tell Me Lies on Hulu, Jackson James White appeared as Brendan Fletcher opposite Kathryn Hahn in the HBO miniseries Mrs. Fletcher, as well as in films like 2021's The Space Between and 2022's Ambulance.
Who are Jackson White's parents?
Acting runs in the family: Jackson James White's mom is Katey Sagal, the Golden Globe-winning actress best known for her roles as Peggy Bundy on Married...with Children, Gemma Teller Morrow on Sons of Anarchy and, most recently, as Louise Goldufski-Conner on The Conners.
White's father is Jack White—no, not "Jack White, lead singer of The White Stripes" Jack White. We're talking about tour drummer Jack White, who Sagal was married to from 1993 to 2000 and who played with musical acts like Steppenwolf, Redbone and Rick Springfield.
Jackson actually wanted to follow in his father's footsteps, even studying music at the University of Southern California. "I was a drum major and I hated it," White told People. "I was so distracted and all over the place, I was barely taking any regular classes...I got to college and I realized that I wanted discipline... something structured that I had to be accountable for." He adds: "Acting was the thing that let me do that."
Jackson White's sister, Sarah Grace White, is also in the entertainment industry, having acted in series like Rebel, NCIS and The Bastard Executioner.
In fact, one of White's relatives appears in Tell Me Lies—but we don't want to spoil things if you're not all caught up on the Hulu hit. Of the familial cameo, White told The Independent Tribune: "It was intimidating because I didn't want to be so passive-aggressive to her. I think we're pretty good friends and I realized that it was hard to be so mean to each other."
Jackson James White and Grace Van Patten
With all of the intimate scenes between them, it's no surprise that Tell Me Lies' two lead actors, Grace Van Patten and Jackson James White, quickly became friends—and even sparked some IRL dating rumors between them.
"Jackson and I were so comfortable with each other instantly," Van Patten told The Independent Tribune. "We talked about (those scenes) with (producers Karah Preiss and Meaghan Oppenheimer). Knowing exactly what the dynamic was made it feel very safe."
In his Esquire interview, White says of his co-star: "Grace is...what's the word? Enigmatic. She's my age, but she acts as if she's been working for 30 years. She's so professional and good at being on set. It was almost weird. You see someone her age conducting herself in this really mature way, and it just set the tone. We were all just following her lead. Or I felt I was following her lead."
See Jackson James White in Tell Me Lies season one, streaming on Hulu.
Christina Izzo is the Deputy Editor of My Imperfect Life.
More generally, she is a writer-editor covering food and drink, travel, lifestyle and culture in New York City. She was previously the Features Editor at Rachael Ray In Season and Reveal, as well as the Food & Drink Editor and chief restaurant critic at Time Out New York.
When she's not doing all that, she can probably be found eating cheese somewhere.