Did James cheat on Ryann from 'The Ultimatum' season 2?
What happened between James and Ryann on 'The Ultimatum: Marry or Move On'? Here's what we know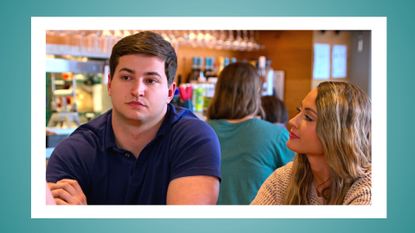 (Image credit: Netflix)
One couple has already dropped out of The Ultimatum season 2—will James and Ryann be joining them?
The reality dating show, which is co-hosted by Nick and Vanessa Lachey, sees established couples put themselves to the ultimate test as they temporarily break up and recouple with someone new for a three-week trial marriage. During that time, the new The Ultimatum couples will move in together and get to know each other's friends and families.
If that wasn't crazy enough, after three weeks, the contestants then return to their original partners to work through any existing issues and compare their experiences before the finale sees them deciding to get engaged to their original partner, couple up with someone they met on the show or leave the series single.
As you can imagine during the experiment, there were lots of revelations told, dramas unfolded and, of course, love felt. This season has seen almost every couple struggle massively, particularly high-school sweethearts James Morris and Ryann McCracken, as Ryann builds a strong connection with her trial husband Trey Brunson.
During James' trial marriage with Riah Nelson, he delves in deep when explaining where a lot of his and Ryann issues come from. But has he ever cheated on Ryann? And where do things stand now between them? Here's what we know.
Why did James and Ryann go on 'The Ultimatum'?
James and Ryann are high-school sweethearts and after nearly seven years together, Ryann wants to get married.
They are pretty much the high school cliché: she is a former prom queen and he a former football player, who started dating at 16 years old. However, they have faced a few issues a long the way including problems with communication and trust, which only worsened when James went to another state for five and a half years for school.
Ryann issued an ultimatum to James because she feels that after seven years, he should be certain that he wants to be with her forever and if he doesn't then she's ready to leave. For James, his hesitancy comes from not being fully open with Ryann about his past and wanting to be more financially stable.
Did James cheat on Ryann from 'The Ultimatum'?
During the series, James slowly opens up a bit about his past and his relationship with Ryann. During drinks with the guys halfway through the experiment, he admits to Trey that Ryann is not his first love and also not the only person he's been with, even though he is hers. This brings clarity as to one of the reasons Ryann and James suffer from trust issues in their relationship.
In episode three after the choice ceremony, James starts to have doubts about the experiment and admits that prior to the ceremony, he wasn't worried about Ryann leaving him but after hearing how Trey spoke about her, it has become a real concern. He also reveals that it's the first time "he feels truly apart from her" despite them living apart for five and a half years.
At the debrief before the changeover back to their original partners, Ryann reveals that if she and Trey were to get married it would be good and fun. As you can expect, James didn't like the idea of Ryann spending time with someone else but he admitted that it doesn't make him mad because he wants what is best for her and if that ends up being Trey, he will accept it.
Do James and Ryann get engaged on 'The Ultimatum'?
That is yet to be seen but from the way James has spoken about Ryann throughout the experience so far, we would place a solid bet that he does propose to her. The main question is whether or not she accepts because of her strong connection with Trey. We also can't forget about that long argument they had in episode seven over James feeling triggered by something Ryann did and him also not being able to apologize when he's wrong.
The preview for the remaining two episodes of The Ultimatum season 2 sees James continue to question whether or not he is good enough for Ryann, with Ryann saying in a confessional that he isn't ready to make the next step.
The first eight episodes of The Ultimatum season 2 are now available to stream on Netflix.
Liv is a freelance journalist currently studying English at university. She loves covering everything from entertainment and politics to lifestyle and travel. As well as writing for My Imperfect Life, Liv has bylines in The Times, HuffPost, Den of Geek, Bustle The Metro and The Bookseller.