Are you suffering from 'January Face'?
Here's how to reset your skin for 2022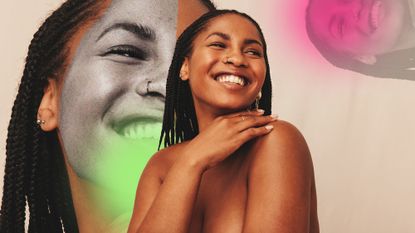 (Image credit: Getty Images / Jacoblund)
If the last few weeks have been a whirlwind of excessive drinking, eating, and (whisper it) sleeping in your makeup, your skin probably looks as deflated as a party balloon. The holidays are filled with bad habits—too much wine, cheese, sugar, and late nights—which show up on your skin, leaving it looking dull and wrinkly, not to mention pimply and irritated.
Which face are you and how do you undo the damage? Read on for our pro-backed tips…
---
---
1. Wine face
Alcohol is a prolific skin saboteur. Skin-care expert and aesthetician, Dr. Elizabeth Hawkes, says: "Alcohol causes blood vessels to dilate, which can make the complexion appear flushed and rosacea look worse. It is also a diuretic, so wine and spirits can force water out of your body and make it more difficult to rehydrate afterwards. Consequently, drinking too much alcohol will leave you with dry, flaky skin, more visible lines, and a dull pallor."
It's also worth noting that alcohol can deplete the healthy bacteria in the gut. Hawkes explains: "This good bacteria helps to regulate the immune system and stave off inflammatory conditions such as eczema. It's one of the key reasons alcohol often results in breakouts and increased skin irritations."
How to treat wine face:
Given alcohol disrupts the skin barrier, focus on gentle, repairing ingredients that shuttle moisture back into the skin.
Barrier creams are an excellent option as these unusually thick unguents allow the skin to heal any tears in its barrier and lock in water. Try Elizabeth Arden Eight Hour Cream Skin Protectant or Murad Intense Recovery Cream, which is rich in shea butter and mirabilis jalapa extract to minimize redness. Another approach is to pair a hyaluronic acid serum with Dr Jart+ Ceramidin Cream as ceramides are lipids that make up 50 percent of your skin's structure and keep the barrier strong.
If your cleanser leaves skin feeling taut, switch to a cold cream instead. Cult-favorite The Seated Queen The Cold Cream is a cleansing lotion/balm hybrid and has the added benefit of feeling deliciously cool on parched, irritated skin. Also involve healthy oils such as anti-inflammatory omega 3s from oily fish such as salmon, as well as chia and flax seeds, in your diet. Steer clear of harsh, stripping actives such as retinol and glycolic acid until skin is back on an even keel.
2. Sugar face
Cocktails can be a sly villain, too, as many are laced with sugar and rate high on the glycaemic index (GI) as they rapidly raise blood sugar levels. Combined with alcohol, the sweet stuff creates a perfect storm for inflammation and causes the body to release insulin. According to Hawkes, a knock-on effect is increased activity in the sebaceous glands, leading to acne. Plus, sugar can have a negative effect on our digestion, which means we may not be naturally detoxing as well as we could—something that inevitably shows up as angry, spotty skin.
As if that weren't bad enough, skin also has to contend with the aging side effects of sugar when it binds to collagen—the protein that keeps the mattress of the skin springy. Hawkes explains: "Glucose and fructose affect the amino acids in collagen and elastin. The sugar reacts with protein creating a process called glycation [also known as AGEs], which breaks down collagen and elastin fibers, resulting in the appearance of lines and wrinkles."
How to treat sugar face:
If breakouts are an issue, spot treat with salicylic acid, which purges pores of blockages, or succinic acid, an antimicrobial agent that controls bacteria on the skin. We love The Inkey List Succinic Acid Blemish Treatment for its blend of succinic, salicylic, and hyaluronic acids to calm blemishes without drying out the skin. While glycation can't be completely stopped, the antioxidant blueberry extract has been shown to interfere with the process so slather skin in the SkinCeuticals A.G.E Interrupter.
3. Cheese Face
Dairy products, including cheese, have become increasingly demonised as the cause for increased oil production, blocked pores and acne. The subject is still divisive but, says Hawkes, if you've gorged on a lot of cheese platters you're more likely to be suffering from a puffy face: "Some types of cheese contain high levels of sodium, which can result in bloating." Blue cheese, Romano, Parmesan, Roquefort and Feta are the main culprits for excess fluid retention in the body, averaging between 980 to 1,375mg of sodium per 100g.
How to treat cheese face:
In the same way that a bag of frozen peas dials down swelling, a cryotherapy tool such as Nurse Jamie's Super-Cryo Massaging Orb uses low temperatures to constrict blood vessels, ease inflammation and drain fluid build-up. The Kardashians' skin guru Nurse Jamie recommends the following quick fix: "Place the massaging orb in the refrigerator for 30 to 60 minutes. Then gently press and roll it under the eye area, starting from the inside of your face moving towards the outside. Do the same from the middle area of your cheeks."
If you're tempted to go 'dairy-free', be cautious about the plant milk you switch to, as it may not be better for your skin. Oat milk, for example, is a high GI food due to the sugar maltose and there is evidence that food high in sugar can trigger acne.
4. Zero sleep face
Our cells use the time we sleep to repair and renew themselves. Specifically, cell renewal—a vital process for sprucing up skin—is eight times faster between the hours of 10pm and 2am than in the middle of the day.
If you've been binging on Netflix boxsets until the early hours, you may want to consider research by Estée Lauder scientists, which found that blue light can disrupt the skin's circadian rhythm. "Results indicate that exposure to blue light at night can cause skin cells to continue to 'think' it is daytime, impacting their natural nighttime repair process," says Dr. Nadine Pernodet, scientific spokesperson for The Estée Lauder Companies. Likewise, sleeping in your makeup won't stop cell renewal, but it does make the growth hormones that push new cells up to the skin's surface less efficient.
Lack of sleep causes a surge of stress hormones, too. Cortisol weakens the skin barrier and depletes it of water, lipids and ceramides. It also exacerbates underlying skin conditions such as eczema, causing patches of dry, itchy skin to bloom across the body.
How to treat zero sleep face:
If you want to assist your skin's recovery process, it makes sense to get eight hours' sleep and use that time to flood skin with transformative ingredients.
Estee Lauder Advanced Night Repair Synchronized Multi-Recovery Complex boosts cells' own natural renewal and collagen-producing mechanisms that kick in overnight. If dry skin is an issue, opt for serums brimming with squalane, an emollient that is similar to skin's own sebum, or hyaluronic acid, which can hold up to 1000 times its weight in water and works on all skin types. Dull skin is no match for a vitamin C serum such as Paula's Choice C15 Super Booster, which gives skin a supercharged glow, an even tone and stimulates collagen production for additional smoothness.
Fiona Embleton is a multi-award-winning beauty editor who has tested over 10,000 products in her 10 years + of writing and shooting beauty stories. For the past four years, she was the Senior Beauty Editor at Marie Claire, having previously worked in the role of Beauty Editor at both Stylist and Cosmopolitan. She has recently gone freelance and alongside My Imperfect Life, she has written for titles including ELLE UK, ELLE Canada, Buro 247, Harper's Bazaar Arabia, Vogue Scandinavia, and ES Magazine. Beauty journalism allowed her to marry up her first-class degree in English Literature and Language (she's a stickler for grammar and a self-confessed ingredients geek) with a passion for make-up and skincare, photography, and catwalk trends. She loves jumping on the latest internet-breaking beauty news, dissecting the best red carpet looks, and having the crème de la crème of dermatologists, make-up artists, and hairstylists on speed dial so she can tap them for the best advice. She's a discerning beauty shopper and knows it can be confusing trying to navigate what's hype and what really works. So if she really likes something, you can trust that she has reached that opinion by vetting it against everything else she's ever tried. Her career highs? Interviewing Cate Blanchett and winning a Jasmine Award for the deeply personal feature Cancer Stole My Mother's Scent.