Best jewelry candles: our top picks of these two-for-one gifts
Get some sparkle AND scent with these jewelry candles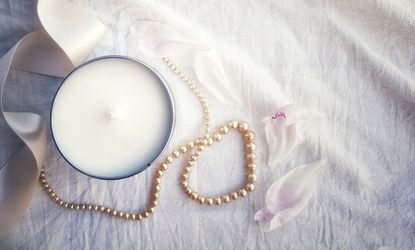 (Image credit: Photo by James Guilliam/EyeEm/Getty Images)
There's a new trend popping up and it involves two of our favorite things: jewelry candles. Jewelry and candles might not be the most obvious combination, but there's a host of these sets popping up that pair the best scented candles with glitzy accessories, and they're sure to make great gifts for family and friends.

Here's everything you need to know about jewelry candles, and where you can buy them.
What are jewelry candles?
Essentially, a candle with some jewelry hidden inside. Brand Anni Edwards (opens in new tab) describes it as a "dynamic mix of two amazing gifts".
When you burn your candle, it'll melt to reveal a gold foil package containing a jewelry surprise, like a ring, charm, necklace or a bracelet.
Jewelry candles you can buy right now
Baked Apple Pie by Jewelry Candle
Best for fall lovers
Specifications
Price : $24.99
Top notes: Sugar, spice
Reasons to buy
+
Smells like a pie fresh from the oven
+
You can choose to be surprised by the jewelry inside, or know exactly what you're getting
+
10 jewelry options to choose from
Reasons to avoid
-
Not the most sophisticated on the outside
This candle from Jewelry Candles offers a budget-friendly gift option. Every piece of jewelry inside is unique and they range in value from $10 right up to $7,500. You can choose which piece of jewelry you want—either a bracelet, necklace or ring, with options for different sizes. And if a piece of jewelry doesn't strike your fancy, this brand also offers cash candles, with the lowest value being $2 and the highest $2,500.
Paw Candle from Charmed Aroma
Best for pup parents
Specifications
Price : $31.99
Top notes: Sweet berries, warm vanilla and sweet musk
Reasons to buy
+
Includes a sterling silver paw ring
+
You can choose your size of ring - between 5-10
+
Two-wick candle
+
10-percent of proceeds are donated to local animal shelters
Reasons to avoid
-
Avoid if you're not an animal fan
-
You're guaranteed to get a ring, rather than any other form of jewellery
This paw ring jewelry candle is one for the animal lovers, and is inspired by "the warmth of wagging tails, unconditional love, and fur-ever companions". Not a dog lover? Charmed Aromas also has penguin-shaped candles with necklace pairings, or for Disney lovers, Mickey Mouse candles which mouse-themed rings.
Lavender Candle from Jackpot Candles
Best for the sophisticated type
Specifications
Price: $24.95
Top notes : Lavender
Reasons to buy
+
More muted outside for a more sophisticated look
+
Each jewelry item is valued between $15-5,000
+
A light aroma
+
A "classic" style ring
Reasons to avoid
-
Choose between four sizes of ring, which is less compared to other brands
The lavender candle boasts more of a subdued appearance and classic style. The brand offers many common candle scents, including lilac, eucalyptus and "ocean breeze". However, there are plenty of seasonal options, too, with birthday cake and pumpkin spice varieties also available. They also offer wooden wick candles.
Kate Bissett Baubles Camp Fire Candle
Best for necklace lovers
Specifications
Price: $26.99
Top notes: Cedarwood, sandalwood and amber with blackberry merlot and marshmallow
Reasons to buy
+
Each candle contains a piece of jewelry valued between $25 and $7,500
+
Simple and pretty exterior design
+
Six size choices of ring, or the option of a pendant or earrings
Reasons to avoid
-
A lot of choices of jewelry for those who can't decide, and no "surprise" option
This candle collection features butterscotch chai latte, spiced pear and pumpkin swirl flavors for anyone who needs their autumn fix. The scent is intended to be calming and stress relieving, and each candle is hand-poured.
Beth Gault is a freelance journalist and editor. She is the former news editor at fashion magazine Drapers and has written for multiple titles across lifestyle and business media, including GoodtoKnow and Woman's Own. She loves chatting about ending period poverty, is a self-confessed coffee snob, and is never one to turn down a good book.