8 Christmas gift ideas for your girlfriend that we know she'll love
Looking for Christmas gift ideas for your girlfriend? We've got all the inspiration you need…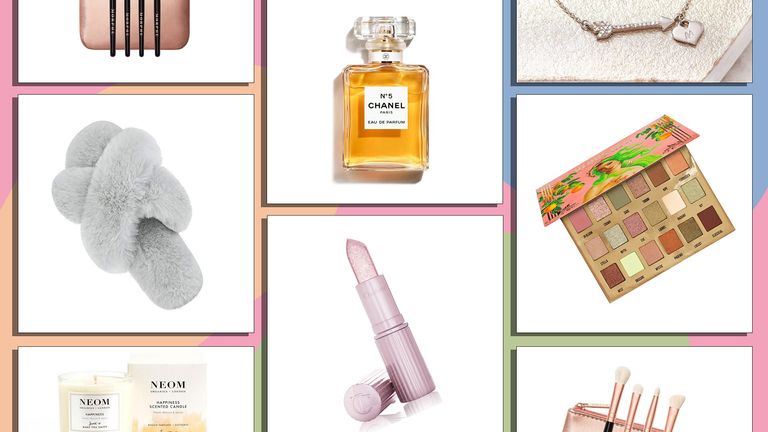 (Image credit: Morphe / Chanel / Claudette Worters / DL / Charlotte Tilbury / Lime Crime / Neom )
On the hunt for Christmas gift ideas for your girlfriend? You've come to the right place. Shopping for Christmas gifts in 2020 is no doubt a little harder than usual. Not only do you have to consider all the pandemic restrictions when you're out and about like social distancing and wearing a mask, but all the stores are a lot more hectic than usual - and that's saying something. 
Anyone attempting to shop at the mall or on the high street will have to set aside a couple of hours for each store visit considering the size of the giant queues. And on top of all of that, there is of course the most important thing to consider: the actual present. 
Sometimes, it is those closest to us that we struggle to buy Christmas gifts for the most. Not because we don't know them as well as we should or because of a lack of attentiveness but the opposite. We all want to be the person who gets our partner the best present and with that can come pressure. Luckily, we're here to make the entire process all the more easy by inspiring some Christmas gift ideas that we know your girlfriend will love. 
From all the best skincare and make-up, to comfy loungewear and all sorts of other things that'll put a smile on her face. You just have to take your pick… 
Christmas gift ideas for your girlfriend
DL Womens Cross Band Soft Plush Slippers Furry Fleece Slip on Slippers Open Toe House Shoes Slides for Indoor Outdoor
A cosy loungewear essential
Now that loungewear has become the most used clothes in our wardrobes, a nice and comfy pair of slippers are the new equivalent to a chic pair of boots or a gorgeous pair of stilettos. The special woman in your life will love anything that makes her time at home a little more cosy and these soft plush fuzzy fleece slippers will definitely do the job. 
Claudette Worters Arrow necklace personalised diamond necklace
A sentimental gift just for her
Personalised gifts are always a good idea as they make everything feel a bit more special. And when you add jewelry to the mix, you're immediately on to a win. The sentimental value of a necklace paired with the power of an engraved message or initial makes this the perfect gift for your significant other.  
Lunear 9Ct Gold Leaf Huggie Hoops - Huggy Solid Vine Leaves Jewellery Tiny Huggies Earrings
Super cute and trendy
If your girlfriend is into ear candy and loves a trip to the piercing parlour than these cute huggie earrings will be right up her street.  Made with 9ct gold and designed as beautifully sparkly leaves, they add a lovely touch to every day outfits. 
Neom Organics Happiness candle
Because who doesn't like happiness?
Neom's Happiness Candle is designed to bring a positive aroma to your home. It's made of a 100% natural fragrance which blends seven delicious essential oils including white neroli, woody and powdery mimosa and zingy lemon. Yum! 
You can also check more of our top tried and tested best scented candles.
Charlotte Tilbury Glowgasm Lips in Glittergasm
A limited edition lip balm-lipstick hybrid for a signature color
Charlotte Tilbury is the queen of lipsticks and her latest launch does not disappoint. Available for a limited time only, your girlfriend is bound to be impressed if you get her this latest addition to the Glowgasm Lips collection which is a perfectly pink shade with a finish that's like a wash of crystalline shine. 
Lime Crime Eye Shadow Pallette
Perfect sparkles for the festive season
Lime Crime's Venus eye shadow collection is a cult favourite and this particular palette is gorgeous. Made up of matte, metallic, and shimmer shades its perfect for the festive season and each shade features a soft, creamy finish. 
Chanel No5 Parfum Bottle
A timeless scent
You can never go wrong with a classic scent, so why not gift your girlfriend a chic bottle of Chanel No5? The gorgeous fragrance is timeless and deserves a spot on every woman's dressing table. 
Morphe Rosé Play Mini Eye Brush Set + Bag
Both beautiful and soft
Loved by influencers and celebrities, Morphe's brushes are known as some of the best the beauty industry has to offer. The brand's eye shadow brush set is a beautiful shade of rosé and comes complete with a small shadow brush, oval fluff brush, pointed crease brush, chisel angle brush and an 'on-the-glow' bag. It makes for an incredibly cute gift set.
Sagal is a journalist, specialising in lifestyle, pop culture, fashion and beauty.  She has written for a number of publications including Vogue, Glamour, Stylist, Evening Standard, Bustle, You Magazine, Dazed and Wonderland to name a few.