15 best gifts for Taurus—the Zodiac's most affectionate sign
The perfect gifts for Taurus signs are all about self-care attention, comfy vibes and a touch of luxury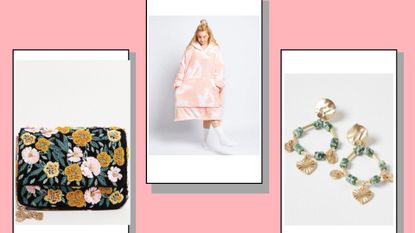 (Image credit: Future)
These Earth personalities, born between April 20 and May 20, are the Zodiac's gentler sign—they like to curl up and get cosy, appreciate thoughtfulness and are prone to indulging in luxury, which can make buying unique gifts for Taurus signs quite difficult.
The best astrology gifts are always a good choice, as are products that can add to their self-care routine—from the best scented candles to skincare routine nourishment staples. Astrology expert Noush Joon (opens in new tab), from Girl and her Moon (opens in new tab), described this soft sign as "a little gentler and a little more grounded" than the more energetic signs in the constellation. So, what presents will be appreciated?
Narayana Montúfar (opens in new tab), author of Moon Signs: Unlock Your Luminary Power, emphasises the heightened sensory instinct of this sign, recommending that you gift them treats like "gift cards to their favorite restaurant, a cookbook they've been eyeballing, and even a mixology bartending set"—but, failing that, she maintains that a good comfy blanket will always be a winner. If you're in need of some guidance for the perfect gifts for Taurus signs, here are 15 amazing options that will make this gentle sign feel truly appreciated.
Meet the experts on gifts for Taurus
Noush Joon (opens in new tab) is an intuitive astrologer at astrology website Girl and her Moon (opens in new tab) who specializes in properties of nature, human psychology, energy healing and self-development.
Narayana Montúfar (opens in new tab)is a senior astrologer for Astrology.com (opens in new tab) who specializes in birth charts.
Best gifts for Taurus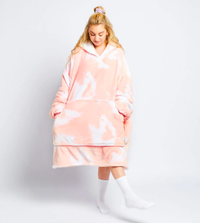 (opens in new tab)
1. The Oodie in peach tie-dye
RRP: $109/£84
Both of our experts recommend that Taurus signs will appreciate a cosy blanket—but their love of feeling comfortable is well-known, so it's likely that they've already got quite the collection.
Gift something a little bit different with the Oodie; effectively a giant hoodie made of a super soft blanket material, this soft pink version is going to fast become your favorite Earth sign's go-to bedtime outfit for the perfect sleep environment (opens in new tab).
---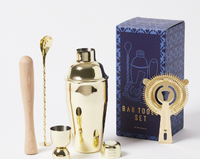 (opens in new tab)
2. Gold Metal Bar Tools Set
RRP: $58/£39.50
Taurus is a famously sensory sign, which often means they take great pride in the flavors of their food and drink.
This sleek gold bar tools kit will set them up with the essentials needed to whip up some tasty cocktails, giving them the power to tap into their inner bartender and invent some delicious new drinks of their own.
Plus, the chic gold shaker handily stores the tools inside for easy storage in a busy kitchen.
---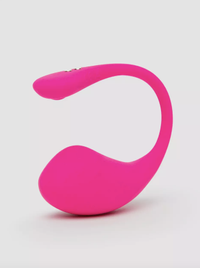 (opens in new tab)
3. Lovense Nora
RRP: $119/£129.99
If your Taurus recipient is a partner or a special BFF, here's a gift to make their self-care time even better. Boasting a flexible vibrating arm and multi-speed rotating head, this has the added benefit of being one of the best app-controlled vibrators (opens in new tab) on offer.
You can control different elements of the toy separately, adjust the speed and strength or each and even hand over the controls to someone else for some extra fun.
---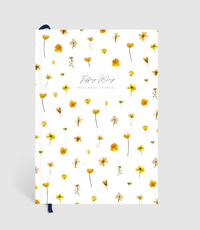 (opens in new tab)
4. Papier wellness journal
RRP: $35/£26
Noush suggests that this Earth sign is "a little bit softer" than the rest of the Zodiac, and naturally that comes with a lot of emotions.
The Papier wellness journal is the perfect gift for Taurus signs who need somewhere to put all of these thoughts with lots of guided journaling ideas (opens in new tab).
With goal-setting pages, space to brain dump and mood trackers, this is one of the best planners (opens in new tab) to make the journaling experience even more cathartic.
---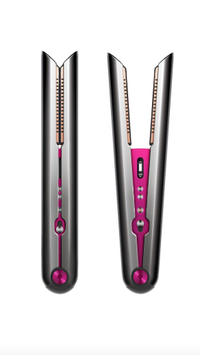 (opens in new tab)
5. Dyson Corrale hair straighteners
RRP: $499.99/£399.99
Gifts for Taurus signs that are luxurious and a high-end option will always go down well, and these amazing straighteners from Dyson (who also make one of the best hair dryers for curly hair (opens in new tab)) will definitely be appreciated.
Promising 50% less hair breakage and featuring a design that gathers the hair to use less heat than competitors, the smart technology means that it can even be used to make bouncy curls and soft waves, too.
---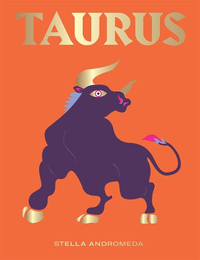 (opens in new tab)
6. Taurus: Harness the Power of the Zodiac, by Stella Andromeda
RRP: $11.99/£8.99
One of the best astrology gifts for Taurus babies interested in learning more about the Zodiac, this book is packed full of advice tailored to this specific Earth sign.
It covers everything from self-care tips to romantic relationships, all informed by Taurus traits and quirks, creating a handy little manual to consult when advice is needed.
---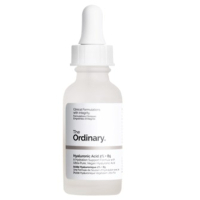 (opens in new tab)
7. The Ordinary Niacinamide 10% and Zinc 1%
RRP: $6.50/£5.60
Given the Taurus love for luxury, Narayana suggests that "if you want to play up the Venusian glow" then high-end skincare is a sure winner.
This niacinamide (opens in new tab) 10% and zinc 1% serum from The Ordinary is designed to minimise the look of blemishes and give a visibly clearer complexion, and make a great little gift set for the skincare lover in your life.
With these great benefits The Ordinary is up there as one of the best hyaluronic acid serums (opens in new tab) to hydrate skin, adding some luxury to the Taurus daily routine.
---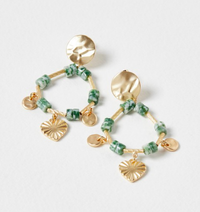 (opens in new tab)
8. Lettie Marble Heart Stud Earrings
RRP: $28.50/£19.50
When Taurus signs do head out of their cosy blanket forts, they like to keep their look grounded and these earthy-toned earrings are the one of the best huggie earrings (opens in new tab) accessories.
With gold heart charms, leaf green marbled beads and textured disk studs, this pair of statement earrings are both eye-catching and understated to keep up with the latest ear piercing trends (opens in new tab), matching the ideal Taurus vibe.
---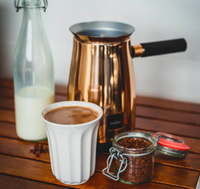 (opens in new tab)
9. Hotel Chocolat Velvetiser
RRP: $149.95/£99.95
For Taurus signs, Noush explains, "it's more about the luxuries of life, the pleasures." In the game of warm, cosy drinks, it doesn't get much more luxurious than the rich, smooth hot chocolates produced by the Hotel Chocolat Velvetiser.
Creating an indulgent treat in every cup, the machine itself is sleek and stylist to fit into any kitchen and easy to clean, keeping the additional effort of the process to a minimum.
---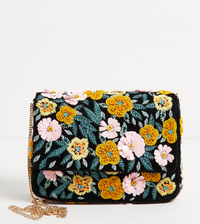 (opens in new tab)
10. Spring Scene Floral Beaded Clutch Bag
RRP: $80/£55
The Taurus love for luxury means, as Noush highlights, that they might enjoy an accessory that "screams "opulence." With an intricate sequin floral design featuring embroidered leaves and an elegant gold chain handle, this bag certainly matches that brief.
It's the perfect size for daily essentials and has a handy inner slip pocket for the items that need easy access, and the chain can be tucked in to transition into a chic clutch to become a staple of the capsule wardrobe (opens in new tab).
---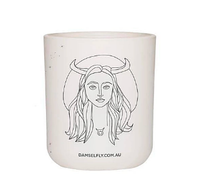 (opens in new tab)
11. Damselfy Taurus scented candle
RRP: $39/£32
A classic Taurus cosy night in is incomplete without one of the best scented candles (opens in new tab) in the market, and this personal choice will be a special addition to their collection.
With notes of white jasmine, fresh fig and amber, the elegant candle even features a poem inspired by the best traits of the Taurus sign for them to enjoy as they relax.
---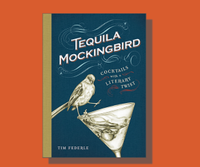 (opens in new tab)
12. Tequila Mockingbird: Cocktails with a Literary Twist by Tim Federle
RRP: $15/£9.99
Cookbooks make great gifts for Taurus chefs-in-the-making, especially when they like to experiment with new cuisines and tastes and love their coffee table books (opens in new tab). This tongue-in-cheek cocktail recipe book offers a range of exciting, unusual drinks inspired by literature.
Though it's packed full of puns to make for a funny, unconventional recipe book experience, the recipes themselves are easy to follow and even include some drinking games and bar bite recommendations.
---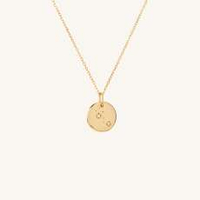 (opens in new tab)
13. Mejuri Taurus Necklace
RRP: $98/£88
Nousha highlights that this Earth sign will really appreciate a thoughtful gift that they can keep close to their heart. With AAA quality white sapphires and a gold vermeil of 18k gold plated on sterling silver for durability with the feel of luxurious gold, this necklace is an accessory to be treasured and should be treated with the top 'how to clean your jewelry pieces (opens in new tab)' tips.
The small disc pendant features a delicately stamped Taurus constellation to connect them with their Zodiac stars and an adjustable chain length makes it easy to layer with other elegant pieces.
---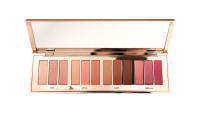 (opens in new tab)
14. Charlotte Tilbury Pillow Talk Instant Eye Palette
RRP: $46.50/£60
One of the best eyeshadow palettes (opens in new tab) for everyday use, this sleek set has a range of shades that will suit most skin tones and eye colours.
With neutral browns, pigmented pinks and some super sparkly shades, there's enough variety here to create both subtle day looks and more impactful evening vibes.
---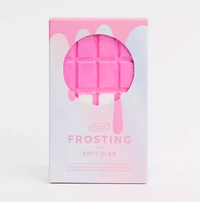 (opens in new tab)
15. Miss Patisserie Frosting bath slab
RRP: $14/£7.50
Luxury absolutely has its place in the bathroom, and this frosting-scented pastel pink bath slab is one step towards achieving it.
With just a couple of squares producing mounds of foamy bubbles and a sweet pink tint to the water, help your favorite Taurus up their bathtub game with this vegan treat for your skin and make the most of those hot bath benefits (opens in new tab).
Sadia is a freelance lifestyle writer with a love for all things self-care. Previously a staff writer at The Know Media, she left in late 2021 for an MA in World Literature at the University of Warwick, and has been freelancing in between procrastinating her dissertation. She has since written for publications like Stylist Magazine, Delish UK and Mollie Magazine, amongst others.
When she's not writing (or making yet another excessively colour-coded To Do list) you can find her reading everything from modern classics to contemporary debuts, or else tending to her many thriving plant babies.