Best scented candles: our tried-and-tested picks for every price and preference
Looking for the best scented candles? These are the home fragrances we're obsessed with right now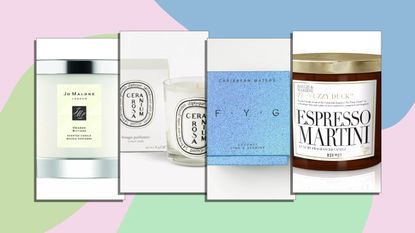 (Image credit: Jo Malone London / Diptyque / F.Y.G / Bayliss & Harding)
Whether you're after the best scented candles to buy for a loved one or for a Treat Yourself gift, we've rounded up our tried and tested picks to add to your home.
Who doesn't love a good scented candle? Not only do they make a great gift for someone (if you can bear to part with them!), but they're a relatively inexpensive buy that can feel really indulgent. (Bath time + the best scented candles = perfect self-care day ideas!)
So, what is it that makes scented candles such a little luxury? Perhaps it's the pretty flickering light that creates a magical ambiance? Maybe it's that they make a great decorative accessory for that all-important shelfie? Or, more likely, it's the fact that when lit, the scent can have you feeling relaxed, invigorated, or conjure up memories with just one sniff.
Whether it's a tropical scent that takes you right back to a sunny vacation, the smell of frankincense and fir for the festive season, or a clean, spa-like aroma that'll teach you how to relax, your chosen fragrance can provide the ultimate escapism and instantly change your mood. As with a perfume, the scent you pick is very much a personal thing, and what appeals to one may not make it onto someone else's wish list.
And when it comes to scented candles, there are options for every price point, whether you're looking for mall finds like the best Yankee candle scents or something a little more luxe and splurge-worthy like a Diptyque option. So without further ado, let's take a look at the best scented candles on the market, shall we?
The best scented candles to add to your home
1. Jo Malone Orange Bitters candle
Best all-around scented candle
Specifications
Dimensions: H6.35 x W7.5cm
Burn time: Approx 45 hours
Weight: 200g
Wicks: One
Lid: Yes
Reasons to buy
+
Consistent burning
+
Zesty scent
Reasons to avoid
-
Pricey
-
Citrus fades to woody smell
When you think of candles, and in particular candle brands, it's likely that Jo Malone will spring to mind. Synonymous with indulgent scents and a range of candles, perfumes, and body products, Malone's large collection is inspired by the very best of Britain, with a beautiful selection of floral and fruity scents.

One of the more recent fragrances, Orange Bitters is a heady mix of sweet orange and ripe mandarin, finished with a splash of bitter orange to reveal rich prune and a base of sensual sandalwood and amber. A sophisticated blend that's perfect for adding a winter-inspired scent to your home day or night, this candle features the signature Jo Malone branding and can be layered with the matching diffuser and cologne should you choose.
2. Neom Organics Real Luxury Skin Treatment Scented candle
Best multitasking scented candle
Specifications
Dimensions: H.4 x W7 x D7cm
Burn time: Up to 26 hours
Size: 140g
Wicks: One
Lid: No
Reasons to buy
+
Chic packaging
+
Use as a bath oil
Reasons to avoid
-
One scent available
-
You prefer a sweeter scent
A fabulous candle that moonlights as a luxurious body oil means we are most definitely fans of this product. This Neom Organics scented candle is packaged in a beautifully simple ceramic pot with an elegant bronze ring around the top edge, and the pot itself has a small spout so it's easier to pour the oil once melted.

It's ethically sourced and contains no harsh chemicals, no artificial colors, no paraffin or mineral wax, and uses only 100% natural fragrances. With main notes of lavender, jasmine, and Brazilian rosewood to eliminate stress, the fragrance also combines 21 other essential oils to create a woody and herb-like scent.

Once you've appreciated the smell of the candle, it's time to use the oil. Let it cool a little, then massage onto your skin for an intensive skin care treatment that's a wonderfully luxurious alternative to your regular body oil.
3. Baylis & Harding Fuzzy Duck Espresso Martini candle
Best budget scented candle
Specifications
Dimensions: L4.21 x W4.21 x H3.94inches
Burn time: 40 hours
Weight: 860g
Wicks: Two
Lid: Yes
Reasons to buy
+
Stylish looks
+
Budget-friendly
Reasons to avoid
-
Acquired taste
-
Not the longest burn time
Create a homey ambiance that sets the scene for the evening and reminds you of nights out on the town spent sipping the famous coffee-inspired cocktail. This Baylis & Harding candle has a grown-up scent, with a beautiful blend of chocolate, coconut, and coffee, and a mix of cognac, caramel, and vanilla—we like that it's sophisticated without being too sickly.

The gold lid is a nice touch, as is the colored jar, which makes the candle feel like a more luxurious buy than its affordable price suggests. If you're not a coffee lover it probably won't appeal much to you, but for those of you that like your caffeine fix, this is a great way to achieve it.
4. Sophie Allport Fig and Ginger Botanical candle
Best "treat yourself" scented candle
Specifications
Dimensions: Dia 10cm x H10.5cm
Burn time: Approx. 72 hours
Weight: 690g
Wicks: One
Lid: No
Reasons to buy
+
Great presentation
+
Long burn time
Reasons to avoid
-
Needs a heat-free surface
-
Stronger scents available
We love a candle that looks as luxurious as it smells, and this botanical beauty from Sophie Allport fits the bill perfectly. The wax body has leaves peeping through for a touch of greenery, which means you can enjoy its appearance much as its scent, as it slowly burns down over time.

You'll have plenty of time to enjoy the soft aroma of fig and ginger, too, as the candle burns for up to 72 hours, with a high-quality fragrance blended into a mineral wax and a natural cotton wick. Beautifully presented—it comes wrapped in cellophane and finished with a ribbon—this one makes a lovely gift for others or, better yet, yourself.
5. Diptyque Geranium Rosa candle
Best splurge-worthy scented candle
Specifications
Dimensions:: H9cm x W7.5cm x D7.5cm
Burn time: Up to 60 hours
Weight: 190G
Wicks: One
Lid: No
Reasons to buy
+
Long burn time
+
Heady aroma
Reasons to avoid
-
More expensive
-
Floral isn't for everyone
It's no secret that when it comes to the best scented candles, Diptyque is ahead of the game. Known for their candles' stylish design, the brand is also famous for having never used synthetic fragrances in its products—and the Geranium Rose option is no exception.

Intoxicating, heady, and beautifully packaged, this fruity, floral scent has a burn time of up to 60 hours, making the higher price point justifiable. Named after the citrus-scented leaf of the queen of flowers in Provence gardens, we dare you to find a better floral.
6. Fyg Caribbean Water candle
Best "summer vibes" scented candle
Specifications
Dimensions: H9.2cm x D8.3cm
Burn time: up to 45 hours
Weight: 250g
Wicks: One
Lid: Yes
Reasons to buy
+
Good burn time
+
Eco-friendly
Reasons to avoid
-
Mid price option
-
Not for citrus haters
The next best thing to laying on a beach in the sunshine? Reminiscing about laying on a beach in the sunshine! Light this Fyg Caribbean Waters design and be transported to the turquoise seas, steel drums, and azure skies of St Lucia.

The fragrance? A citrus cocktail of lime, bergamot, and lemon, with creamy tropical coconut and base notes of amber, musk, and patchouli. The packaging is simple and modern, and the candle itself is made using 100% coconut and rapeseed wax with a pure cotton wick.

Just one of the scents from FYG's "Memories" range, if the Caribbean isn't your bag, why not try other destinations, such as an Amalfi, Arabian Nights, Aussie Outback, or even an SW19 scented candle?
---
---
How to choose the best scented candles for you
You may well already do so, but if you want your candle to go the distance then it's worth checking out the burn time before you buy, as some last a lot longer than others. In many instances, the longer the burn time, the better quality the candle is likely to be, with some of the more expensive candles able to burn for up to 800 hours!
Then there's the size of the candle you go for and how many wicks it has—multiple wicks tend to be used on larger candles and can release a more intense fragrance. The scent will consist of three levels: top, central, and base notes. The top notes are the ones you'll notice instantly, while the central notes act as the foundation, and the base notes are the strongest, but take the most time to develop.
When a candle is able to fill a room with its fragrance, it's said to have a good "scent throw" and you'll find that the larger your room, the larger the candle you'll need in order to this.
There's also the type of wax your candle is made from. If you'd like an organic or eco-friendly design, then choose ones made with cotton or wood wicks and with natural ingredients like coconut, soy, rapeseed, or beeswax.
Caring for the best scented candles
There are a few rules you can follow in order to keep your candle burning bright and for many hours. Firstly, if you trim the wick each time you use it, before lighting, you'll find that it helps the sides of your glass candle holder from turning black from smoke.
Secondly, when you light your new candle for the first time, make sure you leave it burning long enough that the top of the candle turns to liquid (a.k.a. molten wax). The reason being that if you put it out too soon, the next time you light the candle it will only burn to the same diameter as when it was put out, meaning it burns unevenly and you'll be left with a candle that has a hole in the middle, which will then tend to smoke.
Lastly, if your candle has a lid, use it in between burnings to keep the wax dust-free.
Laurie Davidson is a Surrey-based freelance interior stylist and writer, who also dabbles in travel, craft and lifestyle content. She has over a decade of publishing experience and spent five years as the Homes & Interiors Editor on Style at Home magazine.