10 surprising revelations from the JLo Netflix documentary, 'Halftime'
The tell-all JLo Netflix documentary gives insight into how Lopez felt sharing the Super Bowl stage with Shakira and all that awards buzz for 'Hustlers'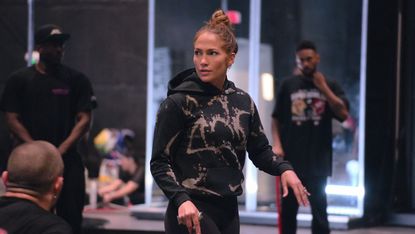 (Image credit: Netflix)
She's one of the most publicized performers in the entire world, so we were surprised that Halftime—the new JLo Netflix documentary out on Tuesday, June 14—was loaded with things we didn't already know about Jennifer Lopez.
Detailing the lead-up to Lopez's memorable Super Bowl halftime performance in February 2020, as well as navigating that year's awards-season circuit with her critically acclaimed role in Hustlers and dealing with the reality of turning fifty in a historically agist industry, Halftime covers a lot of ground in its hour-and-a-half runtime.
It also gives viewers a behind-the-scenes peek into all of the hard work and hustle that it takes for an entertainer to make it all look easy, as Lopez does time and time again.
Here are just a few of the details and discoveries we learned about while watching the JLo documentary. (And no, they don't include any Jennifer Lopez and Ben Affleck relationship scoop, sorry!)
Everything we learned from the JLo Netflix documentary:
1. She thought the JLo Shakira Super Bowl halftime was "the worst idea ever"
JLo and Shakira positively crushed it during their co-headlining performance at the 2020 Super Bowl halftime show, but the road to the stage was a rocky one, with the powers that be allotted only 12 minutes total for both global icons—with multi-decade careers and a slew of hits, mind you—to perform.
Chatting with her music director Kim Burse, Lopez voices frustration at the organizers, saying: "We have six f*cking minutes. We have 30 seconds of a song, and if we take a minute, that's it, we've got five left."
"This is the worst idea in the world to have two people do the Super Bowl," she says.
Lopez's manager Benny Medina echoed the singer, saying in a talking head: "Typically, you have one headliner at a Super Bowl. That headliner constructs a show, and, should they choose to have other guests, that's their choice. It was an insult to say you needed two Latinas to do the job that one artist historically has done."
Being ever the pros, however, Lopez and Shakira got right on the phone to plan it all out. "I know that the Super Bowl people want us to be weaved throughout the show. I haven't had a confirmation about how many minutes I'm going to have," the "Hips Don't Lie" singer says during the call.
Lopez tells her: "They said 12 minutes. I got kind of a good confirmation that we could have an extra minute or two, so now we're at, like, 13, 14 minutes. I think, Shakira, what we should have is you should have half the time and I should [have half]."
"If it was going to be a double-headliner, they should have given us 20 minutes," Lopez says. "That's what they should've f***ing done."
2. Rita Moreno was a role model for her triple-threat career
Discussing her upbringing in the Bronx, New York City, Lopez details how her mother's love of musicals was passed down to her and how the multifaceted career of EGOT winner and fellow proud Puerto Rican Rita Moreno influenced her own triple-threat trajectory.
"I always felt from a very young age that the singing, dancing, acting combination was something that I wanted to do. Because I grew up in the Bronx, and everything was brick and gray and brown, I wanted to escape into the musical world," Lopez says in the doc.
"West Side Story was my favorite of all time," she reveals. "I always looked up to Rita Moreno. Seeing someone like me up there was so rare. I wanted to be like her, I wanted to be on that stage, too."
3. Positive reviews for her 'Hustlers' performance brought her to tears
Lopez details her struggles to be taken seriously and respected as an actress in depth throughout the documentary, at one point saying in a confessional: "You have those moments in this business where you're like, 'What's next? And will anything be next?'"
In one scene, the superstar is in bed reading reviews of the 2019 Lorene Scafaria film Hustlers, in which she played soulful veteran stripper Ramona Vega to much critical acclaim.
One particular write-up in Glamour made Lopez emotional: "Most of the praise for Hustlers is dedicated to Jennifer Lopez...in fact, some reviewers say she could be likely in the running for her first Academy Award," Lopez reads. "Frankly, it's thrilling to see a criminally underrated performer..." It's then that the tears start flowing and the actress has to pause before finishing the sentence: "...get her due from prestige film outlets."
The next scene shows her winning the award for Best Supporting Actress at the Los Angeles Film Critics Association.
4. The famous Versace jungle dress made her feel like "a joke"
During the 2000 Grammy Awards, Jennifer Lopez wore a green dress that changed the world as we knew it—literally. The much-photographed Versace jungle dress is singularly responsible for the creation of Google's image search function, as seemingly everyone and their mother was searching for pictures of JLo in the infamously revealing leaf-print gown. "I wound up affecting things in a way that I never intended to affect them," Lopez says in the documentary.
However, the ubiquity of the dress also had a negative effect, with men like South Park co-creator Trey Parker and NBC news personality Matt Lauer jokingly sporting bastardized versions of the get-up on television. "It was hard when people think you're a joke, that you're a punchline," the performer reveals.
She reclaimed the narrative around the dress, however, when she walked in an updated version of the design during the Versace Spring/Summer 2020 fashion show in Milan, with even Vogue editrix Anna Wintour cheering her on.
6. She thought she "let everyone down" when she lost the Golden Globe
Twenty years since her previous nomination for Selena, Jennifer Lopez was nominated for her Hustlers performance at the 2020 Golden Globes. Many pundits had her down as the frontrunner and the actress even wore her lucky color, green, (down to her underwear!) to the awards show. However, Marriage Story's Laura Dern ended up the winner of the Best Supporting Actress category.
The documentary shows Lopez returning to a hotel room after the ceremony and joining her team, who are all dejected at the news. "I really thought I had a chance. I felt like I let everyone down," she says. "They wanted it so bad for me, for them. I mean, it's a validation of all the work that they do, too. Most of them have been with me for 20 years, since Selena."
7. Lopez felt "lost" after her divorce from Marc Anthony
Jennifer Lopez was married to singer Marc Anthony for a decade from 2004 to 2014, and the former couple shares two children, Emme and Maximilian. The split had Lopez reeling not only personally, but professionally, as she reveals in the doc.
"As an artist, I kind of lost a little bit of who I was in trying to build a perfect family life. And when my kids were three, I got divorced. I was a single mom with two little kids. At 42, movie roles were not knocking at my door and as I was getting back to work, I felt like I didn't know what my value was anymore," Lopez says in the film.
"I was doing American Idol — that was my first big job after I had babies and it was good for me at the time. People could see me for who I was, and that changed everything. I really learned a lot about myself. I had purpose, and I just felt I had to work on my acting more, my singing more, my dancing more…everything. I just need to be better in every way."
8. A visit to a kids' dance class inspired the halftime show
A trip to see the young dancers of the Miami-based studio Dancetown with her daughter Esme influenced one of the most powerful moments of Lopez's halftime show.
"When I'm putting a show together, it's on my mind 24 hours a day and inspiration comes from anywhere," Lopez says in the doc. In this case, meeting the budding performers gave Lopez the idea to metaphorically comment on the US-Mexico border crisis during her Super Bowl performance, and have the child dancers break out from light-up cage structures on stage.
"I'm thinking a great moment would be to have these fantastic little girl dancers I just met along with hundreds of other girls in light cages. A choir of little girls singing," JLo says in the movie. "We want a feeling of Latinos in cages and you can't keep us there...The concept is the next generation is not gonna be suppressed in the way that we were."
"It's a dark subject matter, but if we can get the message across in a beautiful way where it's soft and can be received, then more people can get the message," she says.
9. JLo fought with the NFL to make a political statement at the Super Bowl
"I'm trying to give you something with substance, not just us out there shaking our f*cking asses and f*cking belly dancing. I want something real, something that's gonna make a statement that's gonna say, 'We belong here and we have something to offer,'" Lopez can be seen arguing on the phone with NFL executives during one scene, after running into time constraints yet again.
It wasn't the only friction between the performer and the execs. The day before the Super Bowl performance, after a full dress rehearsal of the show, the singer was told that her cage idea was a no-go.
"We left rehearsal and I noticed everyone's kind of freaking out but I don't know why. And I get a call from Benny [Medina] and he's like, 'They want to pull the cages.'" Lopez says. "That night, the higher-ups at the NFL saw it for the first time, and they're like, 'Hey you can't do that."
"The NFL had a real concern about making a political statement about immigration," Medina says in a confessional. "They looked at the plan and the message was absolute. They did not want those cages in the show. That came down from the highest authority."
Lopez, however, stood her ground and told them she wasn't changing a thing.
"For me, this isn't about politics. This is about human rights. I'm facing the biggest crossroads of my life, to be able to perform on the world's biggest stage, but to take out the cages and sacrifice what I believe would be like never being there at all," she says.
Speaking in Spanish to her dancers, the star is tearful while telling them: "Being a Latino in this country has always been a matter of pride for me. And representing Latinos to the world, I know that's something that I do, something that God blessed me to do. There are many Latinos in this country and they are not being treated well, and that's why this show is so important."
10. Her "bling cup" obsession is alive and well
Even casual JLo fans know that the singer is rarely seen without her "bling cup," a Swarovski-studded tumbler fittingly sparkly for one of Hollywood's biggest stars. The infamous drink vessel makes frequent appearances in the JLo Netflix documentary, with the performer touting it during rehearsals for the big show.
Christina Izzo is the Deputy Editor of My Imperfect Life.
More generally, she is a writer-editor covering food and drink, travel, lifestyle and culture in New York City. She was previously the Features Editor at Rachael Ray In Season and Reveal, as well as the Food & Drink Editor and chief restaurant critic at Time Out New York.
When she's not doing all that, she can probably be found eating cheese somewhere.