The Khloe Kardashian picture drama explained
Confused about the Khloe Kardashian picture drama? We've got you covered.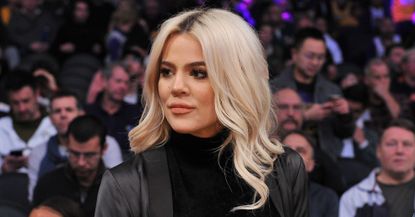 (Image credit: Photo by Allen Berezovsky/Getty Images)
Confused about the Khloe Kardashian picture drama? The Kardashian sister became the biggest talking point on social media after an unedited bikini photo of her was accidentally shared on Instagram, without her consent.
The image, which shows the Keeping Up With The Kardashian star unfiltered—without the usual glamorous setup, lighting, and posing angles she's known for—has caused quite the stir, but why?
Who actually shared Khloe Kardashian's 'natural' photo?
Khloe Kardashian's 'natural' photo caused hysteria among not only the public but Khloe's team, who reportedly worked hard to get it removed from the internet after it was accidentally posted by someone in her team.
According to lots of headlines surrounding the slip-up, Khloe's legal team liaised with social media platforms to get the photo taken down but their efforts went in vain as it didn't take long for other accounts to repost it.
"The color edited photo was taken of Khloe during a private family gathering and posted to social media without permission by mistake by an assistant," Tracy Romulus, chief marketing officer for KKW Brands, told Page Six.
"Khloe looks beautiful but it is within the right of the copyright owner to not want an image not intended to be published taken down."
How did Khloe react after the unedited picture was leaked on social media?
In a candid post shared on Wednesday night, Khloe recorded a video of her body unedited and unfiltered after going live on Instagram to show off her body in its natural state. She opened up about the "unbearable" scrutiny she constantly faces surrounding her body, explaining that this is why she wanted the bikini photo taken down.
"Hey guys, this is me and my body unretouched and unfiltered," she wrote. "The photo that was posted this week was beautiful. But as someone who has struggled with body image her whole life, when someone takes a photo of you that isn't flattering in bad lighting or doesn't capture your body the way it is after working to hard to get it to this point - and then shares it to the world - you should have every right to ask for it not to be shared - no matter who you are."
She continued: "In truth, the pressure, constant ridicule and judgment my entire life to be perfect and to meet other's standards of how I should look has been too much to bear."
She also stood by her right to use filters and edit photos the same way she wears make-up and gets her nails done in order to "present myself to the world the way I want to be seen," adding that "it's exactly what I will continue to do unapologetically".
Khloe's post was supported by friends and family, with sisters Kim Kardashian and Kendall Jenner commenting and tuning into her live.
Why is Khloe's reaction to the bikini picture so controversial?
While no one likes unauthorized pics to hit the internet (hey, we untag ourselves all.the.time) and most people struggle with image issues (let me just Google 'what causes hips dips again'), it was Khloe's reaction to her picture that got people talking—ironically, more than the actual picture itself.
The drama caused a wider debate about body image and the deeply damaging unrealistic beauty ideals set for women on Instagram—a conversation that is far from new yet seems to change little in the way women are scrutinized and pressured to look a particular way in order to be deemed 'beautiful' or 'desirable'.
The issue is something Khloe herself explained that she has been struggling with her entire life, especially as a public figure and a member of the Kardashian family, who are known for their glamourous aesthetics and have also often been accused of perpetuating the exact ideals they too fall victim too. Plus, while we know the KarJenners are on a strict workout schedule, they've also been known to not to be entirely truthful about cosmetics procedures. Who can forget Kylie's lips saga?
As she went as far as doing an Instagram Live to show fans her unedited body, many fans wrote in the comments to point out that doing so is not exactly going against society's pressure to look our best—it's exactly the opposite.
One wrote: "Can we stop associating our worth with our physical appearance or other's perceptions of our physical appearance? It's 2021, babes. Do better."
A second wrote: "But again you guys are the ones who are setting those standards for yourself, all you have to do is love yourself in whatever shape and form you are. You don't have to please anyone. Love and happiness comes from within Khloe. You don't need to share some videos, what do you want to gain from that. Learn and teach your daughter that she does not need validation from anyone."
And of course, plenty of pointing the finger at the KarJenner family for helping create these standards they hate so much, with one saying: "Your family is responsible for setting those unrealistic standards."
Sagal is a journalist, specialising in lifestyle, pop culture, fashion and beauty. She has written for a number of publications including Vogue, Glamour, Stylist, Evening Standard, Bustle, You Magazine, Dazed and Wonderland to name a few.