Kristen Stewart's feel-good lesbian Christmas movie is just what we need right now
Kristen Stewart stars in the first-ever lesbian Christmas movie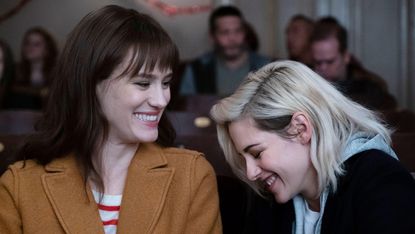 (Image credit: Alamy (Supplied by LMKMEDIA))
Kristen Stewart stars in Hollywood's first-ever lesbian Christmas movie, which premiered on Hulu.
Entitled Happiest Season, the sweet rom-com has been directed by actress, writer and filmmaker, Clea DuVall (last seen in The Handmaid's Tale) and is set to bring some romantic festive cheer into our lives. We definitely need it!
The movie was originally due to be released in cinemas around the world, however, due to the pandemic restrictions in several countries, it has gone straight to streaming services. It's available on Hulu for American audiences, while those in the UK can watch the movie on Sky Cinema.
So, what's it all about? Here's everything you need to know about Happiest Season...
What is Happiest Season about?
The festive film focuses Abby (played by Stewart) and Harper (played by Mackenzie Davis), a lesbian couple who return home for the holidays, with Abby preparing to propose to her girlfriend at Christmas.
However, things get very complicated for the couple as Harper shocks Abby by revealing that she has yet to come out about her sexuality to her conservative family, right before they set off to spend the holidays with them. The two are forced to pretend to just be roommates, but how long can they keep up the lie?
Speaking of the film, Stewart, who came out as bisexual a few years ago herself, told People: "I love when a holiday movie makes you long for an idea of home, but also examines how hilarious and hard reality at home can be sometimes."
In a separate interview with Metro, she revealed that she has been waiting for the opportunity to be a part of a film like Happiest Season, saying: "I would have felt totally jealous if I wasn't cast in this movie. When I read the script and I knew that it was attached to a studio, that it had a big budget behind it and that it was brilliantly accessible, cute and funny, and wasn't overwrought, I was so relieved."
Who is in the cast of Happiest Season?
Joining Kristen Stewart and Mackenzie Davis is a fun cast made up of Aubrey Plaza (Parks and Recreation), Dan Levy (Schitt's Creek), Burl Moseley, Mary Steenburgen, Victor Garber, Alison Brie, and the film's co-writer Mary Holland.
"We couldn't have had a better more loving pack of weirdos supporting each other on this one. Had an absolute blast," Stewart said of her castmates in the People interview.
Where can I watch Happiest Season?
The film debuted in 2020 and is available to watch in the US on Hulu and in the UK on Sky Cinema.
Sagal is a journalist, specialising in lifestyle, pop culture, fashion and beauty. She has written for a number of publications including Vogue, Glamour, Stylist, Evening Standard, Bustle, You Magazine, Dazed and Wonderland to name a few.