The 10 best Christmas movies on Netflix
'Tis the season to watch all the best Christmas movies on Netflix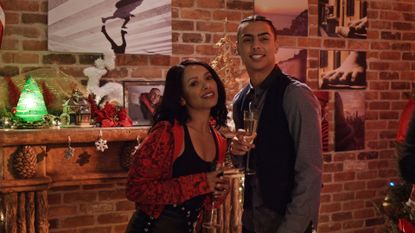 (Image credit: Netflix)
Searching for the very best Christmas movies on Netflix? We've got you covered. Making our way through all the Christmas movies on Netflix is one of our favourite holiday traditions. Whether they're nice and wholesome, incredibly cheesy or both, watching them is the perfect way to get us in the festive spirits.
Now that we're finally in December, we're not only counting down till Christmas but the matter of weeks left until this atrocious year known as 2020 finally comes to an end (and hopefully takes the words lockdown, quarantine and social distancing with it, though we won't hold our breath for the latter just yet). Naturally that means there's plenty to celebrate, and what better way to do so than with a good old fashioned Christmas movie marathon on Netflix?
With the pandemic still going, we'll be spending as much time as possible indoors this Christmas meaning there's plenty of time for a festive binge.
The best Christmas movies on Netflix
The Holiday Calendar
Kat Graham plays Abby Sutton, a young photographer who inherits an antique Advent calendar that seems to predict her future, including a budding romance with love interest Josh, as well as changing her luck professionally.
Let It Snow
Kieran Shipka of The Chilling Adventures Of Sabrina stars in this coming-of-age Christmas movie that follows a group of teenagers who are brought together by a snowstorm on Christmas Eve.
The Princess Switch: Switched Again
Vanessa Hudgens is back again with the sequel to her 2018 Christmas flick, The Princess Switch. This time, Duchess Margaret unexpectedly inherits the throne to Montenaro. However, she hits a rough patch with boyfriend Kevin and it's up to her double, Princess Stacy, to get these star-crossed lovers back together.
The Holidate
Well, the film's tagline is "Find Your Perfect Plus-One", which kind of tells you what the plot will be. It follows Sloane (played by Emma Roberts), a young woman who hates the festive season because she is always single. But it doesn't take long before she comes across Jackson, a man who is in a similar boat. The two make a pact to be each other's date for every festive occasion but, you guessed it, they then end up falling in love.
A Bad Moms' Christmas
The holiday edition of the hit comedy starring Mila Kunis, Kathryn Hahn and Kristen Bell sees their characters Amy, Kiki and Carla rebel against the challenges and expectations Christmas, the biggest event of the year for moms. As well as planning the perfect Christmas for their family, they forced to host their own respective mothers when they come to visit.
The Knight Before Christmas
It seems Vanessa Hudgens is the Queen of Christmas movies on Netflix as she also stars in this festive rom-com in which a medieval knight is transported to the present day, where he falls for a high school science teacher who's disillusioned by love.
The Christmas Chronicles
This wholesome Christmas movie sees siblings Kate and Teddy Pierce scheme to capture Santa Claus on Christmas Eve. When the plan goes wrong, the kids join forces with a somewhat jolly Saint Nick and his loyal elves to save the holiday before it's too late.
Klaus
Is it even Christmas without a festive animation? In Klaus, a postman is posted to a frozen town in the North where he discovers Santa Claus is hiding out after being labelled the worst postman at his academy.
Holiday In The Wild
Starring Sex & The City's Kristin Davis and the best-preserved man in showbiz—Rob Lowe—Holiday In The Wild sees main character Kate embark on a solo second honeymoon in Africa after her husband ends their marriage. There, she meets Derek, a pilot who helps her rescue a baby elephant. While nursing the elephant back to health, Kate discovers how much she loves her new surroundings.
Love the Coopers
This star-studded Christmas movie has a cast made up of Diane Keaton, Olivia Wilde, Amanda Seyfried and John Goodman. It's all about the Coopers and their extended family as they are about to have the best Christmas Eve celebration ever until unexpected events and visitors turn it into a shambolic mess.
Sagal is a journalist, specialising in lifestyle, pop culture, fashion and beauty. She has written for a number of publications including Vogue, Glamour, Stylist, Evening Standard, Bustle, You Magazine, Dazed and Wonderland to name a few.