What happened to Lenny Bruce, 'Mrs. Maisel' love interest and legendary comic?
Fans want Midge and Lenny Bruce, 'Mrs. Maisel's' will-they-won't-they comics, to be together in season 5. Here's why history might not let that happen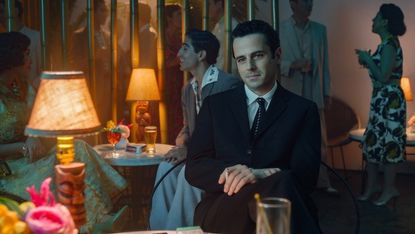 (Image credit: Amazon Studios)
Sorry, Joel—the fella fans want Midge to actually end up with is Lenny Bruce, Mrs. Maisel's suave fellow comedian, who serves up as much chemistry as he does charisma.
And unlike the answer to the question "Who is The Marvelous Mrs. Maisel based on?" (sadly, Midge Maisel is fictional), Lenny Bruce (born Leonard Alfred Schneider) was very much real—in fact, he was one of the best stand-up comics of all time.
After three seasons of brewing tension between the two characters, viewers want to see a comedy power couple form between Midge and Lenny by the time The Marvelous Mrs. Maisel season 4 ends on Friday, March 11. However, Bruce's real-life history might get in the way of fans' shipper dreams.
Here's what you need to know about the legend that is Lenny Bruce and how he will impact season 4 and beyond—consider it a comedy education.
*Warning: spoilers ahead!*
---
---
Who is Lenny Bruce, 'Mrs. Maisel' comedian?
Lenny Bruce was a real-life comedian and counter-culture icon who was based out of New York City and active from the 1940s through the 1960s. His provocative comedy act was defined by social and satirical commentary, as well as vulgarity, and didn't shy away from taboo topics like sex, religion and race.
Who plays Lenny Bruce on 'The Marvelous Mrs. Maisel'?
On The Marvelous Mrs. Maisel, a fictionalized version of legendary comic Lenny Bruce is played by Luke Kirby, who won an Emmy for his portrayal in 2019. The show's Lenny strikes up a friendship with main character Midge Maisel (Rachel Brosnahan) in the first episode after both are arrested for their racy comedy acts.
That friendship grows into a flirtation, culminating in a season three episode with the twosome sharing a romantic dance together in Miami, with Lenny telling Midge he thinks her stand-up is sensational. However, the swoon-worthy evening ends on a decidedly platonic note, with Lenny giving Midge a simple kiss on the cheek. As she walks away, Lenny asks: "Maybe someday? Before I'm dead?" Midge responds: "It's a date!"
As for why the characters decided not to take the relationship to the next level, actress Rachel Brosnahan told Gold Derby: "I think she idolizes Lenny as a comic. I think she wants to be a comic like him and I think she feels the weight of the risk of putting that relationship in danger by changing what it is."
She added: "Neither of them are really in a place in their lives, and they both acknowledge this, where they want to be in a relationship, and crossing that line, it could be great, but it could really screw things up. And I just think she doesn't want to go there. She values the relationship as it is too much."
Series creator Amy Sherman-Palladino concurs, telling TVLine: "Whether or not their relationship would work out or not work out—and, of course, since we know what happened to [the real] Lenny Bruce, it would clearly not work out—this was [Midge] saying, '[His friendship] is more important to me.'"
Do Lenny Bruce and Mrs. Maisel end up together?
In the final episodes of The Marvelous Mrs. Maisel season 4, Lenny/Midge shippers were ecstatic to see our favorite two comedians finally get together for one super-steamy, smooch-filled evening in that freshly-painted blue hotel room.
Whether that means a real-deal relationship between the two is in store for season 5 remains to be seen. However, it looks like there are already a few bumps in the romantic road. For one, after their much-anticipated meeting between the sheets, Midge sadly discovers heroin in Lenny's hotel bathroom and when she tries to confront him about his drug use, he brushes it off.
Later, when Midge comes to see Lenny at his career-high performance at New York's famed Carnegie Hill, he's upset with her for blowing off the Tony Bennett opening-act gig he had scored for her because she naively only wants to accept headlining gigs. He offers her some tough love about the business, though it's clearly all from a place of love for her and respect for her talent: "If you blow this Midge, I swear you will break my fucking heart."
Clearly, these two will have a lot to figure out come season 5!
Lenny Bruce Carnegie Hall performance
A large portion of the season 4 finale takes place at Lenny's show at the Carnegie Hall—which is based on a famed, real-life performance of the comedian and was filmed at the actual New York landmark.
Though the show faithfully sets the gig at midnight during a hefty snowstorm, as it happened in real life, but moves up the actual date of the event from February 1961 to November 1960 (if we're to take the show's election celebrations as a timeline.)
As in the series, the Carnegie Hall stand-up show was a smashing, sold-out success, considered one of the finest performances of Bruce's career.
How did Lenny Bruce die?
As Sherman-Palladino alluded to, things did not work out for the real-life Lenny Bruce. After years of battling severe drug addiction, the then-40-year-old comedian tragically died in 1966 from a morphine overdose in his Los Angeles home.
The TV series has touched on the numerous arrests and controversies that plagued Bruce's career, many of which were due to him frequently violating obscenity laws. And that season 4 finale does allude to the severity of his drug use, struggles that we can expect the series will delve deeper into next season.
Luke Kirby on Lenny Bruce in season 4:
Actor Luke Kirby recently revealed to Us Weekly: "We felt a bit of a kind of duty to sort of start touching on the aspects of Lenny Bruce's life that kind of led up to his dying young. We're sort of bringing Lenny Bruce a little bit down to Earth this season and kind of exploring that a little bit."
Kirby added: "I don't know how Midge will feel [when Lenny dies]. Hopefully, she'll be really broken up about it and then hopefully she will do the healthy thing and move on and make herself happy."
As The Washington Post reported, Amy Sherman-Palladino confirmed that, though she "didn't intend for Lenny Bruce to necessarily continue as much as he had"—"Luke and Rachel [Brosnahan] were so good together that it was nice to weave it in and out," she explained—Kirby's Lenny Bruce will have an expanded role in The Marvelous Mrs. Maisel season 4.
"He's such a presence," she said during the 2020 Woodstock Film Festival, reports TVLine. "He's going to be in a little bit more [in season 4], which is great."
Seeing as the show is still in 1960 by the end of season 4, we have at least a few more years with our beloved fictional Lenny Bruce.
What can we expect from Lenny Bruce in 'Mrs. Maisel' season 5?
Amy Sherman-Palladino and Dan Palladino recently talked to The Hollywood Reporter about what fans can expect to see from the Lenny Bruce character come season five of The Marvelous Mrs. Maisel.
"Knowing that season five was going to be our last and that we only had so much turf to play on helped to free up a little bit of what we did with him personally," Sherman-Palladino told the outlet.
"In a way, us knowing and the audience knowing a bit about Lenny Bruce, that he's only got a few more years before we don't have him anymore, actually takes on different meanings than if you didn't know that—if it was just a character, a comic that we invented or somebody that you don't know what their end was," she added. "I think that actually, in a way, really helps enrich the story and make it have even more meaningful than just an argument or a moment between two colleagues/new-ish lovers."
However, despite wanting to show Bruce at the top of his game "as one of the highest-rate, highest-paid comics, even though he was always at least a little controversial," Palladino said, the series will explore the tragedy of his eventual fate and Midge's response to losing him.
"We're dealing with that now. A falling apart like Lenny is both heartbreaking and frustrating for anyone who was around because it was self-inflicted. He got a lot of pressure from censors and all that, but he also gave in to his own demons," Palladino said in the interview. "People like that, even to this day, you feel frustration with them, and you feel angry at them, and you feel heartbroken that they went through it, and that's where they ended up. I would imagine if we were to depict that, that's what Midge would be feeling."
You can currently stream The Marvelous Mrs. Maisel, including the entire fourth season, exclusively on Amazon Prime Video.
Christina Izzo is the Deputy Editor of My Imperfect Life.
More generally, she is a writer-editor covering food and drink, travel, lifestyle and culture in New York City. She was previously the Features Editor at Rachael Ray In Season and Reveal, as well as the Food & Drink Editor and chief restaurant critic at Time Out New York.
When she's not doing all that, she can probably be found eating cheese somewhere.