Meet Rachel Brosnahan, the chic star of 'The Marvelous Mrs. Maisel'
You already know Mrs. Maisel, but what about Rachel Brosnahan? Get to know the actress of the Amazon hit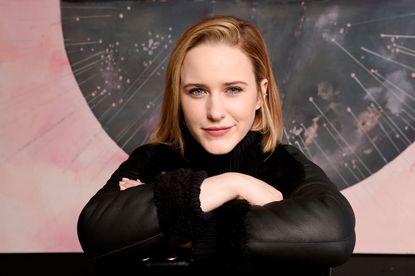 (Image credit: Fred Hayes / Getty)
After three seasons of The Marvelous Mrs. Maisel, fans know Midge well—but what about Rachel Brosnahan, the actress behind our favorite housewife-turned-comic?
With the fourth season of Maisel dropping on Amazon Prime Video on Friday, February 18—and a fifth already renewed—we thought it was high time to catch up with all things Brosnahan.
---
---
Who is Rachel Brosnahan? Meet Mrs. Maisel herself
Rachel Brosnahan is an American actress best known for her role as Miriam "Midge" Maisel, the titular heroine of Amazon's The Marvelous Mrs. Maisel, for which she received a Primetime Emmy Award for Outstanding Lead Actress in a Comedy Series in 2018 and back-to-back Golden Globe Awards for Best Actress – Television Series Musical or Comedy in 2018 and 2019.
Born in Milwaukee, Wisconsin, Brosnahan grew up in Highland Park, Illinois where she studied musical theater in high school and got cast in her first movie role, in the 2009 horror film The Unborn.
She then made her way to Manhattan to attend New York University's prestigious Tisch School of the Arts, graduating in 2012. After college, she scored recurring roles on popular TV series like The Blacklist and House of Cards—for which she received an Emmy nomination for Outstanding Guest Actress in a Drama Series—before getting the title part in The Marvelous Mrs. Maisel, which premiered in 2017.
Is Rachel Brosnahan Jewish?
Though Midge Maisel herself is a proudly Jewish New Yorker—regularly shown summering in the Catskills, attending Yom Kippur services and waxing poetic about bagels and lox onstage—the actor behind the character is not of Jewish descent, a fact that initially left fans shook.
However, the actress maintained that the role and the religion felt familiar due to her upbringing in the Chicago suburbs. "I grew up happily immersed in Jewish culture and community," Brosnahan told The Chicago Tribune, regularly attending seders, Hanukkah parties and other Jewish celebrations in her hometown. She said in a Vanity Fair cover story that she'd been to "hundreds of Bar Mitzvahs, Bat Mitzvahs. I could maybe Bat Mitzvah you."
Rachel Brosnahan age: how old is she?
Bronahan is currently 31 years old, having been born on July 12, 1990. Astrologically, that makes her a Cancer.
Is Rachel Brosnahan married?
Brosnahan is married to fellow actor Jason Ralph, who you might know from movies like A Most Violent Year and I'm Thinking of Ending Things, and series including The Magicians, Younger and Madam Secretary. The 35-year-old actor will join his wife on The Marvelous Mrs. Maisel season 4 for two episodes as a new character named Mike Carr.
Though the media announced their marriage in 2018, Brosnahan said in an interview with People magazine at the 2019 SAG Awards: "We've been married for years and been together for even longer."
The actress added: "We had a good laugh when the news came out that we had just got married, like 'Happy six-month anniversary, honey!'"
Revealing their reasons for the secrecy, Brosnahan said: "I've been quite private about my personal life for a few reasons. The first being that it's just that…personal."
"Jason and I also noticed early on that, while we are both the leads of successful television series, he has almost never been asked about our relationship while I have been asked on almost every red carpet I have walked in the last 2 years," she continued. "We both find this double standard problematic and frustrating and opted to redirect those conversations to our work."
Rachel Brosnahan height: how tall is she?
Brosnahan stands at a petite 5 foot 3 inches. (We're surprised too!)
Rachel Brosnahan hair: blonde or brunette?
The actress is one of those annoyingly fortunate folks in that she looks good with any shade of hair color. But while Midge Maisel is known for her signature dark 'do, Brosnahan herself is naturally a blonde. "I started dyeing my hair really dark when I was 16, and then I waited almost 10 years before I went back to blond," she told PopSugar.
"Even though I'm a natural blonde—and normally I'm a huge advocate for being exactly who you are—but I really feel more myself with dark hair," she said to the outlet. "I always have. I don't know why. I like them both, but when I look in the mirror with dark hair, I feel like I see myself, and when I look in the mirror with blond hair, I see a fun but slightly different version of myself."
When it comes to dyeing her hair, Brosnahan is all for it, telling InStyle: "If it's for a job, I'll try anything. But I actually [went back to my natural blond] recently for a film called I'm Your Woman. My hair was dyed so dark, I didn't know how long it would take to lift it back. Trying never to play the same character twice has given me a good excuse to change up my look a lot."
Rachel Brosnahan Instagram: what's her handle?
The Mrs. Maisel actress can be found @rachelbrosnahan on Instagram and @RachelBros on Twitter. She shares moments both enviably stylish and hilariously down-to-earth, including this memorable post: "Today I pulled a drowned rat out of our toilet."
Rachel Brosnahan movies: where you've seen her
Though she's made a name for herself on TV, Brosnahan has starred in numerous films, including 2021's The Courier opposite Benedict Cumberbatch, the 2020 Amazon original I'm Your Woman, the 2019 animated flick Spies in Disguise, the 2016 Mark Wahlberg thriller Patriots Day, and the 2015 Sundance favorite James White.
Rachel Brosnahan SNL hosting duties
Speaking of TV, Brosnahan ticked off something on every actor's television bucket list by hosting an episode of Saturday Night Live, the year's first SNL on January 19, 2019. Take a throwback look at her opening monologue below:
Rachel Brosnahan net worth
According to Celebrity Net Worth, Brosnahan has amassed a net worth of $15 million over the years. That is largely from her starring role in The Marvelous Mrs. Maisel, for which she took home $100,000 an episode in the show's first two seasons and $300,000 for each of season three's eight episodes.
The actress, who is also a producer under Scrap Paper Pictures, signed a first-look deal with Amazon Studios in 2019 to develop TV series that will premiere exclusively on Amazon Prime Video.
According to Deadline, "Brosnahan's first-look deal stems from her recent contract renegotiation that saw her more than triple her previous salary to about $300,000 an episode for the upcoming third season and get a piece of the series' backend." Get that coin, girl!
You can see Rachel Brosnahan in The Marvelous Mrs. Maisel, streaming now on Amazon Prime Video.
Christina Izzo is the Deputy Editor of My Imperfect Life.
More generally, she is a writer-editor covering food and drink, travel, lifestyle and culture in New York City. She was previously the Features Editor at Rachael Ray In Season and Reveal, as well as the Food & Drink Editor and chief restaurant critic at Time Out New York.
When she's not doing all that, she can probably be found eating cheese somewhere.