Inside Lily James' Pam Anderson transformation for 'Pam & Tommy'
From her fitness workouts to her hair curlers, Lily James' Pam Anderson beauty makeover is truly uncanny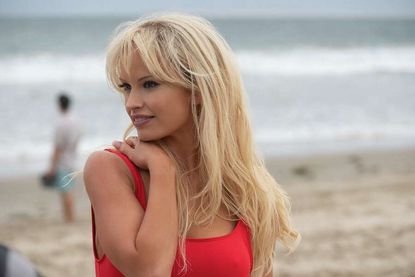 (Image credit: Erica Parise / Hulu)
When the casting news was first announced, even we'll admit that we were skeptical, but Lily James' Pam Anderson transformation immediately shut down any naysayers.
For Pam & Tommy—a new series centered on the '90s sex-tape scandal of model-actress Pamela Anderson and her rock-star husband Tommy Lee, which is streaming on both Hulu and Disney Plus—the brunette British actress uncannily morphed into the blonde Baywatch bombshell, from iconic beauty details (those eyebrows!) to Anderson's famous physique.
So how did Lily James do it? Here are the products and pro tips behind the makeover magic.
---
---
All about Lily James' Pam Anderson transformation:
1. Hair
Spoiler alert! James did not dye her hair blonde for the role, as the behind-the-scenes team realized it would be way too much work to maintain Anderson's platinum-blonde tresses. Instead, hair department head Barry Lee Moe revealed to Elle that they got Los Angeles-based Wigmaker Associates to design four lace-front wigs.
To ensure the wigs looked as natural as possible, Moe also revealed: "It was important to Lily to get her hands in there and play with her hair. That helped sell the piece as well because the hair is constantly moving." The hair team also used vintage velcro rollers to give her waves volume and achieve that perfect 90 blowout look.
To achieve Pam's onscreen do, the hair department used the following:
They also used special makeup effects designer Jason Collins' company, Autonomous FX, to make prosthetics to hide James' brows, as hers are naturally much higher up than Anderson's. They then made some '90s-thin eyebrows out of lace.
The biggest shocker to us was that they also made an acrylic set of dentures to push out James' lips, which they revealed James wanted to keep in all day. Talk about dedication!
2. Make-up
James went through four rounds of makeup application each day to become Pamela Anderson. The team started off with prosthetic makeup, then corrective makeup using highlight and shadow, followed by character makeup and, finally, "beauty makeup." Because of the length of the process, each crew member had a compact that featured a famous Anderson quote, such as "Natural beauty takes at least two hours in front of a mirror."
Makeup has changed a lot since the 1990s and so a lot of the makeup products Anderson herself used were no longer available. However, Pam & Tommy department head David Williams did use the following items including original Bobbi Brown colors. "Bobbi Brown set the trend of makeup in the early '90s, taking the war paint of the '80s off and going for a very natural look for women," Williams told Elle.
The team also used more easily accessible products from Charlotte Tilbury, Hermez and Stila to round out the star's makeup look.
For the base of Anderson's look, Williams revealed to Vogue that he used a combination of ERA spray-on foundation, European Body Art performance make-up, and spray tans from Culver City-based Queen Bee salon to give James that sun-kissed Baywatch-babe color.
3. Fitness
Matt Bevan, Lily James' personal trainer, revealed to Vogue that he crafted a specific workout regime for the 32-year-old actor, which included four to five workouts a week using equipment such as light dumbbells, resistance bands and sliding discs.
Bevan said: "With Lily playing such an icon, there was always going to be a huge pressure to look as much like Pamela as possible, but what I always feel is equally important is getting my clients to a place where they can perform their absolute best—that meant embodying Anderson's inner confidence and strength, as well as getting Lily as aesthetically close to accurately portraying her as possible."
Even though James had four months to become Pamela Anderson, she couldn't train with her trainer in person due to the pandemic and so had to do it remotely and by 5:30am, as she was also filming a romantic comedy at the time.
Bevan discussed with Vogue that they "adjusted variables, such as the tempo of each exercise, stability and range of motion. After that, we moved into full-body strength, circuit-based workouts, increasing her strength and aerobic conditioning." This was also on top of banded deadlifts and kettlebell goblet squats, doing 12 to 15 reps of the exercises each, and a cardio climber and a mini trampoline for cardio. This was all for the purposes of developing lean muscles while maintaining Anderson's petite size.
James' fitness trainer also explained that the actress eliminated refined sugar and alcohol for most of the week except weekends. "We stuck to three meals a day and a couple of snacks. I don't like anyone to be limiting what they love, so she was allowed to have a treat or two weekly."
Talk about a hardcore fitness regime!
4. Wardrobe
Costume designer Kameron Lennox served as the fashion stylist on Pam & Tommy and told Elle that all the looks chosen were picked to pay homage to Anderson: "We didn't want to ever make fun of Pam. She did inspire a lot of fashion." They described altering the looks for James as them having "'Pammed' it."
What might be a surprise is that most of the pieces were from vintage buyers and costume-house rentals, with only a few pieces made from scratch by Lennox's cutter and fitter, Lydia Jakubowski. This was because they didn't have access to Pamela Anderson's archives—Anderson was not involved in the production of the series—and so the team had to use what was on hand.
Thankfully, Anderson has had a lasting impact on fashion culture, with fashion houses like Jean Paul Gaultier and Christian Dior helping some pieces make a cultural comeback.
You can stream Pam & Tommy every Wednesday at 3am ET/12am PT on Hulu in the US, or on Disney Plus through its Star service in the UK.
Liv is a freelance journalist currently studying English at university. She loves covering everything from entertainment and politics to lifestyle and travel. As well as writing for My Imperfect Life, Liv has bylines in The Times, HuffPost, Den of Geek, Bustle The Metro and The Bookseller.

With contributions from