What happened to Rand Gauthier from 'Pam & Tommy'—and where is he now?
Rand Gauthier was said to be behind the infamous sex tape leak—so where is he today?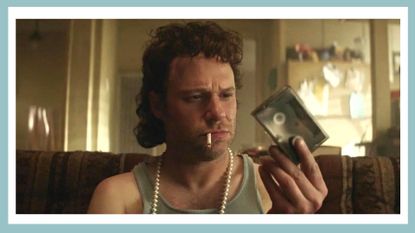 (Image credit: Hulu)
When the mini-series Pam & Tommy dropped last year, it was full of epic '90s needle drops, uncanny physical transformations by lead actors Lily James and Sebastian Stan (in fact, it even sparked a new Pamcore outfit trend on TikTok), and a scandal that shocked the early days of the World Wide Web—reportedly prompted by a man named Rand Gauthier.
The Hulu and Disney+ series took viewers back to one of the most well-known stories in celebrity history: the marriage (and subsequent divorce of Pamela Anderson and Tommy Lee), and the theft of Pamela and Tommy's private sex tape, as well as its mass distribution. It also shows how Rand Gauthier, played in the series by Seth Rogen, was (reportedly) a key part of the tape's rise to infamy. And while the show Pam & Tommy itself has had its criticisms—namely having been made without Pamela's consent—the series is all about how Rand and a set of accomplices also robbed her of her privacy and autonomy at the time, as well as Tommy Lee.
So while we know what Pamela Anderson is up to now—and that she's telling her own story in her new documentary—who actually is Rand Gauthier, and where is he now? And did he really steal the tape as it was depicted in the show? Let's dive in...
Who is Rand Gauthier?
Rand Gauthier grew up in Los Angeles and had a keen interest in cults and conspiracies. Before his association with Pamela Anderson and Tommy Lee, Gauthier not only dated a porn actress in the 1980s, but also performed in over 70 porn videos using the name "Austin Moore."
As well as doing adult videos, Gauthier was also an electrician and was hired to work on Lee's home renovation, as viewers of the show will have seen.
While he only worked on the job for three months before getting fired, his being on the renovation at the time of the theft has meant he was blamed for allegedly stealing the celebrity couple's sex tape.
Why did Rand Gauthier steal the tape?
Allegedly, in 1995, Tommy Lee owed Gauthier $20,000 for his work, as he was reportedly fed up with Lee and Anderson and no longer wanted to work on their property. However, when he and a general contractor came back to the couple's mansion on Mulholland Highway to get their tools, it's alleged that Lee pointed a shotgun at Gauthier and told him to get off his property, according to a famous report from Rolling Stone—which is in fact the article that is said to have inspired the Pam & Tommy series.
According to the article, it was at this point that Gauthier decided to seek revenge and scope out the couple's property, from which he stole a safe and sawed it open, revealing guns, jewelry, and yes, the infamous home video of the couple. He took the tape to a porn studio in North Hollywood, where he and adult film producer Milton Ingley made copies of the tape before seeking out a distributor, who would allow them to distribute the video without having signed releases from Lee and Anderson. After eventually getting funding from Louis "Butchie" Peraino, a man with connections to a New York mob family, Gauthier and his partner began advertising online, selling and shipping the tapes to buyers.
When the tapes had been distributed, Gauthier was reportedly so paranoid of retribution he spent over a year in hiding. At this point, he had already been jumped by a biker gang rumored to have been friends with Tommy Lee. In 1997 Gauthier and his partner were forced to close the site even though they had not paid back their mob-linked distributor, which saw Gauthier working as a collector for the mob to pay back his share of the debt.
However, following the recent release of the Pamela Anderson Netflix documentary, Pamela, a love story, it seems that there *may* be some inaccuracies in this account. Multiple times in the documentary, Pamela herself says, "We still don't know who took the tape," suggesting Rand Gauthier may not in fact have been the mastermind—or sole perpetrator—behind the theft.
The Rolling Stone story did reveal though that, when asked about the Pamela and Tommy sex tape in 2014, Gauthier claimed that he enjoyed the tape, and didn't seem to have much regret over its impact.
"It was cute. They're in love and a couple and they're just having fun with each other, and I think that's great. I'm jealous. I wish I had something like that," he said.
How much did Rand Gauthier make?
Ironically enough, Gauthier himself didn't personally see much of the money made from the Pamela and Tommy sex tape. Of the profits, which were reported to be around $77 million in the first year alone, according to The Cinemaholic, most of it went to Seth Warshavsky's Internet Entertainment Group, which distributed the tape.
According to the Rolling Stone article, the company were actually ordered by a judge to pay Pamela and Tommy $740,000 each for the tape, but it's believe that Seth Warshavsky's Internet Entertainment Group had actually gone under by that point—meaning neither one of the former couple ever actually received that money.
Did Rand Gauthier go to jail?
Surprisingly, no! Gauthier nor his accomplices were ever charged for stealing the safe or distributing the Pamela Anderson sex tape. Pam and Tommy Lee filed multiple lawsuits once they discovered the tape was being sold, but failed to legally stop the sale and distribution of the tape. They eventually gave away rights to the tape to Seth Warshavsky and his Internet Entertainment Group.
In fact, it's fair to say that the person who was punished the most for the distribution of the sex tape was Pamela Anderson herself. She faced intense criticisms at the time—much more than Tommy Lee—making clear the misogyny and double standards directed at women at the time (and arguably now, still). And while some might argue that the Pamela Anderson net worth is still an impressive figure—her sons have said since the release of the mini-series that it seriously impacted her career, and thus all of her potential future earnings.
Her son, Brandon Lee, said in her documentary, "She would've made millions of dollars if she just would have signed a piece of paper [consenting to the distribution of the sex tape]. Instead, she sat back with nothing and watched her career fizzle into thin air. She was in debt most of her life."
Where is Rand Gauthier now?
In the twenty-six years since the scandal, Gauthier has lived a much quieter life since releasing Anderson and Lee's sex tape.
According to the Rolling Stone article, as of 2014, the 65-year-old lives on the coast in Santa Rosa, California, where he reportedly grows marijuana plants and tells anyone who will listen that he's the guy who stole Pam and Tommy's sex tape. At that time, he still worked as an electrician too, and was single—though there hasn't been an update on Rand since then, given that he has very much kept out of the public eye.
Similarly, there are no publicly available photos of Rand, and no one has ever shared much other information about the man who is said to be behind one of the biggest celeb scandals of the 90s.
Liv is a freelance journalist currently studying English at university. She loves covering everything from entertainment and politics to lifestyle and travel. As well as writing for My Imperfect Life, Liv has bylines in The Times, HuffPost, Den of Geek, Bustle The Metro and The Bookseller.