The best Lizzo quotes on gratitude, being yourself, and the perils of social media
These Lizzo quotes cover some important life lessons—we'll be referring back to these often...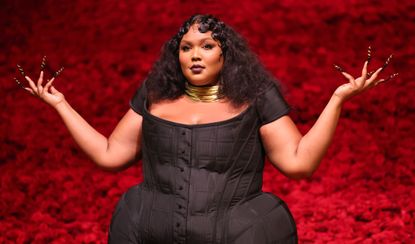 (Image credit: Matt Winkelmeyer/MG22/Getty)
Some people can do it all—yes, we're talking about Lizzo: singer, model, rapper, flutist, Saturday Night Live performer, Yitty Shapewear founder, queen of positivity, festival headliner, Grammy winner, advocate, twerk enthusiast, Chris Evans DM-er and so much more.
Why else do we love Lizzo? Her no-holds-barred attitude towards loving your body and yourself, and her confident approach to life are just a few reasons. And that's why these Lizzo quotes are some of our favorite ones to refer back to if we're feeling down or in need of a boost.
Whether you jumpstart your day with some of her contagious positivity or confirm that staying true to yourself is the right path, Lizzo's powerful messages—some of the best celebrity quotes around—might be the tonic you've been searching for.
The best Lizzo quotes to live your life by
1. On loving yourself
Lizzo is seen as one of the biggest advocates for body positivity, but she's often described the tough journey she took to arrive at the comfortable spot she now occupies. Insecurities, beauty standards, and the pressures to conform and look like everyone else are familiar to all of us. But the 34-year-old is on the continual journey to accept, appreciate and love herself, inside and out.
Of the societal pressures to hate your body, she says:
2. On leaning on one another
Lizzo knows that being confident and doing your best every day isn't always easy and that we all need to lean on our loved ones for support:
3. On the importance of being body positive
Lizzo knows that learning to love your body and feel comfortable in your own skin doesn't have to be as difficult a process as it was for her.
4. On being yourself
No matter your age, situation, appearance or style, you may question yourself or compare yourself to others unnecessarily. Lizzo has stated the importance of being yourself and staying true to yourself at all times despite the outside noise. She once said:
"Cherish your journey and respect your journey."
"I'm all about body positivity and self-love because I believe that we can save the world if we first save ourselves."
5. On the harmful nature of social media
As a prominent public figure—both on and off social media—Lizzo knows just how harmful social media can sometimes be, often full of negative comments and trolls. As such, she explains how important it is to get off your phone sometimes, and think about your real-world impact:
6. On gratitude
It can be hard to recognize the good in your life, especially if you're in the midst of difficult times. But Lizzo reminds us that practicing gratitude for everything we do have is essential—even if it doesn't feel that easy sometimes! This is undeniably one of the best quotes to start the day with, and one of the best Lizzo quotes around.
---
If you want even more inspiration from the reigning Queen of Pop, take a look at Lizzo's skincare routine—after all, what better time is there to recite these quotes as daily affirmations than during your morning moisturizer moments?
Christina Izzo is the Deputy Editor of My Imperfect Life.
More generally, she is a writer-editor covering food and drink, travel, lifestyle and culture in New York City. She was previously the Features Editor at Rachael Ray In Season and Reveal, as well as the Food & Drink Editor and chief restaurant critic at Time Out New York.
When she's not doing all that, she can probably be found eating cheese somewhere.