Six quotes to start the day on a positive note—from inspiring figures
Find the joy in your life with these inspiring and motivating quotes to start the day off right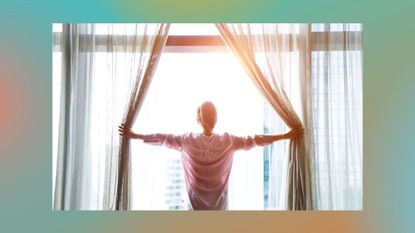 (Image credit: Getty Images)
Reading one of the best quotes to start the day can put you in both a better frame of mind, and inspire you to make the most of the day as soon as you wake up—which is why that can be so helpful and motivating.
Experts are clear that developing a solid morning routine, such as hydrating as soon as you wake up, and leaving aside electronics for the first hour before bed, can make it easier to get in a positive frame of mind for the whole day—ensuring you can create a productive and happy day from the get-go.
So it's no surprise that internalizing messages that motivate you and restore a calm outlook can also be key to a great morning. As such, we've shared some wise words below, from some of history's top luminaries. You'll find six inspiring quotes to start the day from notable figures, from Lao Tzu to Maya Angelou, to kick off your morning on a strong footing.
And, if you struggle with maintaining a stable sleep schedule, you might be interested in exploring the best sleep aids, including eye masks to block out excess light, earplugs if there is too much ambient noise, and other sensory techniques to help you get those much-needed hours of rest.
---
6 best quotes to start the day with
Finding your sense of wonder and indulging in it is an integral part of making sure you have a great day, which is why we reckon this quote should be an important part of your morning rituals. This quote is all about that—hold onto the wonder that accompanies all our lives, and marveling at the different things tomorrow brings, because no two days are the same. This quote reminds us that each day holds new promise, which is why it's one of the best quotes to start the day with.
This quote reminds us that sometimes, all it takes is just thinking about one thing that is positive in your life. Lean on these words while you are brushing your teeth, or getting dressed. This message from the Dalai Lama no less, inspires us to practice gratitude as one of our first morning thoughts—something which is proven to make us feel happier and more positive about the day ahead. And if you can't think of anything big, consider the small positives in your life; perhaps your morning cup of coffee, or the fact that you're seeing friends today at work. It's one of the best self-care ideas.
The reality is, of course, that not everything in life is sunny and positive all the time, and not every day can be perfect. But, as this quote suggests, every time you choose a positive thought, or positive feeling, you can at least be open to the possibility of a beautiful day. Here, Mark Twain suggests that hinging too much on the negative can only hurt you—so you might as well try and have a good day, instead.
This quote from visual artist and author can help us to realize that time will pass whatever we do—so why not use it to accomplish something that's important to you, as we always say we will? Writing down what is most important to you will help you get a handle on what needs to be done to accomplish your goal and how to find your purpose, so a year down the road, you won't be wishing you'd begun sooner. If you're struggling with knowing what you want to achieve, and where you want to be in a year, trying some mindful morning practices alongside this quote—it's one of the best time to do yoga, for example.
There are times in all our lives when we worry that we will never reach our goals. By internalizing this quote as soon as you wake up, you'll be reminded of the fact that each huge achievement, or big goal, always begins with a very small, very simple step. No matter what complex deadlines keep you awake at night, prioritize the list and just get started—journaling can help. Don't get overwhelmed by the size of the goal, and take it one step at a time. This can help you maintain perspective, focusing only on the task ahead in the knowledge that if you remain consistent, you will reach your goal. A great one to remind yourself when you're struggling to get up for a workout in the morning!
Embracing each day as it comes helps us to appreciate the opportunities and possibilities we might not see otherwise.
If you're wrestling with a task or struggling in a close relationship, use each day as another chance to make things right, problem-solve, or simply learn to let go. Wondrous things can and do happen each and every day, so make sure your mind and heart are open to receiving them—as this quote inspires us to do.
---
Starting your morning with an inspiring quote or an important reminder about self-care will help you create a positive perspective throughout your day. Your morning doesn't need to be as perfect and curated as the morning routines of TikTok—instead take small steps, such as reading an inspiring quote, to help you feel happier and more positive overall.
After all, more you care for yourself, the better you will feel every morning—and every day.
Christina Izzo is the Deputy Editor of My Imperfect Life.
More generally, she is a writer-editor covering food and drink, travel, lifestyle and culture in New York City. She was previously the Features Editor at Rachael Ray In Season and Reveal, as well as the Food & Drink Editor and chief restaurant critic at Time Out New York.
When she's not doing all that, she can probably be found eating cheese somewhere.