This drunk DM between Lizzo and Chris Evans is everything
Lizzo and Chris Evans have been drunk messaging on Instagram—see the Captain America star's reply!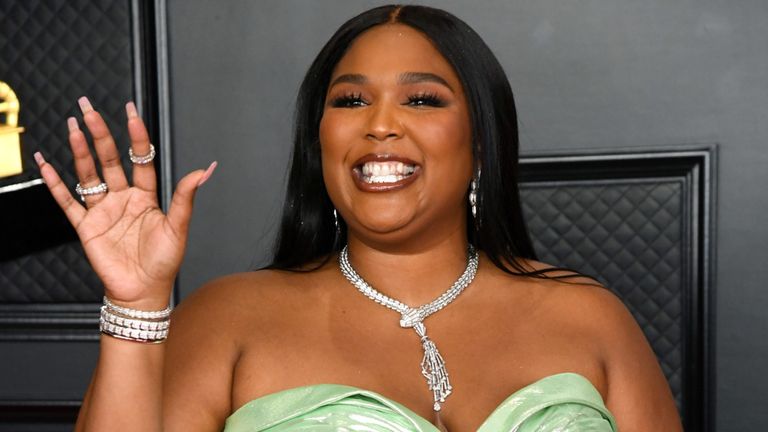 (Image credit: Getty Images / Kevin Mazur / Contributor)
Gotta blame it on the juice, baby! Potentially the funniest, most relatable thing that has happened so far this year, our lovable Lizzo drunkenly slid into Captain America's DMs. 
We've all been there: you drink a bit too much, you're feeling good as hell, and you get a little flirty on the apps. But when the morning comes and reality crashes in, the embarrassment of going too far on the best dating apps or social media can be the worst feeling in the world—though not many of us can do it to such a high-profile heartthrob.
The Truth Hurts singer, who is getting her own Amazon reality show, took to TikTok to let us all learn by her example. Showing a screenshot of her Instagram DM to Chris Evans, Lizzo captioned the video: "Don't drink and DM kids...for legal porpoises, this is a joke."

According to the TikTok, she sent the Knives Out actor a series of emojis, including a puff of smoke, an athlete, and a basketball. Basically, she was shooting her shot with the superhero hunk. (We really can't blame her!)
As she mouthed along to audio by Tatayanna Mitchell, Lizzo said: "The reason I'm upset about this one is because I know I'm not going to be able to marry him, and honestly it hurts me to the core. Because damn papa, he a rare breed, no comparing."
The best part of this star-crossed story is that not only did Chris Evans follow Lizzo back on Instagram, he replied to her DM. She posted a follow-up video, screaming in glee and showing his response to her message.
Evans said: "No shame in a drunk DM 😘 God knows I've done worse of this app lol🤦‍♂️."
Fans were both delighted and jealous at what could be the best celebrity pairing of all time. One fan commented: "Lizzo drunk DMing Chris Evans is the highlight of this year NO cap."
Another said: "If Lizzo bags Chris Evans all will be right with the world."
A third summed up the situation perfectly: "She's living all our dreams."
LIZZO DMED CHRIS EVANS HE ANSWERED. THEY NOW FOLLOW EACH OTHER ON INSTA IM DECEASEDApril 19, 2021
See more
Twitter users have been equally excited by the text exchange with one writing: "LIZZO DMED CHRIS EVANS HE ANSWERED. THEY NOW FOLLOW EACH OTHER ON INSTA IM DECEASED."
Fingers-crossed we get more Lizzo and Chris Evans love in the future!
Naomi is trainee news writer who writes for My Imperfect life, Woman & Home and Goodto. Naomi writes articles from fashion trends and skincare to entertainment news.