What did the 'Selling Sunset' reunion reveal about Maya Vander?
Maya, 'Selling Sunset' star, shares her journey through grief after her family tragedy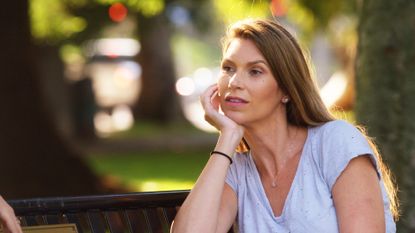 (Image credit: Netflix)
Since the filming of Selling Sunset season 5, where the Oppenheim Group agents celebrated Maya Vander leaving Los Angeles and the brokerage for a little while to go to Florida to have her baby, the reality star has had a really tough time.
The much-loved agent of The Oppenheim Group shared at the Selling Sunset reunion special, which premiered on Friday, May 6, that her son Mason was stillborn at 38 weeks in December 2021. Vander, who has been on the show since season one, also bravely revealed the cause of the stillbirth, as well as her hopes for the future.
Maya, 'Selling Sunset' star, discusses stillbirth:
As if the heartbreaking news that Maya's child was born stillborn wasn't enough, she also revealed that the cause of death was the result of a freak accident in the womb. Vander shared that her baby's autopsy report had declared the cause of death "a bad accident with the umbilical cord, mixed with some swallowed placenta."
Vander's pregnancy was a major storyline for her during season 5 as she rushed to tie up all of her outstanding listings.
The star revealed to Metro that she found the latest season of Selling Sunset really hard to watch as she was pregnant for most of it: "I wasn't sitting there sobbing with tears, I just kind of sat and watched the whole season as a whole, not focusing on just me being pregnant. Was it easy? No, but I watched it and managed to survive."
Vander had revealed in July 2021 that she and partner David Miller were expecting their third child. The couple was already parents to a son, Aiden, born in 2019, and a daughter, Elle Madison, born a year later.
However, in December 2021, Maya put up a post on Instagram discussing "the hardest day of [her] life."
In the Instagram post, she wrote: "Yesterday was the hardest day of my life. I had a stillbirth at 38 weeks. I always heard of it but never imagined I'll be part of the statistics. Instead of delivering a baby, I get to go home with a memory box… I do not wish this on anyone."
The post continued: "What was a regular weekly checkup turned into a nightmare that I never imagine will happen to me. Given I share my pregnancies in the show I knew I'll have to post about this and avoid the 'when is your due date' question. You will always be in our heart baby Mason."
A pregnancy loss is called a stillbirth when the baby dies after 20 weeks of pregnancy. In the UK, one in every 225 pregnancies ends in stillbirth, while in the United States it's one in every 160 pregnancies.
How is Maya Vander doing after the tragedy?
If you're wondering how Maya is faring now five months on, she revealed during the reunion that she's "doing much better." She credited her husband and children for keeping her going and being amazing during such a hard time, as well as the Selling Sunset cast members for their support.
Vander also added: "I have work and I'm busy, so I don't have time to sit and cry all day long. I have my moments, you know we all do, and that's a part of grief."
But Maya doesn't want to forget about her experience, as she revealed that she wants to help raise awareness of stillbirths and pregnancy loss to help women feel like they are not alone.
After opening up about her devastating stillbirth, Maya shared that she feels that part of her healing process will be getting pregnant again.
"People joke, 'Oh, Maya is always pregnant.' I want to mention, we [women] do have the clock ticking and I am 40 years old. So yes, I have two beautiful children and I'm very lucky and thankful for that, but I also lost one. So that void is still there, and I think part of my healing is getting pregnant again, and I really hope I will."
Liv is a freelance journalist currently studying English at university. She loves covering everything from entertainment and politics to lifestyle and travel. As well as writing for My Imperfect Life, Liv has bylines in The Times, HuffPost, Den of Geek, Bustle The Metro and The Bookseller.