Which 'Selling Sunset' cast member are you based on your star sign?
Are you more of a Christine or a Chrishell? Here's what 'Selling Sunset' cast member you're most like, based on your zodiac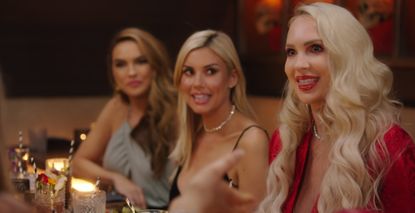 (Image credit: Netflix)
Selling Sunset is packed with real estate porn, high-moneyed business drama, and a whole host of characters—and if you're wondering which of said characters you're most like, we're using your zodiac sign to guide you to your reality-star stand-in.
Are you a Christine Quinn? More of a Davina Potratz? Do you vibe best with Selling Sunset's Romain Bonnet or season four newbie Emma Hernan?
Find out which Selling Sunset cast member you're most like with our handy horoscope guide below!
---
---
Which 'Selling Sunset' cast member are you, based on your star sign?
1. Aries: Jason Oppenheim
As one of the founders of the Oppenheim Group (the other being his twin brother, Brett), he thrives on having the best boutique real estate firm in Los Angeles—as any Aries would, as they like to win. Closing deals and getting the best inventory is essential to his being, which is why Jason's persona resonates with that of the Ram, who, like Jason, never accepts defeat as an acceptable way of doing business.
2. Taurus: Maya Vander
Like most Tauruses, Maya likes to have a good time. But, she's also family-oriented and puts them first above work. She gets her hustle on by showing elite clients luxury homes that she has personally vetted and is direct about houses she's not feeling. Maya also stays out of the high drama, as she prefers to have a chill persona, just as any Bull would when they come face-to-face with work drama after hours.
3. Gemini: Romain Bonnet
What you see isn't what you get with Romain—the same applies to the dualistic persona of the twin star sign. At first, he gives off a brooding intensity, but upon deeper reflection, he is actually a really kind-hearted and intellectual person. Romain's wife, Mary, is more than his partner in life—she's his best friend. Gemini's only commit to their ride or dies, which is what this couple appears to have done.
4. Cancer: Chrishell Stause
Yes, crabs are sensitive creatures (which is what Christine accused Chrishell of being many times). Chrishell is sweet as pie, nice, and nurturing. However, she also has a tough exterior (like all crabs do because of their hard shells). Being that Chrishell worked her way to the top, after being homeless in her youth, she's not going to be the brunt of other people's issues because she's come so far and worked hard for everything.
5. Leo: Mary Fitzgerald
Mary may not be perfect (no one is!), but she is an extremely loyal friend and colleague. Like most Leos, she'll stand by the side of her friends and support them through thick and thin (hence her friendship with bestie Amanza and her working relationship with ex-boyfriend Jason). However, if you don't reciprocate her generosity and kindness, the claws will come out, which is the way any fierce lion would fight back in fraught times.
6. Virgo: Heather Rae Young
Heather is all about the details when it comes to organizing the viewings of the homes she's selling—except when she was overwhelmed with her relationship and got sidetracked. And, in true Virgo fashion, she was super hard on herself when the staging went awry. Her desire to perfect every showing and encounter with clients is very important to her, which is why she is at the core a true Virgo (through and through).
7. Libra: Christine Quinn
Although Christine is known to stir up some major drama on Selling Sunset, she does so as a defense mechanism to balance out relationships and situations, which is very Libra. At the core, she wants to mend the intensity and make good with others. Also, Christine has a wonderful aesthetic and fashion sense. Plus, she is a lover of the finer things in life: the best clothes, champagne, and decor, as all Libras do.
8. Scorpio: Brett Oppenheim
Like any Scorpio, Brett is a passionate person who has a lot of drive. After all, he started the Oppenheim Group with his twin brother Jason. His career is evolving and transforming at the moment, and in true Scorpio form, he is open to embracing the changes that are coming his way (due to his departure from the Oppenheim Group to live out his truest life passions, which are house renovations, restoration, and home flipping).
9. Sagittarius: Amanza Smith
Sagittarius is a zodiac sign that doesn't prescribe to any definitive description. Like Amanza, they're fun-loving, free-spirited and jovial—also great friends and allies. Amanza walks to the beat of her own drum (which is why we adore her) and is extremely direct with others when she needs to be. Also, she's accountable for her actions. Yes, she isn't on time often. However, her desire to change and prove others wrong is very Sag.
10. Capricorn: Davina Potratz
Davina resonates with the earth sign Capricorn because she's a very hard worker and gives her all to the listings that she represents. And, like the sea-goat, she prides herself on her brutal honesty. Although she works hard, she often plays hard as well (which is what most Capricorns do to find balance in their life). Going to Burning Man is a way for the real estate broker to burn off steam and cut loose.
11. Aquarius: Vanessa Villela
We don't know much about Vanessa, but the former novella actress who's currently found her footing in real estate appears to be a kind soul like the water-bearer. Vanessa's giving off major Aquarian vibes by her lovely demeanor and goal-oriented desires to manifest her dreams. Aquarians believe anything is possible if you believe in it—that's the energy Vanessa is radiating.
12. Pisces: Emma Hernan
Although Emma (who is a self-made entrepreneur) is a new addition to the cast of Selling Sunset, she will totally be a big part of the upcoming drama and a sensational new member to the Oppenheim team. While she may be a newbie on the show, Emma will be a standout star due to her glamorous vibes and her kind heart which is seen through her love of animals—all of which are very Piscean.
Cute astrology-themed gifts
Brand
Colour
Price
Refine ☵
Sort By
Lisa Stardust is a New York City-based astrologer who has been part of the astrology community for over 10 years. Acting as a guide for her clients, Lisa Stardust can provide insight & answer questions relating to relationships, finances, and other important facets of life as a practicing astrologer.