Which 'Selling Sunset' star are you based on your zodiac sign?
Are you more of a Nicole or a Chrishell? Here's what 'Selling Sunset' cast member you're most like, based on your zodiac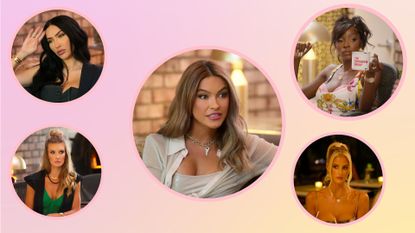 (Image credit: Netflix)
Selling Sunset is packed with real estate porn, high-moneyed business drama, and a whole host of characters—and if you're wondering which of said characters you're most like, we're using your zodiac sign to guide you to your reality-star stand-in.
Are you a Christine Quinn? More of a Bre Tiesi? Do you vibe best with Selling Sunset's Romain Bonnet or the newest troublemaker Nicole Young? Well, we have the answer—according to your zodiac sign (not to be confused with the Selling Sunset cast actual zodiac signs)...
Which 'Selling Sunset' cast member are you, based on your star sign?
Aries: Jason Oppenheim
As one of the founders of the Oppenheim Group (the other being his twin brother, Brett), Jason Oppenheim thrives on having the best boutique real estate firm in Los Angeles—as any Aries would, as they like to win. Closing deals and getting the best inventory is essential to his being, which is why Jason's persona resonates with that of the Ram, who, like Jason, never accepts defeat as an acceptable way of doing business.
Taurus: Bre Tiesi
When it comes to the cast of Selling Sunset, Bree Tiesi deeply embodies the traits of a Taurus. This model-turned-real-estate-agent has had an extensive career and backstory. This depth shows that like a Taurus, she is bringing a lot to the table. In interviews, she has stated that she's a "hate it or love it kind of gal" and brings a lot to the show, "from fashion to drama." Once a Taurus sets their mind on something, they're in it to win it and see the world as black and white.
While she enjoyed her beauty career and has been open about her cosmetic surgeries, she knew she wanted to develop a long-term career. This also mirrors the traits of a Taurus, who are ruled by Venus and crave beauty and luxury, but also are an earth sign and know how to get to work.
Another one of her passions is fitness, as she likes to constantly be productive. Previously, she was married to former NFL star Johnny Manziel, but left after cheating allegations. Like a Taurus, loyalty is extremely important to her. Now she's focused on traveling the world and creating an empire with her kid, who she shares with Nick Cannon.
Gemini: Romain Bonnet
What you see isn't what you get with Romain—the same applies to the dualistic persona of the twin star sign. At first, he gives off a brooding intensity, but upon deeper reflection, he is actually a really kind-hearted and intellectual person. Romain's wife, Mary, is more than his partner in life—she's his best friend. Geminis only commit to their ride or dies, which is what this couple appears to have done.
Cancer: Chrishell Stause
Yes, crabs are sensitive creatures (which is what Christine accused Chrishell of being many times). Chrishell is sweet as pie, nice, and nurturing. However, she also has a tough exterior (like all crabs do because of their hard shells). Being that Chrishell worked her way to the top, after being homeless in her youth, she's not going to be the brunt of other people's issues because she's come so far and worked hard for everything.
Leo: Mary Fitzgerald
Mary may not be perfect (no one is!), but she is an extremely loyal friend and colleague. Like most Leos, she'll stand by the side of her friends and support them through thick and thin (hence her friendship with bestie Amanza and her working relationship with ex-boyfriend Jason). However, if you don't reciprocate her generosity and kindness, the claws will come out, which is the way any fierce lion would fight back in fraught times.
Virgo: Heather Rae Young
Heather is all about the details when it comes to organizing the viewings of the homes she's selling—except when she was overwhelmed with her relationship and got sidetracked. And, in true Virgo fashion, she was super hard on herself when the staging went awry. Her desire to perfect every showing and encounter with clients is very important to her, which is why she is at the core a true Virgo (through and through).
Libra: Christine Quinn
Yes, we know she's no longer a part of the show but we couldn't not include the queen of Selling Sunset drama. Although Christine was known to make things messy at the agency, she did so as a defense mechanism to balance out relationships and situations, which is very Libra. At the core, she wants to mend the intensity and make good with others. Also, Christine has a wonderful aesthetic and fashion sense. Plus, she's a lover of the finer things in life: the best clothes, champagne, and decor, as all Libras do.
Scorpio: Brett Oppenheim
Like any Scorpio, Brett is a passionate person who has a lot of drive. After all, he started the Oppenheim Group with his twin brother Jason (although many people have been asking if Brett is actually still on Selling Sunset). His career is evolving and transforming at the moment, and in true Scorpio form, he is open to embracing the changes that are coming his way (due to his departure from the Oppenheim Group to live out his truest life passions, which are house renovations, restoration, and home flipping).
Sagittarius: Amanza Smith
Sagittarius is a zodiac sign that doesn't prescribe to any definitive description. Like Amanza, they're fun-loving, free-spirited and jovial—also great friends and allies. Amanza walks to the beat of her own drum (which is why we adore her) and is extremely direct with others when she needs to be (like when she's discussing the complicated situation with her missing ex-husband Ralph Brown). Also, she's accountable for her actions. Yes, she isn't on time often. However, her desire to change and prove others wrong is very Sag.
Capricorn: Chelsea Lazkani
Another newcomer to the Selling Sunset cast is Chelsea Lazkani, a powerhouse in her own regard who always speaks her mind and is unafraid to shake things up! Her backstory and personality clearly align with the Earth sign, Capricorn. The British-Nigerian realtor originally studied economics and was a former corporate worker and business strategist in the oil and gas industry.
Capricorns are the "business head" of the zodiac and tend to be highly ambitious and know that even if it takes them a while, they can and will reach the top through perseverance. Another important note to make is that her family is and always has been important to her, something she has repeatedly made known (especially when it comes to Bre and Nick Cannon's relationship).
The careers of her parents originally inspired her, as her mother was a corporate executive and her father is an architect and developer. She's also a wife to Jeff Lazkani and mother of two, showing that like a Capricorn she can juggle it all. And while she loves to live the luxurious life, like any Capricorn who has worked tirelessly to reach their pinnacle of success, she ultimately takes her position as a leader and role model quite seriously. She knows that through her legacy she can inspire others to follow in her footsteps.
Aquarius: Nicole Young
As a person, Nicole Young mirrors the personality and traits of the air sign, Aquarius. As a long-time veteran of the Oppenheim group, she has been a part of the team since 2014. In fact, she has made guest appearances on the series up until now and was even in line to be one of the first realtors on season one. Yet, she chose to back out in order to protect her life, clients, and business.
As a relative newcomer to the main cast of Selling Sunset, Young has decided it's time to step into the spotlight. Aquarians, too, may take a while to make up their minds because as an air sign, they like to intellectualize everything and assess their strategy. Aquarians also like to build long-term plans and visions because they are a Fixed sign modality.
Another aspect that aligns her with this zodiac sign is that she originally studied marketing and public relations, first launching a career as a marketing consultant. She understands brand strategy, product launch campaigns, sales support, vendor negotiations, and customer outreach, all skill areas that Aquarians tend to excel at.
She's deeply loyal and values her friendships significantly. Her long-time friend and colleague Mary Fitzgerald has been a staple in her life and she even officiated her wedding. Aquarians ultimately seek to build a bright and healthy community around them.
Pisces: Emma Hernan
Although Emma (who is a self-made entrepreneur—her empire includes the popular Emma's empanadas) was not part of the original season one cast, she has become a big part of the Oppenheim team. She's a standout star due to her glamorous vibes and her kind heart which is seen through her love of animals—all of which are very Piscean.
Lisa Stardust is a New York City-based astrologer who has been part of the astrology community for over 10 years. Acting as a guide for her clients, Lisa Stardust can provide insight & answer questions relating to relationships, finances, and other important facets of life as a practicing astrologer.