Do Megan and Alex end up together in 'Too Hot to Handle' season 5?
Things got messy between Megan and Alex this season on 'Too Hot to Handle'—here's where things stand with the reality couple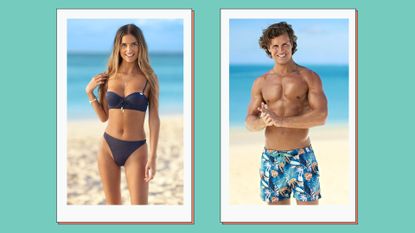 (Image credit: Netflix)
Call us reality-show romantics, but do Megan and Alex from Too Hot to Handle season 5 end up happily ever after? (And, while we're at it, is anyone from Too Hot To Handle still together?)
When a bunch of super attractive single people get together, love triangles are bound to happen but when you add in the fact they can't do anything about the sexual chemistry that's brewing, well, things get dramatic and that is exactly what happens on Too Hot To Handle's fifth season.
Ten contestants signed up for a show that would provide them with a steamy summer as they tried to find their soulmate while on a luxury yacht. But the reality is they were tricked by the Too Hot To Handle team and instead found themselves on a show where meaningless hookups or physical canoodling of any kind are forbidden (which gets even more complicated when those Too Hot to Handle new arrivals show up).
But despite this rule, it hasn't stopped love triangles from being in heavy supply this season and one of the biggest ones so far involves Megan Thomson, Alex Snell and Elys Hutchinson. But do Alex and Megan end up together despite the former's attraction towards Elys? Here's what we know.
*Warning: spoilers ahead!*
Do Megan and Alex end up together on 'Too Hot to Handle'?
In short, no, because Alex finally gets together with Elys.
Alex was interested in Ꭼlys from the moment he saw her on the yacht. But like many of the other singletons, commitment wasn't really Elys' thing and because she initially thought she was on Love Overboard, she thought she had time to kiss and test out the guys. Alas, Lana had other plans for her.
When it was announced that the show she was actually on was Too Hot To Handle, Elys had spent more time with fellow castmate Hunter LoNigro and so naturally shared a bed with him. However, this didn't stop her from being conflicted between her physical connection to Hunter and finding Alex's humor really attractive.
Initially, Alex thought he still had a chance with Elys, but when Lana got the group together in episode two, it was revealed that Hunter and Elys had shared two kisses that day. They even announced that they had a kiss on the beach because they didn't think Lana had Wi-Fi there.
Seeing the group lose $12,000 because of Hunter and Elys' kiss made Alex realize it was time to try and forget Elys. So he did what any sane person would do and turned his attention to his bedmate Megan.
Alex and Megan seemed to be getting on great but it did lead to Elys getting a bit jealous and becoming more in tune with the fact that Hunter may not be her match after all. This left Elys even more conflicted and having no idea what to do. But she didn't have to fear as Lana was there and, just as she found out about the beach situation, she knows everything.
So when Elys told Hannah that although Louis shouldn't have kissed Hannah and Christine minutes apart, she couldn't really speak because she herself couldn't stop thinking about Alex. She revealed that Alex gave her the eyes and he was louder and funnier, but Hunter was a good guy and physically made her really horny. However, she added that Hunter's "chat isn't the best"
As we said, Lana knows all, so to help Elys choose, Lana decided to send Elys on a date with Hunter. The date was a bit weird as, after finding out that Elys is bilingual, he asked her, of all the things, about how to ask to use the bathroom in French. He then wondered out loud if he can climb the tree next to where their date was set. The weird energy surrounding their date meant that Lana's rude interruption was not surprising.
Halfway through the date, Lana piped up and asked Elys if she'd like to stay on her date with Hunter or switch things up and go on a date with Alex. After a little thinking and saying to Hunter that their date was going well, Elys' face said everything, and she decided to drop Hunter and go on a date with Alex.
We should add that when Alex left for his date with Elys, Megan was having a bath and had no idea Alex had left to go on the date until Courtney came and told her.
The chemistry between Elys and Alex was obvious and despite Alex saying he liked Megan, he admitted something was drawing him with Elys and his connection with her was more exciting. Even Elys admitted that things felt less forced with Alex and they had a crazy chemistry. They both admitted to each other that they wanted to share a bed together.
What is Megan's reaction to Alex and Elys coupling up?
When Alex and Elys returned from their date in episode four, they announced to everyone that they will be sharing a bed and pursuing their connection.
As you can expect, this left Megan heartbroken. Megan kept asking why she wasn't good enough for anyone and why she kept getting put in these situations where the other girl always gets picked. Megan got so emotional about the whole situation that in her confessional, she announced that she wanted to leave the retreat. But after sleeping on it, she decided to stick around.
However, it's yet to be seen whether Elys and Alex last the entirety of the show.
The first four episodes of Too Hot to Handle season 5 are streaming on Netflix now, with the new episodes dropping on Friday, July 21.
Liv is a freelance journalist currently studying English at university. She loves covering everything from entertainment and politics to lifestyle and travel. As well as writing for My Imperfect Life, Liv has bylines in The Times, HuffPost, Den of Geek, Bustle The Metro and The Bookseller.