Who are the new arrivals from 'Too Hot to Handle' season 5?
The 'Too Hot to Handle' new arrivals have descended upon the season 5 villa to add even more dating drama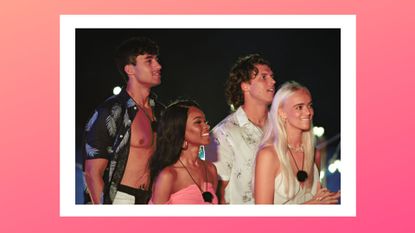 (Image credit: Netflix)
They say the best moment of summer is when Love Island is back on TV, but the return of Too Hot to Handle season 5 on Netflix is giving it a run for its money.
While we can't binge-watch the season, the first batch of episodes landed on the streaming service on Friday, July 14, and it is not free from drama. Episode four has already gifted viewers with two new bombshells to shake things up.
If you need a refresher on how Too Hot to Handle works, Netflix finds the horniest, sexiest bunch of singletons and brings them to an island where they believe they are about to embark on the steamiest summer of their life. (It is the friskiest time of year, after all.) But, instead, they meet Lana, a robot who forbids them from engaging in any kind of sexual activity to help the contestants create meaningful romantic bonds in an attempt to win a cash prize of $200,000. Sounds easy, right?
Except for this one little catch: the singletons on Too Hot to Handle are often commitment-phobes who can't resist a good fling. So the arrival of two new hot contestants could be a massive challenge. But before Netflix reveals how much trouble these new bombshells will stir up, we're going to take a deeper look into newbies Trey and Yazmin.
*Warning: spoilers ahead!*
Meet the 'Too Hot to Handle' new arrivals from season 5:
Who is Trey Rogers from 'Too Hot to Handle' season 5?
Age: 22
Job: Model
IG Handle: @TreyyRogersOfficial
Hometown: Chicago, USA
From episode four, we already know that Trey has his eye on the fabulous 6-foot-one Christine Obanor. But considering Christine feigns getting the ick if she suspects she's not a guy's number one girl, she might be in for a tough ride with Trey.
Trey is always looking for the next best thing and refuses to settle for anyone less than perfect...except the next best thing is often the next stunning girl who walks by, and with an island full of attractive women, this could prove to be a big problem for Trey and those wanting to win the cash prize.
Trey believes with dimples and abs like his, he won't need to work too hard to distract the girls, especially when some of them have already proved they don't mind breaking the rules with the right person.
Like a few of the other guys on the island, Trey has never had a long-term girlfriend, but if anyone loves a challenge, it's Lana. So could this Lana's retreat change his mind, or will Trey stick to his old ways and tempt the girls to break some rules with him?
Who is Yazmin Marziali from 'Too Hot to Handle' season 5?
Age: 25
Job: Bottle Girl
IG Handle: @yazminmarziali
Hometown: Montevideo, Uruguay
Yazmin knows how to command attention and isn't afraid of stepping on other people's toes to get herself the man she wants. Her first few moments on the show prove this as she uses her first date to steal Isaac Francis from Courtney Randolph, and from the look on Yazmin's face, she has no plans to give him back.
With already 21,000 followers on Instagram, this fiery Latina knows how to turn heads and it's clear she has all the skills to ensure that everyone's eyes are always on her. While she's on the retreat she's bound to shake a few things up and if stealing a girls man isn't a concern for this dramatic bottle girl, it could create even more trouble on the island.
Also, considering her Instagram bio reads that she's "a part-time party girl, and a full-time drama queen", Lana better have something up her sleeve to help control this wild child, as she's bound to break some rules.
The first four episodes of Too Hot to Handle season 5 are streaming on Netflix as of Friday, July 14 with the second batch of episodes dropping on July 21.
Liv is a freelance journalist currently studying English at university. She loves covering everything from entertainment and politics to lifestyle and travel. As well as writing for My Imperfect Life, Liv has bylines in The Times, HuffPost, Den of Geek, Bustle The Metro and The Bookseller.