Best Megan Thee Stallion quotes on confidence, inner strength and being yourself
These Megan Thee Stallion quotes cover everything from her career rise to her powerful belief that women can do whatever they put their mind to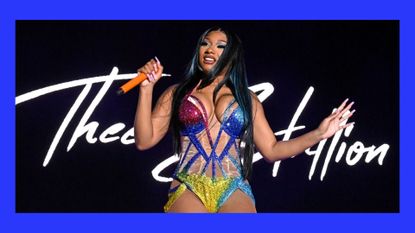 (Image credit: Astrida Valigorsky/Getty)
The best Megan Thee Stallion quotes from the rapper, singer, writer and influencer cover everything from confidence to feminism.
Born Megan Jovon Ruth Pete, the performer has risen to the top of her game, so she's got plenty of sage advice and wisdom to offer on success. In fact, many of her lyrics are based around the idea of female empowerment and encourage other women to believe in themselves and the power of their potential—which is why they're not only some of our favorite celebrity quotes, they're some of the best quotes to start the day with.
Not afraid to use her voice and influence, these Megan Thee Stallion quotes will inform, encourage and inspire those listening to her. Here is a small sampling of some of her more notable quotations.
Our favorite Megan Thee Stallion quotes:
1. On self-confidence
Megan Thee Stallion exudes confidence from every pore—and she believes it is the power of her own self-love that has gotten her to where she is today. As such, she encourages other girls to believe in their own power and to love the person they see in the mirror, no matter what others may or may not see in them. These are the best Megan The Stallion quotes on confidence:
"It's not just about being sexy, it's about being confident, and me being confident in my sexuality."
"My music is me letting the world know how confident I am in myself, and me basically telling other women—and guys—how confident and how comfortable I believe they should be."
"I want to show other girls how happy I am and how confident I am, how I still want to go to school and I still want to rap."
2. On female empowerment
More than anything, Megan Thee Stallion wants young girls and women of all ages to know that they are valuable, and deserve to demand to be treated with respect.
Meg is a powerful voice for women and she has no intention of slowing down when it comes to her feminist principles, as these quotes show. And if you want more empowering quotes, take a look at these Women's History Month quotes.
"Us boss chicks have to continue to stick together and change the game."
"Women make the world go round."
"I'm always trying to one-up myself."
3. On individuality
Megan Thee Stallion is well aware that knowing the real you is the first step to success and confidence, and to getting other people to understand you too. It's all about confidence—the rapper believes that once you know yourself, you'll have the courage and strength to put yourself first, always.
Here are the best Megan Thee Stallion quotes on knowing who you are:
"I feel like, when people realize that they are the only person they need to impress, everybody's life will be a lot smoother."
"I'm just a real person, not a caricature."
"When you go to college you can just be whoever you wanna be. So I got there and I'm like, 'Yeah, I'm a rapper'."
"I just want to be like a good example to somebody in the future."
4. On growing up
Megan credits her mother with giving her the strength to withstand the pressures of creating rap music, being a college student, and fighting to earn respect as a young black woman. She knew from a young age that she wanted to be a rapper, and she gives thanks to her mother for both encouraging her dream and setting her in the right direction:
"I was an only child so, at home, I'm turnt up by myself, doing whatever I wanna do."
"Sometimes, when you're doing too much, things get overwhelming. So I just have to calm myself down and think, 'What would my mama want me to do?'"
Megan Thee Stallion's star continues to rise, but she isn't only pursuing her musical career. Currently, she is studying health administration at Texas Southern University and fighting to establish more assisted living communities in her hometown of Houston, something she believes the city is desperately in need of.
Amy Hunt is a lifestyle writer and editor, and was previously Lifestyle Channel Editor at womanandhome.com, having been with the brand since 2015. She is passionate about everything from entertainment to books, to homes, food and wellness. When she isn't editing, researching or writing articles, he's busy burying her nose in a gripping thriller, practising yoga, or buying new homeware.