These Women's History Month quotes are our new daily affirmations
These Women's History Month quotes from some of our favorite powerful women will have you feeling inspired well beyond March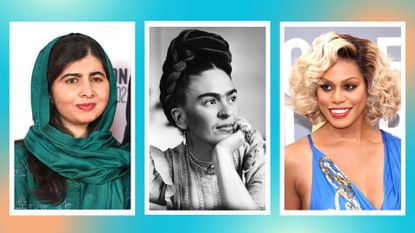 (Image credit: Jeff Spicer/Getty; Bettmann/Getty; Monica Schipper/The Hollywood Reporter/Getty)
Need a little pep talk? These Women's History Month quotes—motivational mottos from famous women throughout history, from trailblazing pioneers like Amelia Earhart and Frida Kahlo to political powerhouses like AOC and RBG, to one of our brightest Gen Z voices—will offer just that.
After all, we always turn to the women we love and admire when we need a boost of confidence, an extra dose of support, and an always welcome nudge to have a positive mindset.

You can print the quotes and hang them as inspirational wall art, or simply recite them into your bathroom mirror as daily affirmations to get your morning off to a strong, stirring start. But mostly we hope that the words of these exceptional women serve as a reminder that if they can do it, so can you!
Women's History Month: Quotes to Inspire
Alexandria Ocasio-Cortez
"Being polite is not the same thing as being quiet. In fact, oftentimes, the most righteous thing you can do is shake the table."
Ayn Rand
"The question isn't who's going to let me. It's who is going to stop me."
Meghan Markle
"Women don't need to find their voice. They need to feel empowered to use it and people need to be encouraged to listen."
Cher
"My mom said to me: 'You know sweetheart, one day you should settle down and marry a rich man.' And I said: 'Mom – I am a rich man.'"
Shonda Rhimes
"You can waste your lives drawing lines. Or you can live your life crossing them."
Mindy Kaling
"If you don't see a clear path for what you want, sometimes you have to make it yourself."
Amelia Earhart
"The most difficult thing is the decision to act; the rest is merely tenacity."
Toni Morrison
"If you find a book you really want to read but it hasn't been written yet, then you must write it."
Ruth Bader Ginsburg
"Women belong in all places where decisions are being made."
Frida Kahlo
"At the end of the day, we can endure much more than we think we can."
Ntozake Shange
"Where there is a woman, there is magic."
Malala Yousafzai
"We realize the importance of our voice when we are silenced."
Maya Angelou
"Each time a woman stands up for herself, without knowing it possibly, without claiming it, she stands up for all women."
Viola Davis
"Do not live someone else's life and someone else's idea of what womanhood is. Womanhood is you."
Madonna
"I'm tough, ambitious, and I know exactly what I want. If that makes me a bitch, okay."
Aretha Franklin
"The man who gets me is getting one hell of a woman."
Rupi Kaur
"If you were born with the weakness to fall, you were born with the strength to rise."
Amy Poehler
"I've always dreamed of growing up to be Amy Poehler."
Margaret Thatcher
"If you want something said, ask a man; if you want something done, ask a woman."
Mary Shelley
"I do not wish women to have power over men; but over themselves."
Audre Lorde
"I am not free while any woman is unfree, even when her shackles are very different from my own."
Laverne Cox
"A lot of what feminism is about is moving outside of roles and moving outside of expectations of who and what you're supposed to be to live a more authentic life."
Janelle Monáe
"Women will be hidden no more. We will not remain hidden figures. We have names. … It was woman that gave you Dr. Martin Luther King, Jr. It was woman that gave you Malcolm X. And according to the Bible, it was a woman that gave you Jesus. Don't you ever forget it."
Hillary Clinton
"To all the little girls who are watching this, never doubt that you are valuable and powerful, and deserving of every chance and opportunity in the world to pursue and achieve your own dreams."
Ava DuVernay
"Ignore the glass ceiling and do your work. If you're focusing on the glass ceiling, focusing on what you don't have, focusing on the limitations, then you will be limited."
Michelle Obama
"No country can ever truly flourish if it stifles the potential of its women and deprives itself of the contributions of half its citizens."
Christina Izzo is the Deputy Editor of My Imperfect Life.
More generally, she is a writer-editor covering food and drink, travel, lifestyle and culture in New York City. She was previously the Features Editor at Rachael Ray In Season and Reveal, as well as the Food & Drink Editor and chief restaurant critic at Time Out New York.
When she's not doing all that, she can probably be found eating cheese somewhere.