Who is Micah on 'Selling Sunset'?
Who is Micah, 'Selling Sunset' character catching Emma Hernan's eye this season?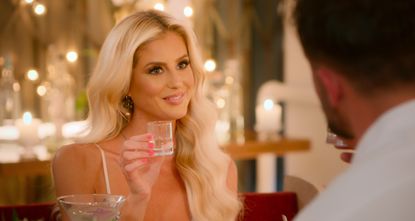 (Image credit: Netflix)
The latest season of Netflix's Selling Sunset focused on the short-lived relationship between Chrishell Stause and Jason Oppenheim. However, theirs was not the only romantic couple fans got to see on the show, as costar Emma got her own shot at love this season as well.
Emma Hernan meets Micah McDonald in episode three of Selling Sunset season 5 and while their time on screen is limited, that hasn't stopped fans from picking up the chemistry the two have together and wanting to know all about the guy who may be catching Emma's eye.
But exactly who is Micah, Selling Sunset's newest catch?
Who is Micah, 'Selling Sunset' season 5 newbie?
Micah McDonald is a property developer from Texas. He's one of eight kids and on Selling Sunset, he reveals that he bought a house in Los Angeles for his family to stay in when they visit him on the West Coast.
McDonald has been working in property development for a hot minute, working since 2016 on the Lloydcrest Drive property in Beverly Hills where he meets Emma. He purchased the property in 2016 when it was just a 1,700-square-foot house before spending the time to turn it into the beautiful 10,000-square-foot, five-bedroom and eight-bathroom property we currently see on the show.
How did Micah and Emma meet on 'Selling Sunset'?
We first meet Micah on season 5 of Selling Sunset when he's working on a gorgeous home in Beverly Hills. It's this hot piece of real estate that introduces him to entrepreneur and Selling Sunset cast member Emma Hernan. They say you shouldn't mix business and pleasure, but it doesn't seem that Emma and Micah got the memo, as from the moment these two meet, they are flirting up a storm with each other. Emma admits that Micah is some serious eye candy in her Selling Sunset confessional.
Their instant spark leads to them making arrangements to meet for a business meeting-slash-date which from the looks of the footage we saw on the show went pretty well. However, Emma expressed that she was hesitant to get involved with a client: "He's good-looking, successful, I mean, we could go on all day. It's the perfect little recipe for a f*ckboy."
Micah McDonald Instagram: what's his handle?
Yes, Micah's Instagram is @iam_micah (opens in new tab) and you can follow him to see his fitness posts as well as updates on his current properties.
His Instagram, which only has 29 posts, is currently followed by 11.8k followers and shows him hanging out with the likes of American football player Emmanuel Sanders and designer ZoFrost.
Micah McDonald age: how old is he?
McDonald's age has not been publicly disclosed, but it's safe to assume he's in his mid-30s.
What is the name of Micah's restaurant?
Along with being a property developer, McDonald is a restaurant owner, and Emma and Micah connect over shared entrepreneurial skills when they go to Micah's restaurant for their first date in episode five.
The restaurant is called Sagrado Mezcaleria (opens in new tab) and is located in Atwater Village in Los Angeles. It's a mezcal-focused restaurant inspired by the flavors of Oaxaca and pays tribute to Mexican culture. The restaurant even works with local businesses and families of the Oaxaca region. You can find the restaurant on Instagram @sagradola (opens in new tab).
Something that will probably surprise you to know about the restaurant is that the menu features Emma's vegan empanadas, which she bought on her and Micah's first date for him to try. They're listed for $11 and the 5 Mini "Beyond Meat" Empanadas are served with shaved cabbage, tomatillo salsa, radish and cilantro. This seems like a very big gesture from Micah!
Are Emma and Micah still together after 'Selling Sunset'?
Now isn't this the million-dollar question? We last see Emma and Micah getting very hot in the hot tub at the property he's just finished developing, but we were left with no actual confirmation as to whether or not they are actually dating now. Not even Instagram could give us the answers, as the two don't even follow each other.
But fear not, as Emma recently spoke to Entertainment Tonight (opens in new tab) saying: "Me and Micah definitely have something special…. We're definitely still enjoying each other's company. Obviously it's progressed a little bit [from where season 5 ends]. We've become closer, but it's right about there. So we'll see. Maybe season 6, there will be a label, a ring—who knows?"
Emma has confirmed they are not in an official relationship yet but her comments do sound promising in our eyes. However, considering that Emma is already splitting her time between Boston and Los Angeles, can she really add Texas to her schedule as well? It's something she also discussed with ET: "I've done the long-distance thing for so long that it would be nice to have a relationship where they're in the same, at least, state." The issue of Micah and Emma's distance definitely feels like a topic that is going to come up in Selling Sunset season 6 if the two decide to pursue a relationship.
See more of Micah McDonald in Selling Sunset season 5, now streaming on Netflix.
Liv is a freelance journalist currently studying English at university. She loves covering everything from entertainment and politics to lifestyle and travel. As well as writing for My Imperfect Life, Liv has bylines in The Times, HuffPost, Den of Geek, Bustle The Metro and The Bookseller.