Who is Amy Loughren? Meet the IRL nurse who helped catch a killer in 'The Good Nurse'
Played by Jessica Chastain in 'The Good Nurse,' nurse Amy Loughren realized that her co-worker and close friend was actually a deadly killer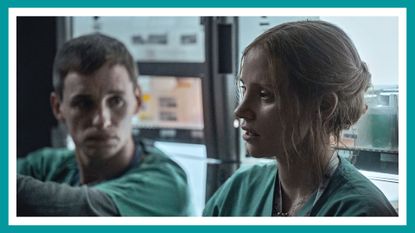 (Image credit: JoJo Whilden / Netflix)
You'll never know the murderer sitting next to you and for nurse Amy Loughren, that was especially true.
Amy Loughren is the real-life nurse at the center of The Good Nurse, the latest true crime on Netflix title that chronicles one of the country's deadliest serial killers, Charles Cullen, who administered lethal overdoses to unsuspecting patients while working as a nurse in New Jersey and Pennsylvania from 1988 to 2003.
Working side-by-side with Cullen (played by Eddie Redmayne in the Netflix film) at his last medical post at Massachusetts' Somerset Medical Clinic was Nurse Loughren (Jessica Chastain), who would go on to work with police to take down her murderous coworker. Here's what we know about Amy Loughren and where she is now.
Who is nurse Amy Loughren from 'The Good Nurse'?
The Good Nurse tells the true story of nurse Amy Loughren, a single mother of two and medical professional who worked alongside and grew close to Charles Cullen in the intensive care unit of Somerset Medical Center (now Robert Wood Johnson University Hospital Somerset) in Somerville, New Jersey, in the early 2000s. It was that hospital posting where Cullen overdosed and killed 13 patients, including his last victim, which would lead to his eventual arrest in 2003.
When Somerset hospital staff became suspicious after patients died of medication overdoses, they contacted law enforcement, who began an investigation into Cullen. They approached his friend and fellow nurse Loughren to aid in the investigation and she agreed, working with detectives and wearing a wiretap to confront Cullen at a diner in December 2003. It was during this conversation with Cullen that he partially confessed to the crime, which New Jersey police used to arrest him.
After his arrest, Cullen was convicted of 29 murders and sentenced to 17 consecutive life sentences in New Jersey State Prison in Trenton, NJ.
Loughren visited Cullen in prison "dozen of times" after the arrest, she told Glamour: "I knew that monster needed to be behind bars, but I was also putting my friend Charlie behind bars."
"I struggled with the guilt of missing him [Cullen]. I struggled with the guilt of not seeing that that friendship also had a monstrous dark side," she revealed to the BBC. "And I didn't want to see it. I wanted to believe that he was a mercy killer so that I could still care about him. And he wasn't a mercy killer. He was a cold-blooded murderer. And for me to not have seen that, I really did struggle."
However, Cullen reportedly stopped responding to her letters in 2013 when Charles Graeber's book The Good Nurse: A True Story of Medicine, Madness, and Murder—which revealed Loughren as an aid in the investigation, and on which Netflix's The Good Nurse is based—was released. However, per The New York Post, Cullen did say of Loughren while on 60 Minutes in 2013: "She is a good nurse."
Where is Amy Loughren now?
Now 57 years old, Amy Loughren is a "Reiki Master, a Hypnotherapist, NLP Practitioner, Meditation Instructor, DreamSculptor Practitioner, Reconnective Healer, Integrative Energy Healer, Past Life Regressionist, Crystal Language Reader, Medical Intuitive, and learned "The Work" from Byron Katie," per her official website. According to her Twitter, she is currently living in DeLand, Florida, with her daughters and grandchildren.
Loughren worked closely with The Good Nurse team, including director Tobias Lindholm, screenwriter Krysty Wilson-Cairns, and lead actors Jessica Chastain and Eddie Redmayne, during the production of the film. Chastain said it was Loughren that attracted her to the film, telling the BBC: "Normally we fetishise violence and murder and we [have a] need to really explore the individual who was responsible for it. But what if we explore the individual who stops it? I find that so healing, and it is a radical act of filmmaking."
"She's a remarkable person," author Charles Graeber said to The Los Angeles Times. "She ended up being the heart of the story because, unlike homicide detectives or serial killers, Amy's one of us. She doesn't expect murder on a daily basis. It's not her job description, and it's not her view of the normal world. So her choices are more relatable to us."
"I literally risked everything to make sure he was behind bars," Loughren said to the BBC. "And I was showing up every single day and pushing myself every single day no matter how sick I was. I still showed up to be a mom. I still showed up to be a good nurse and watching her [Jessica], I could be proud of that character. It opened up a space for me to say: 'I did good'."
Christina Izzo is the Deputy Editor of My Imperfect Life.
More generally, she is a writer-editor covering food and drink, travel, lifestyle and culture in New York City. She was previously the Features Editor at Rachael Ray In Season and Reveal, as well as the Food & Drink Editor and chief restaurant critic at Time Out New York.
When she's not doing all that, she can probably be found eating cheese somewhere.