Who is Charles Cullen? All about the real-life serial-killer nurse from 'The Good Nurse'
Who is 'The Good Nurse' based on? Meet Charles Cullen, the subject of Netflix's latest true-crime movie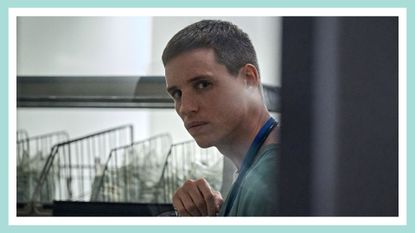 (Image credit: JoJo Whilden / Netflix)
Streaming fans have been pretty taken with serial killers lately, particularly Jeffrey Dahmer, who was the sinister focus of both the Netflix docuseries Conversations with a Killer: The Jeffrey Dahmer Tapes and Dahmer – Monster: The Jeffrey Dahmer Story, the Jeffrey Dahmer series starring Evan Peters. Now add another murderous character to your streaming list: Charles Cullen, the subject of Netflix's The Good Nurse.
Joining the best true crime on Netflix titles is this feature film starring Eddie Redmayne as Cullen and Jessica Chastain as his colleague, nurse Amy Loughren, who becomes suspicious after the unexpected death of one of their patients. What results is one of the most shocking and horrifically prolific crime sprees in history.
Here's what we know about Charles Cullen, the real-life killer from The Good Nurse.
Who is 'The Good Nurse' based on? Meet Charles Cullen
Charles Cullen is a former registered New Jersey nurse turned prolific serial killer, who utilized drugs like digoxin, epinephrine and insulin to spike IV bags and willfully overdose hospital patients on the East Coast over the course of a 16-year medical career, from 1988 to 2003. Reportedly, when staff would grow suspicious, Cullen would relocate to another medical facility and start up his spree again there.
One of the most prolific serial killers in American history, Cullen has 29 confirmed victims but confessed to homicide detectives Dan Baldwin and Tim Braun upon his arrest in 2003 that he killed as many as 40 people. However, experts believe that number is actually in the hundreds.
"Hospital medical murders are very difficult to prove," Charles Graeber—who authored the 2013 book, The Good Nurse: A True Story of Medicine, Madness, and Murder, that the Netflix film is based on—told The Los Angeles Times. "A lot of the hospital records had been destroyed or were incomplete because we're going back a decade."
Graeber continued: "And [Cullen] said he didn't remember specifically—his memory works a little differently. He also was shaping the narrative he was comfortable with. But the experts that I spoke with, the people that know this case, some that had a profound psychological insight [on] him and had spoken with him candidly, said that the number that he had confessed to was probably lower by a factor of eight, which would put it somewhere between 300 and 400 people."
What hospitals did Charles Cullen work at?
Over his murderous medical career, Cullen worked at nine hospitals in his native New Jersey and Pennsylvania, beginning his crimes in June 1988 at Saint Barnabas Medical Center in Livingston. He left that job in 1992 when hospital management began noticing contaminated IV bags.
He went on to work and kill at the following hospitals and medical centers in New Jersey and Pennsylvania until his arrest in 2003.
Warren Hospital in Phillipsburg, PA
Hunterdon Medical Center in Flemington, NJ
Morristown Memorial Hospital in Morristown, NJ,
Liberty Nursing and Rehabilitation Center in Allentown, PA
Easton Hospital in Easton, PA
Lehigh Valley Hospital-Cedar Crest in Allentown, PA
St. Luke's Hospital in Bethlehem, PA
Somerset Medical Center in Somerville, NJ
There were numerous reasons that allowed for Charles Cullen's crime spree to go on so long: one, a national nurse shortage made it easier for Cullens to move from one medical center to another.
There also was no reporting mechanism in place at the time to identify nurses who had mental health issues—Cullen was treated for depression in numerous psychiatric facilities throughout his life, and had attempted suicide many times over the years, as early as nine years old.
And fearing liability, hospitals were negligent in taking any action against Cullen, despite repeated suspicions against the nurse.
What happened to Charles Cullen? Where is he now?
When a patient at Somerset Medical Center died of low blood sugar in October 2003, the hospital staff became suspicious and alerted the New Jersey State Police. The investigation revealed suspicious drug withdrawals that Cullen made from the hospital's dispensary. Somerset fired him on October 31, 2003, for lying on his job application, while he was also suspected to be involved in several patient deaths at the center.
Cullen's co-worker Amy Loughren was approached by law enforcement about his nursing history. After weeks of surveilling Cullen, police had Loughren talk to the male nurse while wearing a wire, during which Cullen partially admitted to the crimes and was subsequently arrested on December 12, 2003.
Initially charged with one count of murder and one count of attempted murder, Cullen later pleaded guilty to killing 13 patients and the attempted murder of two others by lethal injection at Somerset in April 2004 in a New Jersey court. In March 2006, he was convicted of murdering 29 patients. Cullen was sentenced to 17 consecutive life sentences and is currently incarcerated in New Jersey State Prison. He is not eligible for parole until 2403.
The Good Nurse is available for streaming on Netflix beginning Wednesday, October 26.
Christina Izzo is the Deputy Editor of My Imperfect Life.
More generally, she is a writer-editor covering food and drink, travel, lifestyle and culture in New York City. She was previously the Features Editor at Rachael Ray In Season and Reveal, as well as the Food & Drink Editor and chief restaurant critic at Time Out New York.
When she's not doing all that, she can probably be found eating cheese somewhere.