Here's exactly what the 'opening the salon' Love Island 2022 analogy really meant
What's the 'opening the salon' Love Island chat? This is what those blowdries and manicures actually stood for...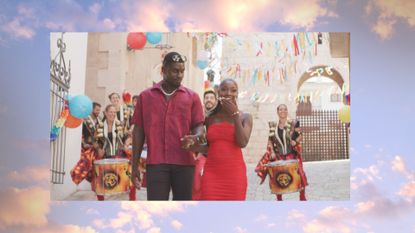 (Image credit: ITV)
You may have heard a lot of 'opening the salon' Love Island analogies used throughout the Love Island 2022 series. If you're a little confused, we're here to clear up what all those blowdries and manicures—which peppered the villa chat right up until the final—really meant.
Now, there have been a lot sex code words during the past Love Island summers, from 'do bits society' to 'graduating', but this season really took the spicy lingo to another level. The islanders could be heard throughout Love Island season eight discussing what happened between the sheets with terms inspired by various beauty treatments. French tips or pipette, anyone?
However, much like with Luca's 'Elephant Juice' saying, many viewers were left totally puzzled over the salon-sex comparisons. With that in mind, we've done our best to decipher what the words were actually code for so if ...
What does the 'opening the salon' Love Island analogy mean?
The opening of said salon effectively meant that the islanders 'did bits' (a classic Love Island phrase that we're all familiar with by now).
It meant that whatever was going on underneath those duvet tents was more than just kissing, like the classic 'first base, second base' cliche.
So when the islanders asked 'did the salon open?' during their morning chats, they were effectively asking if anyone engaged in any sexual activities—for example, viewers heard that Ekin-Su gave Davide a blowdry (yes we'll go into that) and a few manicures were performed.
We also recall Dami mentioning a pipette…but that's not quite in keeping with the already very obscure salon references.
What does 'manicure' mean on Love Island?
A manicure essentially meant a hand job. We sussed this out after Tasha revealed earlier in the series that Andrew 'had gotten a little manicure' from her.
She has also revealed that Andrew had given her a manicure 'with mouth' meaning oral sex but there's also another term being thrown around to describe that.
What does 'french tips' mean on Love Island?
We foolishly assumed that 'manicure' would encompass all sexual hand-based activities—how wrong we were—as Indiyah explained to Davide during one installment of Unseen Bits, that the term for fingering is actually 'french tips.' Naturally.
What does a 'blow dry' mean on Love Island?
We mainly heard Ekin-Su use this analogy before the Love Island 2022 final. When she used it, according to the Tab (opens in new tab), she was referring to oral sex.
What is a 'pipette' on Love Island?
Finally a pretty obvious one—a 'pipette' was what a bunch of 20-year-old-plus men were calling their penises.
What is the salon term for sex on Love Island?
Fans will be pleased to know that the code word for sex is just sex, according to Indiyah.
What do Love Island fans think of the salon code?
According to Twitter, they hated it—much like the NVQ codes from season seven, fans were not loving the confusing terms.
In fact, one Twitter user said, "I'm tired of this beauty salon shit because I don't even know what these are code for."
While another fan tweeted: "ELEPHANT JUICE? SALON?? PLEASE STOP THIS".
ELEPHANT JUICE ? SALON?? PLEASE STOP THIS #LoveISland pic.twitter.com/3Oudn3kD62July 14, 2022
See more
A third viewer also summed it up pretty well saying: "Sorry but can we stop with this salon shit and just say it as it is."
Sorry but can we stop with this salon shit and just say it as it is #LoveIsland pic.twitter.com/jB4CRr8yCKJuly 18, 2022
See more
Best Love Island gifts and merch to shop now
Brand
Colour
Price
Refine ☵
Sort By