Do Otis and Maeve finally get together in Sex Education season 3?
Is the "will-they/won't-they?" between Otis and Maeve over or what? Plus, more about that Sex Education season 3 ending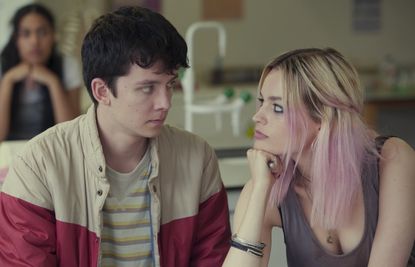 (Image credit: Jon Hall/Netflix)
The wait was long and boy was it hard but Sex Education season 3—and all those Otis and Maeve moments—did not disappoint.
*Warning: Spoilers ahead!*
However, with Jean being rushed off for emergency surgery, Maeve off to America and Moordale up for sale, the third season seemed a bit like a final one.
To make sure you can remember everything if there, in fact, is a Sex Education season 4 coming to Netflix, we decided it would be a good idea to take a look at everything that happened at the end of Sex Education season 3, including whether or not Otis and Maeve finally got together.
---
---
Do Otis and Maeve end up together?
Otis and Maeve aren't really together together by the end of season three, but the end of the season does see them make up and "be" together.

However, this is before Maeve takes the big opportunity that's come her way and goes off to study in the United States. Go Maeve! Can we just say that this decision led to one of the best moments in the series and something fans have been waiting for three seasons for and shows how much the characters truly care and love each other.
It does mean that their relationship is left on yet another will they/won't they, as Maeve says in regards to their relationship they'll just have to see what happens.
Does Jean survive?
After the early, traumatic labor, which led to an extremely close call for sex therapist Jean Milburn, she gave birth to a beautiful baby, whose name we'll get to in a bit.

However, quickly after the birth, Jean knows something is wrong as she passes out and is rushed in into emergency surgery. The show does not make us wait to find out the fate of Gillian Anderson's character, as Jean in fact does survive, which leads us to a much bigger shocker of a storyline in store for Jean. Yes, bigger than a baby and traumatic labor that almost killed her.
Who is the father of Jean's baby?
After the big shock at the end of season two, it came to no surprise that for most of the third season, Otis's mother Jean was pregnant for all of the season. We see her get back together and navigate a co-parenting relationship with Jakob, and together they welcome the birth of baby Joy, who was named by half-sister Ola.
That new-baby joy is cut short when Jean opened the results of the DNA test that Jakob had previously requested when he started to doubt he was the father. Yep, you guessed it: Jakob likely isn't the child's biological father after all, which brings us back to square one on who the baby daddy is. Could it be Jean's ex-husband and Otis's dad Remi, or one of her other one-night stands?
What is the situation between Cal and Jackson?
Non-binary student and Sex Education newcomer Cal hit first bonded with Jackson by rebelling against the dated rules and lack of comprehensive sex education set by Moordale's new headteacher, Hope Haddon.
The relationship between Cal and Jackson throughout Sex Education season three was sweet and supportive, with the pair starting to crush on each other, but their relationship halted when Jackson expressed discomfort at being in a "queer" relationship, a departure from the heterosexual ones the popular jock had experienced in the past.
In the end, the pair decided to remain friends.
Do Eric and Adam break up?
Sadly…yes.
It's safe to say a lot of the Sex Education fandom were not feeling the relationship between Adam and Eric at the end of season two and in fact wanted Eric to be with Rahim. However, things quickly changed in season three as Adam grew on fans. That's why the Eric and Adam break up hit us hard!
We totally understand why they needed to break up after Eric kissed that photographer in Nigeria, and both parties needed to spread their wings and fly at their own speeds. But that does not stop the heartbreak that occurred while watching.
What's next for Adam?
Though dumped and heartbroken by season's end, Adam grew a lot from the bully of season one. Following surprising success at a dog show with Madam (seriously), he came out to his mom and admitted to her that Eric had been more than just a friend.
Who knows if Adam and Eric will get back together in a future season of Sex Education, or if he will date someone else entirely, but it's easy to say that Adam's journey throughout the three seasons of Sex Education so far has been incredible.
Will Adam and Rahim get together?
This relationship is something we didn't ever see coming from the enemies, due to Adam stealing Eric from Rahim.
However, over the course of the season—which saw Adam covering for Rahim during a humiliating poo incident on the French trip, and Rahim repaying the favor by reading one of Adam's poems—we think this relationship is now going on the side of friendship, especially after seeing how Adam laughed after getting a text message from Rahim.
We can definitely see something happening here so if it does, just remember My Imperfect Life called it first!
Does Aimee end things with Steve?
Yup. Aimee's journey this season was a bit similar to Eric's and honestly, we can't wait to see her flourish in whatever she does next..without Steve.
Do Lily and Ola break up?
For like a hot minute! Lily and Ola broke up after Ola revealed that all of the alien stuff in the bedroom weirds her out sometimes and sometimes she just wants normal sex. On top of this heartbreak, Lily spirals into depression after Headteacher Hope shames her and her provocative writing in front of the whole school.
Lily does eventually come back to school and finds out that some people do like her stories. Ola and Lily also reconnect so this breakup thankfully wasn't final.
Does Maureen get back together with Mr. Groff?
Yes, but only for a brief second. Former headteacher Michael Groff has made a lot of progress since his split from Maureen, such as a newfound love of cooking. However, when Michael and Maureen do get back together it's not the right time, as Maureen realizes she needs to be there for son Adam and getting back with Michael will be a mistake.
Is it the end of Moordale Secondary?
Bye-bye Moordale? In the final episode of season three, we see Vivienne, Jackson and the students of Moordale lead a protest against Headteacher Hope and her antiquated policies. The protest is successful, but investors end up pulling funding from the school, leading the governor to close down the institution entirely. Moordale students are told they need to finish their education elsewhere.
That doesn't actually have to mean Moordale is 100% closing—if there is a season four, we may see the students try and attempt to stop the school from closing or see the school find some magical last-minute funding.
We'll just have to wait and see!
Liv is a freelance journalist currently studying English at university. She loves covering everything from entertainment and politics to lifestyle and travel. As well as writing for My Imperfect Life, Liv has bylines in The Times, HuffPost, Den of Geek, Bustle The Metro and The Bookseller.