Who is Paige Lorenze and how long did she date Armie Hammer?
Paige Lorenze is Armie Hammer's ex and an alleged victim of the accusations laid out against the actor in 'House of Hammer'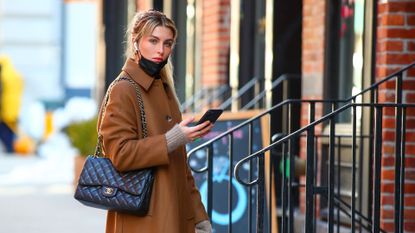 (Image credit: Cindy Ord/GC Images/Getty)
On Friday, September 2, the Armie Hammer documentary, House of Hammer, dropped on Discovery+ and with it came even more insights into the shocking allegations against the former Hollywood leading man, which include extreme BDSM, sexual and psychological abuse, and even cannibalism, all while he was married to his now-estranged wife Elizabeth Chambers.
The three-part docuseries includes interviews with members of the Hammer family, as well as several of Armie's former love interests, including Courtney Vucekovich and Julia Morrison—however, one famous ex is apparently not featured in the documentary, though she has publicly come out in the press with her own troubling experiences with the actor.
So who is Paige Lorenze and how does she factor into the Armie Hammer allegations? Here is what we know.
Who is Paige Lorenze? Meet Armie Hammer's ex
Though her Instagram page describes her as an "ex ski racer new englander thrifter thinker creator friend daughter adventurer nature lover," more simply, Paige Lorenze is a 24-year-old model and social media influencer hailing from Guilford, Connecticut. A 2021 graduate of New York City's Parsons School of Design, she is also the founder of loungewear company Dairy Boy.
Along with her tumultuous relationship with Call Me By Your Name actor Armie Hammer in 2020, Lorenze dated controversial country music singer Morgan Wallen for almost a year before splitting up in February 2022 and was most recently linked this summer to The Bachelorette's Tyler Cameron. However, Cameron told E! Daily Pop this August that the couple had called it quits, per E! News.
Lorenze recently commented on the breakup, telling Sofia Franklyn on the Sofia with an F podcast on September 1: "This might sound narcissistic because he has a pretty insane following, but I felt like he was using me. I don't know, I felt like he wanted some media storm," Lorenze said. "He was looking at my story views, and I was getting more story views than him, and he...literally, word-for-word said, 'I need a scandal,' like joking."
"I don't like that about myself, but I do have some s*it in the media about me... especially around my relationships," Lorenze said on the podcast.
How long did Armie Hammer and Paige Lorenze date?
According to E! News, Lorenze first connected with Hammer in 2019 via social media. "He had followed me on Instagram and I hadn't followed him back because I didn't know who he was actually," she said. "Then I saw that he was still married and not separated, so I didn't respond or didn't get back to him or anything. But when I moved to Los Angeles, we got in touch."
Chambers filed for divorce from Hammer in July 2020. Lorenze moved to Los Angeles in September of that year and it was then that the pair began a "polyamorous open relationship," she told the outlet. However, "we both spoke about how we were not sleeping with other people and we were just seeing each other," she shared. "He made it clear that he didn't want anyone else in my apartment, in my bed and that he wasn't sleeping with anyone else either."
Due to controlling behavior and other allegations (more on that later), Lorenze told Vanity Fair that she broke off the relationship in December 2020. "He started making rules for me of things I could and couldn't do, who I could have over, who I couldn't. He told me that I couldn't have anyone else in my bed. And then I just started to feel really unsafe and really sick to my stomach about things," she told the outlet. "I was also emotionally dependent on him." Lorenze added that she broke up with Hammer over text "because you never know what you're going to get with him—he's kind of a scary person."
Paige Lorenze and Armie Hammer cannibal claims
*Trigger warning ahead*
Lorenze also told E! News that shortly into her relationship with Hammer, he "slowly started easing her into BDSM-related activities in the bedroom," including what they called "high protocol nights."
"It's like a very traditional thing in BDSM, apparently, to call it high protocol where you have to show up at a certain time, and there are certain rules and stuff," she explained. "Our first high protocol night, which is what he called it, I was in a lot of pain and it was scary, but I just felt like that was a part of what it was."
"He would have instruments and use his hands and bite me all over my body," she told the outlet.
She made even more troubling allegations to Star magazine, telling the publication that Hammer carved his initial, letter "A," into the skin above her pubic bone using a knife, reports The Sun. "You can still see it. It was extremely painful and traumatizing. He told me that he bragged about it to his friends," she said. He also reportedly made reference to cannibalism during their relationship, talking about having her bottom ribs removed "so he could smoke them, cook them and eat them," Lorenze told Star.
"It was just icky and my stomach was constantly in a knot. I knew I had to get out," she said.
According to Vanity Fair, Lorenze had a chilling reaction when she saw explicit text messages purported to be from Hammer go public on social media. (For his part, Armie's lawyer, Andrew Brettler, issued a statement about the accusations: "All interactions between Mr. Hammer and his former partners were consensual. They were fully discussed, agreed upon in advance with his partners, and mutually participatory.")
"I saw these screenshots and my stomach just dropped, like, 'Holy f*ck,'" said Lorenze. "Because he would say things to me...weird stuff...like, 'I want to eat your ribs."
"The scariest part of it is that I did love him in a way," said Lorenze. "I would've let him kind of do anything. He had a certain hold over me."
House of Hammer is now available to watch on Discovery+.
Christina Izzo is the Deputy Editor of My Imperfect Life.
More generally, she is a writer-editor covering food and drink, travel, lifestyle and culture in New York City. She was previously the Features Editor at Rachael Ray In Season and Reveal, as well as the Food & Drink Editor and chief restaurant critic at Time Out New York.
When she's not doing all that, she can probably be found eating cheese somewhere.