Who is Elizabeth Chambers? Everything to know about Armie Hammer's ex-wife
With fresh news on the Armie Hammer case, let's get to know Elizabeth Chambers, the actor's ex who separated from the star following those scandalous allegations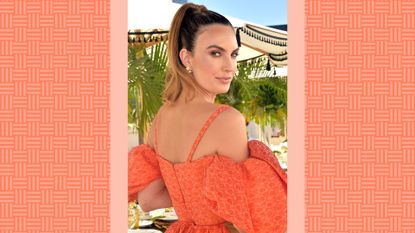 (Image credit: Stefanie Keenan/Getty)
You might be familiar with the Armie Hammer case, but left wondering: "Who is Elizabeth Chambers?"
Chambers has had a wild few years: not only has the television personality had to deal with a global pandemic like the rest of the world, but her former actor husband, Armie Hammer, became embroiled in a career-ruining scandal that allegedly included infidelity, assault allegations and even rumors of cannibalism.
The recent Armie Hammer documentary—titled House of Hammer, now available to stream on Max—delved into the allegations against the former Hollywood golden boy, as well as the history of the wealthy, powerful Hammer family. On Wednesday, May 31, following a two-year-long investigation into the numerous allegations against the actor, the Los Angeles County District Attorney's Office announced that it wouldn't be filing sexual-assault charges against Hammer.
Chambers separated from Hammer when the allegations dropped, but what has she been up to since then? Let's get to know Elizabeth Chambers.
Who is Elizabeth Chambers? Get to know Armie Hammer's ex
Elizabeth Chambers is a 40-year-old television personality, model and businesswoman hailing from San Antonio, Texas. She owns the bakery chain BIRD Bakery, which opened in 2012 and has outposts in San Antonio, Dallas, Denver and, the most recent addition to her empire, Grand Cayman, where she has been living since 2020.
Chambers has previously been a news correspondent for Entertainment Tonight, E! News Now and Access Hollywood, and has since made television appearances on more food-focused titles like Food Network's Best Baker in America and Chopped Sweets.
Armie Hammer and Elizabeth Chambers' marriage:
Chambers married Social Network actor Armie Hammer in Los Angeles in May 2010 after meeting through a mutual friend. They share two children, seven-year-old Harper Grace and five-year-old Ford Douglas Armand.
Though they split time between Texas and California over the next decade, the couple opted to wait out the coronavirus pandemic in March 2020 in the Cayman Islands, where Hammer had grown up. Three months into their island stay, however, with Chambers filing for divorce in July 2020, citing irreconcilable differences. They each shared identical Instagram posts announcing their separation and Hammer returned to Los Angeles while Chambers remained in the Caribbean with their children.
"Thirteen years as best friends, soulmates, partners and then parents," the post read. "It has been an incredible journey, but together, we've decided to turn the page and move on from our marriage. As we enter into this next chapter, our children and relationship as co-parents and dear friends will remain our priority."
Hammer called the split "a seriously seismic event" in a September 2020 interview with British GQ, but the tremors to follow would be downright catastrophic.
In January 2021, an anonymous Instagram account released screenshots of explicit text messages that Hammer had allegedly sent to numerous women during his marriage to Chambers. (*Trigger warning ahead*) The "sexts" made explicit reference to sexual fantasies that included physical domination, rape scenarios, blood-drinking and even cannibalism.
At the time, Hammer wrote off the posts as kink-shaming, but in March 2021, the allegations against the Call Me By Your Name star went beyond bondage boundaries and aftercare negligence to include physical, sexual and psychological abuse against a former partner. ("All interactions between Mr. Hammer and his former partners were consensual," Hammer's lawyer Andrew Brettler issued in a statement, and the LAPD wrapped its investigation in December 2021 without pressing charges.)
In February 2021 after the initial accusations hit, Chambers posted on her Instagram: "For weeks, I've been trying to process everything that has transpired. I am shocked, heartbroken, and devastated. Heartbreak aside, I am listening, and will continue to listen and educate myself on these delicate matters. I didn't realize how much I didn't know."
"I support any victim of assault or abuse and urge anyone who has experienced this pain to seek the help she or he needs to heal. At this time, I will not be commenting further on this matter. My sole focus and attention will continue to be on our children, on my work and on healing during this incredibly difficult time."
She concluded: "Thank you for all of the love and support, and thank you in advance for your continued kindness, respect, and consideration for our children and me as we find ways to move forward."
What is Elizabeth Chambers' Instagram?
Ever since the scandal, Chambers has been living with her two young children in the Cayman Islands, a breezy lifestyle that she shares frequently on her Instagram page under the handle @elizabethchambers. You can also catch glimpses of her bakery work, her fitness game, her travels and more on her social-media page.
What is Elizabeth Chambers' net worth?
According to Celebrity Network, Elizabeth Chambers is valued at $10 million, presumably from her expanding bakery empire and her entertainment ventures.
Who is Elizabeth Chambers dating?
Chambers is currently dating 26-year-old Ricardas Kazinec, a physical therapist who hails from Lithuania but works in the Cayman Island. After some stealth social-media clues, the couple went Instagram official in September 2022 with a post featuring romantic Polaroids of the duo.
"He's the cutest and makes me very happy," she said of her beau during an Instagram Q&A in December 2022. Despite her relationship bliss, however, Chambers did reveal that she has not told her children that she's dating Kazinec.
"They don't know he's my BF," she wrote in an Instagram Q&A in January 2023. "Over the past two and a half years, my main (and only) priority has been to mitigate trauma and protect my kids at all costs."
A source told People back in August 2021 that Chambers was beginning to date again, after a period of "focusing on healing, my babes and work," she wrote in an Instagram story.
Despite rumors in February 2022, Chambers and her estranged husband had not rekindled their relationship, with a source telling Us Weekly: "Elizabeth and Armie have been working together on their coparenting relationship. They are not back together, there is nothing romantic going on between them."
Christina Izzo is the Deputy Editor of My Imperfect Life.
More generally, she is a writer-editor covering food and drink, travel, lifestyle and culture in New York City. She was previously the Features Editor at Rachael Ray In Season and Reveal, as well as the Food & Drink Editor and chief restaurant critic at Time Out New York.
When she's not doing all that, she can probably be found eating cheese somewhere.