Everything new we learned from the 'Vanderpump Rules' extended reunion
The Peacock 'Vanderpump Rules' extended reunion unleashed even more drama than what was shown on TV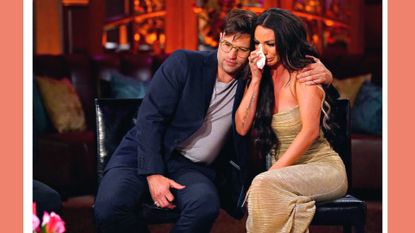 (Image credit: Nicole Weingart/Bravo)
That Peacock Vanderpump Rules extended reunion offered an uncensored look at everything that went down in the first installment of the three-part reunion special, which first aired on Bravo on Wednesday, May 24.
For the first time in franchise history, the streaming network will follow up each original edition of the reunion with longer, pumped-up versions of each episode, delving even deeper into all of that Vanderpump Rules drama and the seismic damage caused by Tom Sandoval and Raquel Leviss' affair.
"Can someone tell me what extra content was in the peacock uncensored #pumprulesreunion?" former Below Deck star Kate Chastain posted on Twitter. "My 3 week old roommate won't let me watch it," she joked of her newborn baby. So exactly what new revelations did the first extended reunion episode serve up? Here's all the fresh intel.
New intel from the Peacock 'Vanderpump Rules' extended reunion:
1. Tom had a plan to tell Ariana about Raquel
Yes, allegedly, Tom was going to inform Ariana of his affair with Raquel after Vanderpump Rules wrapped production on season 10.
"I actually had a therapy session and we basically planned on that following Tuesday because we were to fully wrap filming and interviews so she wouldn't have to [say in] the interviews, 'Oh, like, we're here for the sandwich shop' and talk about that when this had just been told to her," Sandoval said during the reunion's extended cut.
2. Sandoval told Raquel that he and Ariana had an open relationship
Scheana Shay—who was allowed to attend the reunion after all, despite having a restraining order filed against her by Raquel, the latter of whom had to watch the Scheana portions of the special from a trailer parked 100 yards away—claimed that a mutual friend informed her that Sandoval had told Raquel back in April 2022 that he and Ariana's relationship was an open one.
"Raquel was told in the hot tub at Coachella last April by Sandoval that they were in an open relationship and he was coming onto her," Scheana announced during the reunion, allegations that Sandoval immediately shut down: "What are you talking about? That is bulls**t. I did not say that." Mmm-hmm.
3. Kate split from Satchel and is now a single lady
The reunion wasn't all about Tom and Ariana, of course. During the extended version, Katie Maloney gave an update on her current relationship status with Satchel Clendenin, the fella she was dating following her divorce from Tom Schwartz, having introduced her new beau to her ex-husband during that beach day in episode 12.
Alas, it looks like the relationship didn't last post-season. "I know he wanted a relationship and more, and I just knew that it wasn't probably going to work out for us, so I had to just let him, you know, go do his thing," the Something About Her co-founder told host Andy Cohen when he inquired about Satchel.
"He's got a girlfriend now, so I'm happy for him, and that's great," she continued. "But he's lovely, and every now and then we keep in touch."
4. Tom used the same excuses with Ariana that he did Kristen
If you need proof that the storylines of Vanderpump Rules are cyclical, the reasoning Tom has given for being unfaithful to Ariana Madix was eerily similar to his criticisms of ex-girlfriend Kristen Doute, whom Sandoval broke up with in 2013 after six years of dating due to an affair with—you guessed it—Ariana.
"I see a lot of parallels. Tom thought I was very cool. I had no responsibilities. I could stay up all night, bartend all night and then be like, 'Me and Schwartz and Tom are gonna all do mushrooms together because we are all just a bunch of great friends," Ariana said during the uncensored reunion. "'You're cool. You're chill. You're all these things.'"
She continued: "And then when we started dating, the question that I had was, 'When the stuff came out about Jax and Kristen's [hookup], why didn't you guys break up then?' And he said things to me back then that were along the lines of, 'Well her grandpa died and we had tickets to this and that. So I couldn't.' So now it is kind of funny how a lot of the same things are being said and done."
5. Tom stills owes his mother $250,000 for Schwartz & Sandy's
Back in the fourth episode of season 10, Tom Sandoval revealed that his family helped fund Schwartz & Sandy's, his latest business venture with best buddy Tom Schwartz: "My mom, my stepdad, they invested a quarter of a million dollars into this business venture, I mean, into me."
During the Peacock-exclusive first part of the reunion, Andy Cohen inquired about whether or not Sandoval repaid his mother's investment into the bar, which she had pulled from her own retirement fund.
"No. She's okay though. She wouldn't give me that if it was [do or die]," Sandoval responded. "I will pay her back at some point eventually no matter what. Whether it is with that business or not."
6. Scheana and Katie aren't entirely made up yet
Among the many relationship updates revealed during the extended reunion, viewers got intel on where Scheana and Katie stand now after that whole Mexico wedding mess. By the end of season 10, it looked like the feuding former friends had reconciled enough to both be there for their mutual buddy, Ariana, during her time of need post-split from Tom.
However, Katie gave a friendship update during the Peacock reunion: "I feel like Scheana and I have had such a rough go. I want to see behavior changes and not just apologies. This is like when someone shows you who they are, believe them," she said. "I've seen this cyclical behavior with you where it is [all about] being more trusting of the right people and not just throwing your loyalty to the wind."
She was more hopeful about the friends' future in a Los Angeles Times interview on May 24: "I've got my friends. I've got [Ariana], I've got Lala. Me and Scheana are getting along," she told the publication.
Catch part two of the Vanderpump Rules reunion on Bravo at 9pm on Wednesday, May 31, with the extended cut airing on Peacock the next day.
Christina Izzo is the Deputy Editor of My Imperfect Life.
More generally, she is a writer-editor covering food and drink, travel, lifestyle and culture in New York City. She was previously the Features Editor at Rachael Ray In Season and Reveal, as well as the Food & Drink Editor and chief restaurant critic at Time Out New York.
When she's not doing all that, she can probably be found eating cheese somewhere.