Perfume notes: everything you ever needed to know about decoding the language of scent
Getting to know your perfume notes and families will help you nail the right scent every time.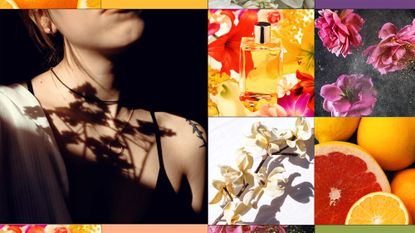 (Image credit: Getty Images / Masha Raymers / Xvision 86056520 Brian Hagiwara / Alexandr Shertobitov / Rodobot Stock)
Shopping for perfume is confusing. Smelling is the easy bit—understanding the poetic language of perfume notes isn't. The ingredients list gives even less away as it often calls for David Attenborough levels of botanical knowledge (who even knows how to pronounce guaiac wood, let alone what it smells like?). Then you sniff a bewildering array of perfumes on blotting cards while the phrase 'fragrance pyramid' is bandied around by the sales assistant.
Understanding the basic principles of fragrance creation means you'll be one step closer to choosing the best perfumes for women that you truly love—without trial or error. Emmanuelle Moeglin, founder of The Experimental Perfume Club (opens in new tab) believes there is an easier way to decode the language of scent: "Perfume notes are like musical notes—they are the building blocks that make up the composition of a fragrance, helping to create harmony and contrast."
So, in this spirit we've delved into the complicated world of perfumery to help you understand everything from the difference between top and bottom notes to fragrance families, understanding what a fragrance pyramid is, what the most popular notes in perfumery are and why some scents last longer than others.
---
---
What is a fragrance pyramid?
A fragrance pyramid allows you to visualize the different components of a fragrance more easily. On paper, it literally looks like a triangle or pyramid. At the top, as the moniker implies, are the top notes. Emmanuelle says: "Here there may be citrus, green or fruity notes." Think lemon, bergamot or raspberry. In the middle section are your floral and spicy heart notes, like rose, jasmine or clove. At the base of the fragrance, pyramid are heavy notes like leather, cedar, patchouli, vanilla, and musk.
Emmanuelle adds: "If a fragrance is 100% top notes, it'll be very fresh but it won't last long. If a fragrance is 100% base, it could be quite flat and lack a hook. Each of the top, mid and base notes play an important role, helping a perfume to evolve over time as well as creating a more complex scent."
What are top, middle and bottom perfume notes?
Top Notes:
Also called opening notes or head notes—create a first impression. They're like the 'teaser' to the scent and are made up of small, light molecules that you smell immediately after spritzing. Emmanuelle says: "Top notes are made of fresh and uplifting ingredients, which are also very volatile so they don't stay long. Citrus is a good example." Because these notes evaporate quickly, their fleeting presence is often credited with giving energy and vibrancy to a perfume.
Middle Notes:
Meanwhile, the heart or middle notes appear soon after the top notes dissipate. Usually made up of softer scents, such as floral or spicy notes, Emmanuelle says: "They link the fragrance from top to bottom with ingredients that are going to linger for a couple of hours. These mellow notes also play a big part in the signature of a scent."
Bottom Notes:
The bottom or base notes are heavier, darker, and warmer ingredients, which normally include woods or vanilla. They add depth and aren't usually detectable until after the top notes have evaporated, anywhere between five and 15 minutes after application, but linger for hours afterwards.
Which perfume notes last longest?
Something to consider if you've ever wondered which perfume lasts the longest. Unsurprisingly, the base notes are the ones that last longest—as they are heavier molecules they can cling to the skin for six-plus hours.
So the best long-lasting perfumes will have strong base notes.
What are fragrance families?
Fragrance families are simply a way of grouping different perfume notes so it's easier to classify a perfume. Emma South, Jo Malone London's fragrance and lifestyle expert says: "Fragrance families are a good place to start. You will have an emotional or sensory connection with a particular genre of scent. You may find you are drawn to citrus, spicy, fruity or floral family."
Floral: If you prefer the ultra-feminine scent of roses, peony, jasmine, tuberose and lily-of-the-valley, then your tastes definitely fall within the floral family. These bouquets can be warmed with spices or made a touch sweeter with fruits.
Woody: These moodier scents are made up of deeper notes such as amber, cedar and sandalwood.
Fresh: This fragrance family is the broadest as it consists of citrus, green and watery scents. In other words, zesty, refreshing or cooling scents like a freshly peeled orange, cut grass or sea spray. Fresh fragrances smell inherently clean, and usually present as an eau de toilette or Cologne.
Amber: Traditionally, this family is associated with rich and voluptuous scents that have an Eastern influence. It is the polar opposite of the fresh family being heavier, more sensual and suited to after-dark spritzing. Notes like incense, amber, musk and spices characterize this family. Side note: recently there has been a move to change the name of this family as it is considered offensive to many.
Chypre: Pronounced 'sheep-ra,' these are almost always made up of a woody, mossy accord - think bergamot, oakmoss, patchouli and labdanum.
Why does perfume smell different on everyone?
The paper blotters you're given in a department store are a great way to narrow down your fragrance choices. But, when it comes to procrastinating over the final three or four perfumes, it's worth spraying them on your skin to see how they react with your unique body chemistry. It's the reason a perfume can smell wonderful on a friend or colleague but smell a bit, well, 'off' on your wrists.
So why does scent smell so different on everyone? Matthew Herman, co-founder of Boy Smells says: "When choosing a fragrance, we are drawing on all our personal experiences and associations with the notes in there. Our experiences inform our sense of smell, and our experiences define how we see the world."
The pH balance of the skin differs slightly from person to person, too, which can chemically change the way a scent smells. Matthew continues: "Your personal body chemistry and the oils on your skin play an important role that affects how the perfume diffuses from you. It can affect the specific notes and how they are expressed. On some people, the spicier notes come out right away or sometimes it can be more floral. This to me is the magic of fragrance."
Diet, medicine, and hormones are other perfume-altering factors. Your skin type can have a surprising effect, too, explains Matthew: "Fragrance itself is a blend of oils, so oily skin can often wear fragrance longer as it sits well on the skin, especially base notes with larger molecules like wood notes, musk, resin and patchouli." Dry skin is a different matter as it struggles to cling to scent molecules. So go big with heavier floral notes like tuberose.
The most popular perfume notes and what they smell like and where to find them
Aldehydes: These synthetic ingredients can smell soapy or even metallic—but, almost always fizzy. Find them in: Chanel No.5 Eau de Parfum
Amber: Warm and fuzzy with a powdery edge. Find it in: Tom Ford Soleil Brûlant Eau de Parfum
Bergamot: Sweet-yet-tart like citrus fruit but with a floral and spicy edge. Find it in: Guerlain Aqua Allegoria Nettare Di Sole Eau de Toilette
Cedar: Woody (of course) and balsamic. Find it in: Prada Infusion d'Iris Eau de Parfum
Jasmine: Sweet, heady and musky. Find it in: YSL Libre Eau de Toilette
Lemon: Zesty, sparkling and like fresh peel. Find it in: Valentino Donna Born In Roma Yellow Dream Eau de Parfum
Musk: Earthy, woody, animalic and skin-like. Find it in: Narciso Rodriguez For Her Musk Noir Eau de Parfum
Orange blossom / Neroli: A bit soapy but also heady and floral. Find it in: Louis Vuitton On The Beach Eau de Parfum
Patchouli: Slightly sweet, dark, musky and earthy. Find it in: Molecule 01 + Patchouli Eau de Toilette
Pear: Sweet, fresh and sometimes slightly aquatic. Find it in: Marc Jacobs Eau So Intense Eau de Parfum
Rose: Depending on the rose, it can smell peppery, powdery or fresh with a hint of citrus. Find it in: Boy Smells Rose Load Eau de Parfum
Salt: Less savory and more saline and briny. Find it in: Demeter Fragrance Library Salt Air
Sandalwood: Warm, milky, and slightly sweet. Find it in: Byredo Blanche Eau de Parfum
Tuberose: Powerful, sweet, and animalic, not unlike a lily. Find it in: Diptyque Don Son Eau de Parfum
Vanilla: Creamy, warm and comforting. Find it in: Jimmy Choo I Want Choo Eau de Parfum

Shop the most popular perfume notes
Fiona Embleton is a multi-award-winning beauty editor who has tested over 10,000 products in her 10 years + of writing and shooting beauty stories. For the past four years, she was the Senior Beauty Editor at Marie Claire, having previously worked in the role of Beauty Editor at both Stylist and Cosmopolitan. She has recently gone freelance and alongside My Imperfect Life, she has written for titles including ELLE UK, ELLE Canada, Buro 247, Harper's Bazaar Arabia, Vogue Scandinavia, and ES Magazine. Beauty journalism allowed her to marry up her first-class degree in English Literature and Language (she's a stickler for grammar and a self-confessed ingredients geek) with a passion for make-up and skincare, photography, and catwalk trends. She loves jumping on the latest internet-breaking beauty news, dissecting the best red carpet looks, and having the crème de la crème of dermatologists, make-up artists, and hairstylists on speed dial so she can tap them for the best advice. She's a discerning beauty shopper and knows it can be confusing trying to navigate what's hype and what really works. So if she really likes something, you can trust that she has reached that opinion by vetting it against everything else she's ever tried. Her career highs? Interviewing Cate Blanchett and winning a Jasmine Award for the deeply personal feature Cancer Stole My Mother's Scent.