Best perfume for women: the unforgettable fragrances for your wishlist
A round up of all the best perfume for women, to help you find your signature scent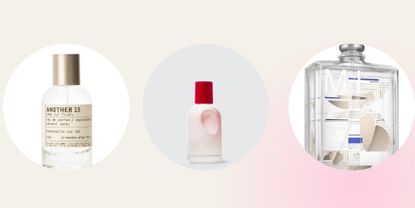 (Image credit: Future/Canva)
Finding the best perfume will make walking into any room a memorable occasion for those in it. So whether you're on a quest to find your new forever fragrance or are lusting after a bottle you can generously spritz on vacation, then we've got you covered, with plenty of options to choose from that cover all range of tastes.
If you love fresh scents, or religiously buy products with floral notes, then your ultimate perfume should tie those personal preferences perfectly together.
Every perfume is different, so depending on whether you want something that subtly sticks around or something that passersby will notice as you walk down the street, longevity is also something you should factor into your buying decisions. Branding, sustainability, and packaging (for a touch of luxe on your vanity), like with the best shampoo bars, are ever more important with fragrance brands, with beautiful bottles appearing all the time.
Take your time and dive into the world of the latest, most sought-after perfumes, and find the one you'll be repurchasing time and time again. We've smelled and tested a plethora of scents in various categories, from sweet to woody tones, and looked carefully at their ingredients and their sillage (how long they last), to give you the vital information you need to make your next purchase. So, take the reins and become enveloped in a world of wonderful smells.
Meet the Expert
Tom Daxon is a perfumer who founded his eponymous perfume house in 2013.
Emma South is a fragrance and lifestyle expert at Jo Malone London.
---
The best perfume for women: tried and tested
Skin scent
It's purely a marketing term, but seeing as this sort of fragrance has seen a surge in popularity, it only seems right to show you some of the very best.
Tom Daxon, a perfumer with an eponymous fragrance house, describes these as "scents with little in the way of a top note and more focused on bottom notes like musks. I think they're a great option for people who don't normally like fragrances because they have a subtle, oddly tactile quality to them."
Generally, fragrances classed as skin scents are those with little projection, meaning that they can be smelled only by the wearer or those physically close enough. But, little projection doesn't have to mean that they don't last. Some of the best skin scents, like the best sunscreen for face, have a seriously long sillage and change subtly throughout the day. You'll often find notes like amber, musk, and ISO E Super inside.
1. Le Labo, Another 13
The new cult favorite from Le Labo is equal parts hypnotic and mysterious
Specifications
Fragrance Family: Amber/woody
Top notes: Iso E Super
Middle notes: Ambrette seeds absolute, jasmine, moss
Base notes: Ambroxan
Sillage (How long it lasts): 4/5
RRP: $289.00/£141.00 for 100ml
What does Le Labo Another 13 smell like?
If you're bored of wearing Santal—no judgment here...do what you feel, babes—then try something new from Le Labo. Another 13 is a captivating blend of some seriously smart and simple ingredients, just like the best vitamin C serums. The synthetic ambroxan is the star of the show here and delivers an enigmatic—and animalic—musk which, when mixed with ingredients like moss and ambrette seeds, gives the fragrance its "second skin" quality. It's creamy, smooth and somehow still clean—that'll be the faintest hint of jasmine to cut through any heaviness. And, for something so soft, delivers a seriously impressive sillage that seems to make magic happen when it hits your skin.
It's huge in the fashion world, too, which will come as no surprise really as it was created in collaboration between Jefferson Hack, co-founder of Dazed Media, and Sarah Andelman, the creative director and founder of—the sadly now-closed—Colette store in Paris.
2. Glossier, You
The one that makes people say you smell good
Specifications
Fragrance Family: Amber
Top notes: Pink pepper
Middle notes: Ambrette seeds, ambrox, iris
Base notes:
Sillage (How long it lasts): 4/5
RRP: $60.00/£45.00 for 50ml
What does Glossier You smell like?
According to Glossier, creators of some of the most sought-after skincare products, it smells "like you: soft, warm, familiar" which sums up the idea of a skin scent.
Undoubtedly the words creamy, musky and powdery come to mind. However, it's worth noting that this—as with all fragrances—tends to smell slightly different depending on the wearer. For me, the notes of pink pepper are more prominent, resulting in a spicy version of the scent, whereas on a colleague it smells almost soapy—but in a good way.
It's the kind of scent that people can't quite put their finger on but they will walk away thinking you smell good—plus it's one of our best long-lasting perfumes too, so you won't have to reapply all day.
Floral Scents
Easily one of the most popular fragrance families in the world of perfume notes, expect to find lots of, erm, florals. The likes of rose, lavender, tuberose and geranium are some of the most popular flowers used in fragrances today. Usually, florals conjure up images of chintzy wallpapered tea rooms but modern interpretations subvert the traditionally feminine fragrance group with scents that shake off old-fashioned connotations in favour of greener, fresher scents.
3. Escentric Molecules, Molecule 01 + Iris
The cult-fragrance with a floral twist
Specifications
Fragrance Family: Floral
Top Notes:
Middle notes: Iso E Super, Iris
Base notes:
Sillage (How long it lasts): 4/5
RRP: $145.00/£95.00 for 100ml
What does Escentric Molecules, Molecule 01 + Iris smell like?
Like you, but on a really great day. For this incarnation of the iconic molecule 01, Geza Schön chose to add Iris into the equation. Iris can be identified by earthy, musky and soapy notes in a fragrance which, when combined with Iso E Super—the star of the original version—gives depth to this calming, uplifting and cocooning scent.
4. Byredo, Young Rose
One of the most recent launches from the brand with a cult following
Specifications
Fragrance Family: Floral
Top Notes: Ambrette, musk, Sichuan pepper
Middle notes: Damask rose, iris
Base notes: Ambroxan, musk
Sillage (How long it lasts): 3/5
RRP: $276.00/£127.00 for 50ml
What does Byredo Young Rose smell like?
Like an effervescent bowl of confectionery. Plus, it's one of the perfumes which lasts the longest. The initial sweetness tails off quite quickly and develops into a musky, deep and sensuous fragrance that lasts all day. The rose isn't instantly recognizable, it's only on the dry-down that you start to get the powdery notes typically associated with the flower—but still, in a very sophisticated way.
Going out scents
We've all got one fragrance that we reach for when we're heading on a big night out. Shy retiring wallflowers avert your eyes—whatever the occasion is, these are scents that get you noticed.
5. Maison Francis Kurkdjian, Amyris
A warm floral that radiates each note and lasts all day
Specifications
Fragrance Family: Floral
Top notes: Lemon blossom, california orange
Middle notes: Amyris, iris
Base notes: Vetiver, musk, amber
Sillage (How long it lasts): 5/5
RRP: $225.00/£270.00 for 70ml
What does Maison Francis Kurkdjian, Amyris Femme smell like?
As with all MFK scents, this is complex—which means that the ingredients aren't instantly identifiable and there's a lot going on. It's floral, woody and fresh., and would make the perfect perfume for bed, too.
Undeniably, Amyris is the star of the show here. According to Fragrantica, Amyris, part of the wood family, "has a fresh piney balsamic fragrance with a citrus nuance", which is certainly the case. However, here the balsamic nature is amplified with the addition of iris and lemon blossom.
6. Kilian, Love Don't Be Shy
Aka Rihanna's favorite perfume
Specifications
Fragrance Family: Floral and woody
Top notes: Neroli, bergamot, pink pepper and coriander
Middle notes: Orange blossom, jasmine, honeysuckle, rose and iris
Base notes: Sugar, vanilla, caramel, musk, civet and labdanum
Sillage (How long it lasts): 5/5
RRP: $250.00/£229.00 for 50ml
What does Kilian, Love Don't Be Shy smell like?
If you've ever wondered what Rihanna smells like, you're not alone. Love Don't Be Shy by Kilian is Rihanna's favorite perfume.
It's marshmallowy sweet—but not sickly thanks to the fresh and zingy white flowers like orange blossom and jasmine—balmy and fresh. That'll be the pink pepper, neroli, and coriander. It's a real head-turner.
With notes of woods and berries too—but not in a sweet way—and a long sillage, this captivating scent is worth every penny
Specifications
Fragrance Family: Woody, aromatic
Top notes: Maté, blackcurrant
Middle notes: Ceylon black tea, violet leaves
Base notes: Birch woods, papyrus
Sillage (How long it lasts): 5/5
RRP: $196.00/£127 for 50ml
Byredo Mixed Emotions captures the essence of Byredo perfectly, meaning that it is highly covetable and super cool. It's also a real head-turner. With notes of maté and cassis, this is a sophisticated way to wear a woody, aromatic fragrance.
The iconic scents that will never go out of style
Some things just never go out of style, like a crisp white shirt, a sharp tailored-to-within-an-inch-of-its-life suit à la Le Smoking, or the perfect LBD. These scents are classic and icons for a reason. Whether they're celebrating their 100th birthday (yes, really) or contain some of the perfume world's most popular notes, these are the scents that have stood the test of time.
8. Chanel N°5 Eau de Parfum
The timeless and legendary one that will be here forever
Specifications
Fragrance Family: Floral
Top notes: Aldehydes, neroli
Middle notes: May rose, jasmine, lily of the valley, iris
Base notes: Vanilla
Sillage (How long it lasts): 4/5
RRP: $146.00/£126.00 for 50ml
What does Chanel No 5 smell like?
A true masterpiece in every sense of the word. Housed in a seriously chic and timeless flacon, this fragrance has been around for a long time but still manages to bring in hoards of loyal followers.
It tends to smell slightly different depending on your skin, especially depending on how you've applied moisturizer, so it's worth spraying to see how it develops. On me, white flowers burst with creamy freshness, while the aldehydes—a synthetic ingredient which can smell soapy—cut through to keep things light and effervescent. And then it comes, the soapy dry down. It's like smelling clean and expensive.
9. Marc Jacobs, Daisy Eau de Toilette
The right side of fruity
Specifications
Fragrance Family: Floral, fruity
Top notes: Violet leaf, strawberry, grapefruit
Middle notes: Violet, gardenia, jasmine
Base notes: Musk, vanilla, sandalwood
Sillage (How long it lasts): 3/5
RRP: $86.00/£46.00 for 30ml
What does Marc Jacobs Daisy smell like?
A perfect interpretation of a fruity, floral fragrance, Daisy opens with sparkling notes of grapefruit and strawberry while florals such as gardenia and jasmine keep things on the right side of sweet.
Scents that transport you
Sometimes fragrance manages to capture the essence of a place perfectly. From bright and crisp citrus notes that bubble with effervescence and transport you to the Amalfi coast, subtly piquant florals and plump fruits like blackcurrants and raspberries that are reminiscent of the English countryside complete with clotted cream and raspberry jam scones, scent can conjure up the feeling of somewhere new and exciting.
10. Tom Daxon, Iridium
A spicy—but exceptionally light—fragrance perfect for the cooler months
Specifications
Fragrance Family: Musky, aromatic
Top notes: Juniper, angelica, carrot seeds
Middle notes: Iris
Base notes: Vetiver, cedarwood, Iso E super
Sillage (How long it lasts): 3/5
RRP: $155.00/120.00 for 50ml
What does Tom Daxon Iridium smell like?
You'll probably smell the Iso E Super first—the rounded woody and clean smell—followed by a sprinkle of spice from the carrot seeds and a touch of fruitiness from juniper. For me, one spritz and I'm stepping into an achingly cool Scandinavian country wrapped in the softest cashmere jumper, which is the next best thing to a candle that smells like your favorite celebrity.
How to find your signature scent
It doesn't always have to be the same scent
The idea of having a signature scent is nothing new, especially with the vogue of celebrity perfumes. People have crafted entire personalities out of the fragrance they wear. But Daxon suggests that there could be a downside to this. "Having one 'signature' scent has its appeal but can lead to a fatigue where you're sure it's getting weaker. It's not, you're just getting used to it. I would recommend having at least a couple to rotate."
Understanding if the fragrance suits you
Emma South, fragrance & lifestyle expert from Jo Malone London, recommends really getting to know your fragrance and "wear it for some time and really live with it to understand how it suits you. It is the only way to know if it perfectly fits you."
It's all about the emotional connection
She also goes on to say: "There are a lot of excellent perfumes, but it is only when a fragrance touches you emotionally, that you will be able to intimately adopt it."
How to apply fragrance
Think about where you're spraying it
South recommends that you apply scent to your skin. "Fragrance will be most effective when applied on pulse points or where there is good circulation and warmth. Apply a generous spritz on your wrists, neck and inside the elbow."
Don't go overboard.
"Err on the side of caution quantity-wise. A few sprays on the wrists and neck rather than a dousing. And, If you feel the longevity isn't there then a spray on the hair or on dark, non-delicate clothing should help," recommends Daxon.
How to get more from your fragrance
"Spritzing your scent on your clothes can emphasize a different element of the fragrance and create a cloud of fragrance around you. A light mist in your hair is another effective way to empower your scent and leave a lasting impression wherever you walk," says South.
Sunil Makan is the digital editor of Marie Claire UK. With over 12 years of publishing experience, working on print publications and their digital counterparts, national newspapers, and digital pure plays he is an Editor, Strategist, Content Producer, and Creative Director. In his most recent role, Sunil was deputy editor of My Imperfect Life and before that, he was the Associate Editor of British Marie Claire. Prior to that he worked at ELLE, InStyle, Shortlist Media and freelanced at titles such as Mr Porter, Saks Fifth Avenue, Floral Street fragrance, and The Times.
Sunil's specialisms include Fashion, Beauty and Grooming, Lifestyle, and Culture. He has reported and covered fashion trends at International fashion weeks in London, Milan, and Paris, smelled and tested countless fragrances, beauty treatments, slathered on more serums, moisturizers, and masks than he cares to mention plus reviewed some of the best hotels in the world—and the worst.
Sunil has appeared on and led workshops and panels like the All-Party Parliamentary Group (APPG) for Creative Diversity roundtable, the British Fashion Council's Diversity and Inclusion Board, and Fujifilm reader events. A lover of—in no particular order—fragrance, fine wine, champagne, Dior, food, and chicken wings.