7 of the best long-lasting perfumes that really go the distance
Our beauty expert has found the very best long-lasting perfumes that will stick around from dusk 'til dawn...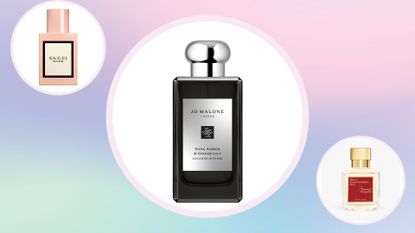 (Image credit: Future)
The best long-lasting perfumes need to be able to stay put for hours on end without losing the fragrance that made them so irresistible in the first place. Luckily, the sophisticated scents below have been cleverly crafted by fragrance houses to cling onto skin—and tested by our contributing beauty expert Emma Stoddart, guaranteeing their longevity. And unlike those short-lived scents—that smell amazing one moment, only to disappear the next—you won't need top these up throughout the day, meaning you get more spritzes per bottle.
After all, the best perfumes for women not only smell incredible on first sniff, but should also evolve beautifully on the skin over the course of the day without evaporating into thin air. In fact, they should even become more interesting with time. "If you're faithful to your favourites, you'll likely notice subtle changes in your perfume from season to season," points out Eva Carlo, brand perfume expert at Creed. "The chemistry that occurs between the scent and your very individual skin will be reflected in the final result and the performance of the scent."
To help you pick a long-lasting perfume, we've curated an edit of the top long-lasting spritzes that boast impressive staying power—all of which have been tried and tested. Plus, Eva also breaks down which specific type of perfume lasts the longest (so the type you should keep your eyes peeled for), and how to boost your chosen scents longevity. Hint: perfume prep is key.
Which type of perfume lasts longest?
According to Eva, there are two factors that determine a perfume's longevity whatever it is, whether you prefer the best vanilla perfumes or the best floral perfumes.
"One is the perfume family that the scent belongs to. For instance, woods, ambers, ouds and musks will give you longer tenacity in a perfume." The next factor is the strength of the perfume notes. "EDP and Extraits or Parfums will have a higher concentration of ingredients at the base note, making them longer lasting than an EDT or Cologne."
Eva breaks down the differences below:
Eau de cologne: "These will be the lightest with a 4-6% concentration of perfume oils, many volatile top notes and a very light base note that give a clean fresh scent that doesn't stick around. These perfumes are often referred to as 'spash-ons'." As such, when it comes to the best long-lasting perfumes, these should probably be your last options.
Eau de toilette: Eva said, "EDTs are fresh and easy to wear with a big opening and balanced journey through the heart and base notes. They can last between three-to-five hours."
Eau de parfum: "EDPs tend to concentrate on the heart notes giving a sensation of luxury," she explained. The concentration of this type of scent tends to be between 15-20%—meaning they'll stick around for five to eight hours.
Parfum or extraits: "These perfumes concentrate on a rich base note and much shallower top note so they immediately feel sumptuous and opulent, they can last from eight hours onwards depending on the olfactory family they favour," Eva told us.
So it's always best to go for parfum or extraits if you're after the best long-lasting perfumes. But when it comes to actual products, which of the most popular scents and brands out there are the longest-lasting—and how did they actually perform during testing?
Best long-lasting perfumes, as reviewed by a beauty expert
1. Le Labo Santal 33 Eau de Parfum
Best long-lasting perfume overall
Specifications
RRP: $90/£60 for 15ml
Top notes: Violet accord, cardamom
Heart notes: Iris, papyrus, ambrox
Base notes: Cedarwood, leather, sandalwood
Longevity: Long-lasting
Reasons to buy
+
Distinctive and unique scent
+
Cozy and comforting—great for winter
+
A statement scent that demands to be noticed
Reasons to avoid
-
May be too overpowering for some
Le Labo's most iconic fragrance, Santal 33 has become a scent sensation that is loved by beauty editors and scent enthusiasts alike. Cozy, comforting and intoxicating—the brand describes the fragrance as evocative of "an open fire—the soft drift of smoke—where sensuality rises after the light has gone." Crackling cardamon and delicate florals (think iris and violet) combine with smoky woods (Australian sandalwood and cedarwood), leather and musk to give this scent its addictive, signature aroma.
Totally obsessed, this fragrance had our tester's attention from the first sniff. We adore the subtly spiced, floral opening that quickly dries down to a smoky, woodsy base. To us, it conjures up a pine forest on a crisp winter's day—earthy and uplifting. The staying power is very impressive (think 12 hours or more) and as it evolves on the skin, the dry woods truly come into their own. If you're after a distinctive fragrance that lasts and demands to be noticed, this could be the pick for you—which is why it tops the list of our best long-lasting perfumes. We'll be saving this for the cold, winter months when we want to pack a perfume punch.
2. Glossier You Eau de Parfum
Best affordable long-lasting perfume
Specifications
RRP: $64/£49 for 50ml
Top notes: Pink pepper, iris root
Base notes: Ambrette, ambrox, musk
Longevity: Moderate
Reasons to buy
+
Smells unique on everyone
+
Clean, fresh fragrance
+
Not overpowering
+
One of the most affordable options
Reasons to avoid
-
May be too simple for some
Affordable, long-lasting perfumes can be hard to come by, but Glossier's You is exactly that. The innovative fragrance, which was formulated to adapt to the wearer's unique body chemistry, smells slightly different on everyone. Clever, huh? Totally unique, the brand describes the fragrance as an incomplete product that requires you (and your skin's chemistry) to complete it—hence the name. On our tester, the scent has a warm, woodsy and fresh floral aroma that smells like your skin, but better.
Unlike some long-lasting perfumes, this number is not at all overpowering. It's delicate, refreshingly light yet stays on the skin for several hours (we could still detect it by evening). A great everyday scent, we love how this fragrance makes you feel—put together and a little more polished. It's warm yet crisp and it wears evenly, meaning the scent won't change over the course of the day either if that's what you prefer. The downside? It could be mistaken as being simplistic, but once it melts into your skin, it really is entirely unique.
3. Frederic Malle Portrait of a Lady
Best luxury long-lasting perfume
Specifications
RRP: $187/£188 for 50ml
Top notes: Blackcurrant, raspberry, rose
Heart notes: Sandalwood, incense, patchouli
Base notes: Musk, amber, benzoin
Longevity: Long-lasting
Reasons to buy
+
A modern classic
+
Elegant and sophisticated
+
A complex scent for those who like layers to their fragrance
Reasons to avoid
-
May be too overpowering for some
This is not your 'fade into the background' kind of perfume. Portrait of a Lady by Frederic Malle will stop people in their tracks so they can ask, "what scent are you wearing?"—making it one of the most complimented fragrances around. Magnetic and powerful—the dark concoction has become a cult classic and favorite for many. Perfectly balanced, the scent combines a powdery floral heart of Turkish rose and patchouli with a warm and earthy base of frankincense, cinnamon and sandalwood. Top notes of fresh berries cut through the heaviness.
On first impressions, our tester was taken aback by how unique this scent is. It's bold yet sophisticated and would appeal to anyone with a mature nose. Once the fragrance warms on the skin, it has a subtly spiced and creamy dry down that becomes more and more addictive as the day goes by. We found that, spritzed onto clothes, the patchouli and rose notes linger for longer, with the overall scent staying put for days. Yes, really! Overall, we'd say that this dark and mysterious rose scent is a real head-turner that's guaranteed to make a lasting impression.
4. Gucci Bloom Eau de Parfum
Best floral long-lasting perfume
Specifications
RRP: $89.99/£84 for 50ml
Top notes: Jasmine
Heart notes: Tuberose
Base notes: Rangoon creeper
Longevity: Moderate
Reasons to buy
+
Green, fresh fragrance that's great for summer
+
Beautiful bottle
+
Not overpowering
Reasons to avoid
-
Weak longevity compared to others—and considering the price
If you're a fan of florals, turn your nose to this blooming lovely scent from Gucci. Landing on our shelves back in 2017, this fragrance continues to be one of the brand's best-sellers with fans waxing lyrical about its fresh aroma, making it one of the most popular perfumes of recent years. "I wanted a green fragrance, a courageous scent that transports you to a vast garden filled with many flowers and plants," says the nose behind the creation, Alberto Morillas.
And this is exactly what the scent conjures up to us—an English garden in full bloom, damp with morning dew. A celebration of white florals, the scents starring notes including delicate jasmine and creamy tuberose that together smell fresh yet creamy. While certain tuberose fragrances get labelled as 'old lady', this one certainly isn't that. The only downside, however, is the scent's sillage, which is disappointing considering the price point.
5. Creed Wind Flowers Eau de Parfum
Best sophisticated long-lasting perfume
Specifications
RRP: $269/£260 for 75ml
Top notes: Jasmine, orange blossom and peach
Heart notes: Jasmine sambac, tuberose and rose
Base notes: Musk, praline, orange blossom, sandalwood and iris
Longevity: Long-lasting
Reasons to buy
+
Impressive staying power
+
Well-balanced floral fragrance
+
A sophisticated scent
Reasons to avoid
-
May be too overpowering for some
When it comes to the best long-lasting perfumes, in Creed we trust. The luxury perfume atelier is renowned for whipping up unique, best-selling perfumes that really do go the distance. And the brand's latest creation, Wind Flowers, is no exception, which is why we reckon it's one of best long-lasting perfumes for the sophisticated lady. Inspired by the strength and grace of a dancer in motion, this new number takes you on a journey with its olfactory notes. A delicate opening of jasmine, orange blossom and peach sets the tone before tuberose petals and rose make an appearance. At its base, creamy praline and musk add depth.
Not stuffy or powdery, this fragrance is well-balanced between fresh and floral with a slightly sweet lingering scent. It's the sort of scent you can imagine the wearer spritzing onto a crisp white shirt paired with a tailored suit. It smells expensive—and it is expensive—but the staying power is extremely impressive, lasting for 12 hours or more (making the price point slightly more palatable). Our only word of warning is that it is potent and can become cloying or overpowering if spritzed on too liberally.
6. Maison Francis Kurkdjian Baccarat Rouge 540 Eau de Parfum
Best cult classic long-lasting perfume
Specifications
RRP: $325/£215 for 70ml
Top notes: Jasmine and saffron
Heart notes: Amberwood
Base notes: Fir resin and cedar
Longevity: Long-lasting
Reasons to buy
+
Incredible staying power
+
Impressive sillage
+
Distinctive, moreish scent
Reasons to avoid
-
Extremely popular—so it's not a super unique option
This is a fragrance that needs no introduction. Baccarat Rouge is a modern-day icon and signature scent for so many. Even if you don't own a bottle of this luxurious fragrance, I'm pretty sure you will have smelled it somewhere. Sweet, but not sickly sweet, the hypnotic number is well-balanced with a warming, woodsy base that counteracts its candied jam opening. Addicted from first sniff, we can see why this perfume is currently in the top 20 most popular perfumes in the world.
While it does come with a hefty price tag, this beautiful blend is incredibly long-lasting, especially when spritzed onto clothes. We can still detect the scent on our jacket three days after spritzing. It also has impressive sillage and will leave a soft yet sweet trail in its wake. The only pitfall of being so popular is that this scent is instantly recognizable, and we smell it everywhere. So if you're after something unique that stands out from the crowd, you may be better off with a more niche long-lasting scent instead.
7. Jo Malone Dark Amber & Ginger Lily Cologne Intense
Best long-lasting spicy perfume
Specifications
RRP: $145/£102 for 50ml
Top notes: Ginger, black cardamom and pink pepper
Heart notes: Water lily, orchid, jasmine and rose
Base notes: Sandalwood, amber, incense, patchouli, leather
Longevity: Moderate
Reasons to buy
+
Warm, cozy fragrance
+
Sophisticated scent
+
Perfect for winter
Reasons to avoid
-
Longevity could be better considering the price point
Spicy scents are especially appealing during the winter months and this one, from Jo Malone, is our top cold-weather pick. Like many of the best Jo Malone perfumes, it's cozy and comforting, with a beautiful blend combining heady incense and warm amber with dark florals, smoky black cardamom and fresh ginger. Clean yet warm, this scent is a far cry from those cloying and sickly-sweet numbers that dominated our teenage years. We'd describe this concoction as classy and sophisticated.
We found that on clothes, the longevity was impressive—lasting for 12 hours or more. But on skin, the scent didn't stick around for long (around five hours). Considering the price point, our tester was a little disappointed with the staying power on skin. With that said, we did invest in the body cream and can safely say that a layer of cream topped off with a misting of the cologne boosted the longevity to no end. If, like us, you adore this scent—treat yourself to the body cream, too for a seriously long-lasting result.
How do you make perfume last longer?
While choosing the best long-lasting perfumes is key, how else can you ensure your signature scent lasts for as long as possible—especially if you're spending all day and night out?
"Moisture is key when it comes to longevity," says Eva Carlo. Before you apply your chosen perfume, follow her advice above and "always use a body moisturiser or oil from the same collection first. Or, if that's not available, opt for a moisturiser that isn't scented, so it doesn't alter the final result." This will help the perfume to cling onto your skin for that much longer.
Another top tip? Cover all bases and don't just spritz the scent onto skin. "Spray your hair and clothing, too," says Carlo, "its effects will then last longer."
Freelance beauty journalist
Emma is a freelance beauty journalist who has worked in the beauty industry for six years for a number of titles—including Grazia, Stylist and Net-A-Porter. She has a particular interest in skincare, fragrance and makeup staples and has worked on producing editorial shoots with some of the industry's biggest artists—including Val Garland—and interviews with the likes of Patrick Ta, Pat McGrath, and Sam McKnight for all their insider tips and tricks.