The best Pride Month quotes from LGBTQ+ celebrities and allies
Consider these Pride Month quotes our daily affirmations for June and beyond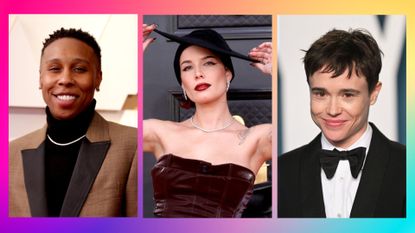 (Image credit: Momodu Mansaray/Getty; Frazer Harrison/Getty; Karwai Tang/Getty)
Happy Pride Month! As you rejoice in all of the rainbow-hued parades, glitter-fueled dance floors and RuPaul's Drag Race viewing parties that the month offers, it's also a great time to sit down and soak up words of wisdom, hilarity and humanity from some of the LGBTQ+ community's most famous faces and allies.
From legendary trans icons to fresh Gen Z voices, actors to activists, these inspirational celebrity quotes will fuel you through Pride Month 2022 and beyond.
Pride Month quotes from LGBT celebs and allies
"It takes no compromise to give people their rights...it takes no money to respect the individual. It takes no political deal to give people freedom. It takes no survey to remove repression." — Harvey Milk
"To be yourself is truly a revolutionary act, and I think more and more people should try it, because it's gotten me a pretty cool life." — Lena Waithe
"Gender and sexuality are so fluid. It's OK to change your mind a million times and figure out what works for you. It's OK to take your time." — Amandla Stenberg
"This world would be a whole lot better if we just made an effort to be less horrible to one another." — Elliot Page
"We're all unique and beautiful in our own way and entitled to love and be loved by whomever we choose." — Barbra Streisand
"I'm a young, bisexual woman, and I've spent a large part of my life trying to validate myself—to my friends, to my family, to myself—trying to prove that who I love and how I feel is not a phase." — Halsey
"Being a queer black woman in America, someone who has been in relationships with both men and women—I consider myself to be a free-ass motherf*cker." — Janelle Monae
"Girls are into me—that's no secret. Hey, I'm into them too. I fall in love with girls and guys. I can't help it." — Aubrey Plaza
"I want to make sure that any young person or anyone really who is looking up to me—who sees a glimpse of who I am as a person—that they see no shame, that they see pride, and that I'm truly unabashed about the person that I am." — Samira Wiley
"When all Americans are treated as equal, no matter who they are or whom they love, we are all more free." — Barack Obama
"What is straight? A line can be straight, or a street, but the human heart, oh, no, it's curved like a road through mountains." — Tennessee Williams
"I do realize the importance of having the bravery to live as who you are and I feel like a lot of people don't have that bravery. Maybe by me opening my big fat mouth like I usually do and stepping up and owning who I am, maybe it might inspire somebody else to do the same." — Michelle Rodriguez
"Everyone should just be who they want to be. It's tough to justify somebody having to answer to someone else about stuff like that." — Harry Styles
"I love people. It's not about a gender. It's just about the spirit that exudes from that other person you're with." — Kesha
"Love him and let him love you. Do you think anything else under heaven really matters?" — James Baldwin
"Never be bullied into silence. Never allow yourself to be made a victim. Accept no one's definition of your life; define yourself." — Harvey Fierstein
"Love is never wrong." — Melissa Etheridge
"There's no right or wrong way to be gay. No right or wrong way to come out. It's your journey, do it the way you wanna do it." — Tan France
"You don't have to be gay to be a supporter—you just have to be a human." — Daniel Radcliffe
"I believe that telling our stories, first to ourselves and then to one another and the world, is a revolutionary act." — Janet Mock
"What I preach is: People fall in love with people, not gender, not looks, not whatever. What I'm in love with exists on almost a spiritual level." — Miley Cyrus
"We should indeed keep calm in the face of difference, and live our lives in a state of inclusion and wonder at the diversity of humanity." — George Takei
"If you feel it is a safe environment, I would highly, highly recommend coming out. I can speak from personal experience and say it's been the best thing I've ever done in my life." — Troye Sivan
"I realize that just living my truth of what I am, there's one less person to fight me in my own head." — Raven-Symoné
"It takes a little bit of bravery to step out, to be like, okay, I don't look like anybody else around here. I am making the conscious decision to present myself the way I want to today." — Hunter Schafer
"My sexuality is not a phase. I am who I am." — Cara Delevingne
"I've never been very cookie cutter. If I choose something different from the status quo, it's my responsibility and my choice to live my life that way." — Sara Ramirez
"For people who have been ostracized, who have been all the way at the bottom, there's only one way that we can go—and that's up." — MJ Rodriguez
"I think love is love. You can find it in any gender. I like the freedom of being able to flirt with whoever I want." — Demi Lovato
"I'm as gay as a daffodil, my dear!" — Freddie Mercury
Christina Izzo is the Deputy Editor of My Imperfect Life.
More generally, she is a writer-editor covering food and drink, travel, lifestyle and culture in New York City. She was previously the Features Editor at Rachael Ray In Season and Reveal, as well as the Food & Drink Editor and chief restaurant critic at Time Out New York.
When she's not doing all that, she can probably be found eating cheese somewhere.