10 Gen Z women we should be listening to this Women's History Month and beyond
Meet the trailblazing Gen Z women set to change the world, one global issue at a time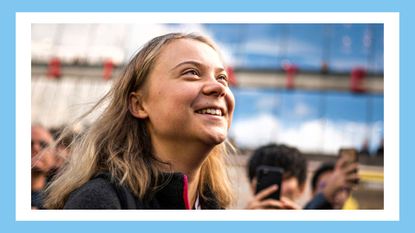 (Image credit: JONATHAN NACKSTRAND/AFP/GETTY)
This Women's History Month, seeing where we're headed is as important as acknowledging where we've been: that's where Gen Z women come in.
Generation Z is a force to be reckoned with, that much we know. Marching to the beat of their own clued-in drum, the youth of today has built a strong reputation for being more progressive and politically engaged than their previous generations, loudly and proudly advocating for issues from stronger gun control to pro-choice US abortion law.
According to a study conducted by the Pew Research Center, about 70 percent of Gen Z want an activist government—a statistic that won't come as a surprise considering their ferocious dedication to making the world a safe and more just place for all. From fighting for climate change and fronting anti-racism campaigns to working to dismantle the patriarchy and champion LGBTQ+ rights one viral TikTok at a time, they're a generation of activists like no other. At the helm of it are some trailblazing young women who've carved out spaces for themselves to challenge the status quo and become voices for their generation. They've written books, started businesses, led global political movements, and presented TED Talks, all before the age of 18.
This Women's History Month, we're celebrating just a few of these Gen Z heroes—young women whose manifestos for change have caught the attention of world leaders, encouraged intergenerational collaborations, and stirred the progress of social, political, and environmental issues in the right direction.
11 Gen Z women to listen to today and every day:
Amanda Gorman, 24
National Youth Poet Laureate, Amanda Gorman, captured the hearts of the world when she delivered her perfect speech on President Joe Biden's Inauguration Day in January 2021. In just six minutes, she gave us a lesson in optimism and togetherness—as well as in how to celebrate black beauty and culture, with on-point highlighter and this gorgeous headband-and-twists combo—with her poem, "The Hill We Climb."
She has since appeared on a plethora of magazine covers including Vogue, TIME, Allure and Variety. She also performed at the 2021 Super Bowl, reciting one of her poems titled "Chorus of the Captains."
However, her good work started long before she stepped onto the world stage. In 2016, Gorman launched the One Pen, One Page charity organization to "elevate the voices of youth through writing and creativity." In 2020, she graduated from Harvard University with a degree in sociology and was also a member of Phi Beta Kappa.
For years, she has used her gift of poetry to advocate for causes she believes in like Black Lives Matter. "Poetry and language are often at the heartbeat of movements for change. If we look to the Black Lives Matter protest, you see banners that say, They buried us but they didn't know we were seeds. That's poetry being marshaled to speak of racial justice," she told TIME. "If you analyze Martin Luther King's 'I Have a Dream' speech, it's a great document of rhetoric that's also a great document of poetry, of imagery, of the song. Never underestimate the power of art as the language of the people."
Yara Shahidi, 23
Actress, model and activist Yara Shahidi has been dubbed the voice of her generation by mainstream media for years and with good reason. Known for her fearless advocacy for women's rights, anti-racism, social justice and political engagement among her peers, Shahidi's voice is loud and clear enough for us all to take note.

In high school, the now 22-year-old—who stars in the hit sitcom Black-ish alongside Tracee Ellis Ross, as well as her very own spin-off Grown-ish—started Yara's Club, a partnership with the Young Women's Leadership Network. For her 18th birthday, she launched Eighteen x 18, a national initiative that encouraged civic engagement and voting from young people in the form of a party. Michelle Obama even wrote her a letter of recommendation for Harvard, where she is a student of Sociology and African-American studies.

In 2019, Shahidi made headlines for giving one of the most powerful speeches at Glamour's Women of the Year Awards: "To be a woman is to be an abolitionist. To be a woman is to understand the power of our yes, of course, but to understand how groundbreaking and system-shaking it is to say no. But it's because 'no' is productive. Our 'no' doesn't just sit still saying, 'I am okay being discontent with the system in front of me.' Our 'no' takes action. Our 'no' stands up. Our 'no' is allyship. Our 'no' understands that I must advocate for something greater than myself because I am you and you are me and we are of each other. Our 'no' understands that we are tearing apart this system, what it means to connect in spite of."
Shahidi continued: "But it's because of our differences in creating spaces to celebrate one another. Our 'no' has made it possible for rooms like this. Our 'no' understands that we will never settle. And I am so grateful to be part of a lineage both figuratively and literally of women who have said no. I'm so grateful to be a part of a generation of women who've said no. I'm so grateful to be in a space in which we are actively saying no."
Greta Thunberg, 20
At just 16 years old, Greta Thunberg led the largest climate change strike in history. A high school student at the time, the Swedish activist started her campaign in the summer of 2018 by sitting outside the Swedish parliament every Friday as part of a climate strike.

By September 2019, she had prompted millions of adults and children around the world, from India to Australia, to partake in a global climate strike where they walked out of work and school in protest. That same year, Thunberg was named TIME magazine's Person of the Year, becoming the youngest individual chosen by the publication since the tradition started in 1927.

Thunberg has since addressed major world leaders and political bodies, including the United Nations, US Congress and UK Parliament, demanding them to turn their attention to the pressing issue of climate change. She's even held her own against former US President Trump, who attempted to troll the teenager on Twitter.

She credits her Asperger syndrome for her activist nature, calling it her "superpower." One of Thunberg's most powerful moments came when she gave a passionate speech to world leaders at the UN Climate Action Summit. "This is all wrong. I shouldn't be standing here. I should be back in school on the other side of the ocean," she said with tears in her eyes. "Yet you all come to me for hope? How dare you! You have stolen my dreams and my childhood with your empty words."
Hunter Schafer, 24
Transgender actress and model Hunter Schafer is best known for her portrayal of Jules in the HBO show Euphoria, in which she stars alongside Zendaya, Sydney Sweeney, Alexa Demie and the rest of the gang. The role was her first-ever acting gig, but she'd been a voice for change long before then. When Schafer was in high school, she was actively involved in the American Civil Liberties Union's 2016 lawsuit against North Carolina House Bill 2, a bill that "required people to use the restroom for the gender they were assigned at birth."
In an essay she wrote for Teen Vogue, Schafer—who, like her Euphoria character Jules, transitioned in high school—fought for transgender teens, saying: "It's a devastating piece of legislation that also banned anti-discrimination protections for the state's entire LGBTQ community. After detractors criticized Governor Pat McCrory for signing such a discriminatory bill, he said the restroom part of it was just 'common sense.' Except it doesn't make sense to invalidate my identity and put me in possible danger by forcing me to use the men's restroom. I was appalled and desperately wanted to fight back. A few weeks after the bill passed, I joined a lawsuit filed by the American Civil Liberties Union, Lambda Legal, and several other plaintiffs challenging HB2."
Schafer has been a prominent LGBTQ+ advocate ever since.
Marley Dias, 18
Marley Dias is an 18-year-old activist and founder of the #1000BlackGirlBooks campaign, an initiative she started in middle school at age 11. Her aim was to champion and increase access to books with Black female protagonists. Years later, her campaign has continued, creating more space for and amplifying Black stories in a white-dominated area.

As well as campaigning for the importance of representation in literary offerings for young people, Dias has written her very own book on activism, titled Marley Dias Gets It Done. She is also the host and executive producer of Netflix's Bookmarks, a series celebrating Black voices.
In an open letter for Elle last summer, Dias wrote: "For the past four years, I have been talking to business leaders, educational administrators, teachers, and caregivers about the need to include youth voices in decisions that impact our world."
"My mission goes far beyond just what's in bedtime stories. In my elementary school, the Black figures we learned about were Rosa Parks, Martin Luther King Jr., and Harriet Tubman. In middle school, the fairly recent murders of Philando Castile, Alton Sterling, and the Parkland shootings were not addressed. What happens in the present moment is as important to our future as the past."
Dias continued: "So it is my hope that in the future, the murders of George Floyd, Breonna Taylor and Ahmaud Arbery will be covered in schools nationwide. Because all of us—students, teachers, and administrators—must be able to say the words 'Black Lives Matter.' We must write them on chalkboards and in Google Classrooms. Educators must demonstrate that they support these words through the assigned readings and homework."
Nadya Okamoto, 25
Activist, entrepreneur and author Nadya Okamoto has been a leading force in dismantling damaging stigmas around periods, all whilst being a student at Harvard University. As a teen, she started her own nonprofit called PERIOD, after witnessing the harsh reality of period poverty, the inability to afford period products due to lack of access or financial resources. What began as a period product drop-off to support the local homeless shelter in her community turned into a global youth-powered nonprofit fighting to end period poverty altogether.

In 2018, Okamoto published her debut book, Period Power: A Manifesto for the Menstrual Movement and was named one of Teen Vogue's 21 under 21 the year after. In May 2020, she gave her first Ted Talk. She has since launched her own mindfulness podcast titled "Tigress" and often uses social media platforms to provide advice for young people on everything from how to get into Harvard, to birth control, STIs and mental health, as well as regularly advocating against racial and social injustices in America.
"In realizing how privileged we are to have a space where our voices are heard, especially in a world where many feel silenced, I hope that people recognize the importance of cultivating their passion into a profession that benefits and empowers others," Okamoto told On The Dot Woman.
Zulaikha Patel, 20
Indian-South African anti-racist activist Zulaikha Patel first made headlines at the age of 13 when she led a protest against the discriminatory hair policy at her high school in Gauteng, South Africa. Despite being threatened with arrest, she didn't back down in her fight, urging the school to allow students to wear their natural hair. Her protest eventually caught the attention of the Gauteng Education Department, which launched an investigation into the school's hair policy.

In 2016, Patel was named one of the BCC's 100 Most Influential Women and has since used her platform to advocate for young Black women who have faced identity backlash from a society heavily influenced by Eurocentric standards. She has written about abolishing anti-blackness for a number of publications including Al Jazeera and Marie Claire and even did a TED Talk titled Dare to Disrupt Injustice in April 2020.
"I'm motivated to bring change in society because I believe no young person should abandon their childhood to fight struggles that should have been fought decades ago," Patel said in an interview with Global Citizen.
Isra Hirsi, 20
Somali-American climate-change activist Isra Hirsi co-founded and acted as executive director of the US Youth Climate Strike in 2019. In 2020, she was featured on Fortune's 40 Under 40 Government and Politics list at just 17 years old. The daughter of Congresswoman Ilhan Omar, Hirsi is just as passionate as her mother about universal health care, a just economy and a livable and anti-racist planet.

In April 2020, Hirsi gave a powerful TED Talk titled Angry Black Girl, where she eloquently spoke about the importance of diversity and an emphasis on intersectionality within the climate justice movement. She's also a TikTok star, with more than 1.4 million likes and 85.7k followers on the platform.
Hirsi, who was featured on the cover of Teen Vogue alongside her mother in November 2020, once told the publication: "One thing that I wish I knew from an earlier age is to not listen to adults when it comes to how to use your voice, because often it feels like they attempt to belittle you because you're younger or act like your ability is not as good as other people's just because you're, like, 15. I think that's bulls**t. I think that young people have a very unique ability [for] organizing, especially digitally, that a lot of older folks do not understand. Understand that you are important and your voice is, too, and don't let adults, especially, tell you otherwise."
X González, 23
As a survivor of the February 2018 Stoneman Douglas High School shooting in Parkland, Florida, X González became the voice of a generation as they and fellow students sprung into action, advocating for gun control.
The tragic event killed 17 students and staff and injured 17 others, resulting in the student-led nationwide March For Our Lives protests, which caught the world's attention as millions of teens and adults marched in solidarity on March 24, 2018. Here, Gonzalez delivered a gut-wrenchingly powerful speech calling BS on U.S. gun laws and demanding reform. It soon went viral and shortly after, they challenged NRA's Dana Loetsch about her contradictory and outdated beliefs about guns at CNN's Town Hall.
Gonzalez has since continued to fight for the safety of young people, encouraging their peers to vote in the 2020 elections and using their social media platforms to continuously fight against gun violence.
"If you are in a position of power, you need to aim to make the world a better place for everyone living here, not just yourself and your donors," Gonzalez told TIME. "Stop allowing violence to persist and being shocked when the youth are softer and gentler than you. Stop utilizing the abusive and manipulative systems that were created for you. Instead, help people of color, women, LGBT+ people, young people, disabled and differently-abled people, and immigrants obtain an education, food, clean water, safe housing, jobs, health care and political power."
Malala Yousafzai, 25
Malala Yousafzai is possibly the most famous activist of her generation, so you won't be surprised to see her name on this list. The youngest person in history to win a Nobel Peace Prize in 2014, the now 25-year-old Pakistani and Muslim Gen-Zer has a striking backstory. Her family ran a chain of schools under Taliban occupation and when she was 11 years old, she wrote a blog post under a pseudonym for the BBC about her life under the Taliban. She was also the subject of a New York Times documentary about life in the middle of military occupation and continued to be vocal about fighting for the right of young women and girls to have an education.

As a result, Yousafzai was shot by a Taliban gunman on a school bus in October 2012. The incident caused an international uproar and a support movement for Yousafzai was born. She founded the Malala Fund to help girls get an education everywhere, wrote the book I Am Malala, and continues to be an advocate for the rights of girls and young women.
One of Yousafzai's most famous quotes is: "I raise up my voice—not so I can shout, but so that those without a voice can be heard. We cannot succeed when half of us are held back."
Sagal is a journalist, specialising in lifestyle, pop culture, fashion and beauty. She has written for a number of publications including Vogue, Glamour, Stylist, Evening Standard, Bustle, You Magazine, Dazed and Wonderland to name a few.