Why did Pamela and Tommy get divorced?
If you're wondering, why did Pamela and Tommy get divorced? We take a look at the turbulent marriage between the actress and the musician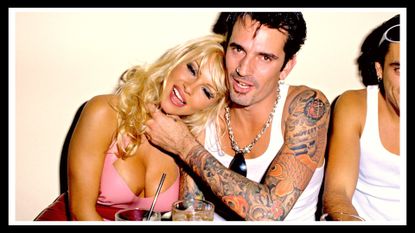 (Image credit: Steve. Granitz/WireImage/Getty Images/Future)
Last year, the limited series Pam & Tommy lifted the lid on the relationship between Pamela Anderson and her former husband, Tommy Lee, including the end of their turbulent marriage—but why did Pamela and Tommy get divorced in real life?
Though the miniseries, which centers on the high-profile 1990s sex-tape scandal featuring Pamela and Tommy, famously did not have input from the subjects themselves, a recently-released Pamela Anderson Netflix documentary attempts to put right that wrong, allowing Pam to tell her own story.
But the last episode of the Pam & Tommy series certainly left fans curious to know what really went down in the marriage between the Playboy icon and her Mötley Crüe drummer husband. In a late scene, a hotheaded Tommy Lee is seen screaming at his wife and trashing their living room, before finally relenting to sign over rights of the sex tape to porn kingpin Seth Warshavsky (after Rand Gauthier sold the tape). "It's over," Lily James' Pamela Anderson says in the scene, seemingly about more than just the scandal itself. The nine-months-pregnant Anderson is later shown changing her "Tommy" tattoo to say "Mommy."
But what really happened to the '90s power couple, and why did they split? Here's what we know about why Tommy Lee and Pamela broke up.
Why did Pamela and Tommy get divorced?
Though the sex-tape scandal undoubtedly put stress on the stars' marriage, it was not actually the straw that broke the proverbial camel's back. So why did Pamela and Tommy get divorced? Unfortunately, it was a case of domestic violence that rang the death knell for for the couple.
In February 1998, Lee was arrested for spousal abuse after leaving Anderson "with bruises, a torn fingernail and fear for the safety of her two sons," reported The Los Angeles Times at the time of the altercation. The LA Times said Lee kicked his wife while she was holding their two-month-old son, "after she refused to call her parents and ask them not to come over to the couple's home."
Lee pleaded no contest to the spousal abuse charges against him (child abuse and firearm possession charges were dropped) and was sentenced to six months in the Los Angeles County jail. Anderson filed for divorce shortly after the incident and requested custody of their sons.
However, after a newly sober Lee was released from jail four months into his sentence, the couple attempted reconciliation, which Anderson spoke about on a May 1999 appearance on The Tonight Show with Jay Leno. "Tommy and I are back together, working our family out. We're doing really well and our children are happy," she said. "It's been a long, hard year...and I want my family together and I want it to work."
The reunion spawned one of the couple's most iconic moments, those infamous red-carpet ensembles from the 1999 MTV Video Music Awards. (Yes, the pink feathered hat.) Alas, the accord did not last forever. The tumultuous twosome split for the second time in 2001.
But it wasn't their last attempt at getting back together. Pam and Tommy tried for the third time at romantic bliss in 2008, a year after Anderson had divorced musician Kid Rock ,and annulled her marriage from Rick Salomon.
"We've only given it a try 800 times—801, here we go," Lee told Rolling Stone back in '08. "Pamela and the kids have moved in with me. It's awesome. It's definitely working." He added: "You can tell on the kids' faces. They're happy when we're together." A friend of Lee's told People at the time: "They are two people who have been through a lot and know each other really well."
However, the former spouses split for good in 2010. So if you're wondering, why did Pamela and Tommy break up? It seems the pair really weren't meant to be in the end, due to the tumultuous nature of their relationship.
How long were Pam and Tommy married?
"In 1995, I met Pamela Anderson, the woman who became my wife and with whom I share two beautiful sons," Lee wrote in his 2005 autobiography Tommyland. "But that's a story that deserves its own chapter, if not its own book."
The former couple first met at club Sanctuary in Hollywood, before reuniting for a photoshoot in Cancun, Mexico. After a whirlwind four-day courtship, Anderson and Lee married on the beach in Cancun in '95, much to the surprise of the Baywatch star's mother Carol Anderson, who told People at the time: "This was the first I'd heard of him. It is heartbreaking and shocking."
When they returned to America, as the Pam & Tommy series shows, Pamela moved into the drummer's Malibu mansion.
The actress and the rock star were married for three years, legally divorcing in 1998—though their relationship spanned decades. Pamela and Tommy have arguably had a very difficult relationship since their marriage ended, with Tommy accusing their son Brandon of assaulting him in 2018, and Pamela revealing that Tommy's struggle with alcohol addiction has caused their family a "lifetime of disappointment."
Does Pamela Anderson have kids with Tommy Lee?
Now we know the answer to, 'why did Tommy Lee and Pamela break up', did the pair have kids together? Yes—Anderson and Lee share two sons: actor Brandon Thomas Lee, now 25, and Dylan Jagger Lee, a 24-year-old model and musician.
Despite four marriages for Lee and six for Anderson, Brandon and Dylan are both parties' only children.
In the recently-released Netflix documentary, Pamela, a love story, the actress and model confessed to her sons that despite their incredibly turbulent relationship, she always wanted to make it work with the father of her children.
She is seen saying, "I really loved your dad for all the right reasons and I don't think I've ever loved anybody else. It's f***ed."
"I'd rather be alone than not be with the father of my kids," she said. "It's impossible to be with anybody else. But I don't think I can be with Tommy either. It's almost like a punishment."
Heather Locklear and Tommy Lee marriage
Prior to his relationship with Pamela Anderson, Tommy Lee's most publicized romance was with his second wife, actress Heather Locklear, best known for her Golden Globe-nominated role as Amanda Woodward on Melrose Place and as Sammy Jo Carrington on Dynasty.
The couple married in 1986 and divorced in 1993, due to "Lee's ill-concealed on-the-road philandering," reported Entertainment Weekly.
Lee obviously went on to meet and marry Anderson, while Locklear had another high-profile romance with a rocker, marrying Bon Jovi guitarist Richie Sambora—though they also divorced, in 2007.
Tommy has been married to social media influencer Brittany Furlan since 2019.
Pamela Anderson marriages—is Pam Anderson still married to Dan Hayhurst?
Pamela Anderson has been married six times in total.
As well as musician Tommy Lee, her first marriage, she was also engaged to Kid Rock, though the pair broke up in 2003 after two years together. However, they later reconciled in 2006, and actually got married; though it wasn't set to last, as Pamela filed for divorce just seventeen days later.
Pam has also been married to film producer Rick Salomon twice; first getting hitched in Las Vegas in 2007, before asking for the marriage to be annulled in 2008. On the Ellen show in 2014 though, she revealed that they had got married once again, though the couple were divorced for a second time by 2015.
She also married producer Jon Peters in January 2020, but just a month later, stated that they had broken up, and that the marriage had never actually been legal. Most recently, she wed bodyguard Dan Hayhurst on December 24, 2020, on Vancouver Island. However, on January 21, 2022, the actress announced that she and Hayhurst were no longer together. So where is Pam Anderson now? Take a look at our refresher on the '90s bombshell.
Christina Izzo is the Deputy Editor of My Imperfect Life.
More generally, she is a writer-editor covering food and drink, travel, lifestyle and culture in New York City. She was previously the Features Editor at Rachael Ray In Season and Reveal, as well as the Food & Drink Editor and chief restaurant critic at Time Out New York.
When she's not doing all that, she can probably be found eating cheese somewhere.
With contributions from