8 reasons why 2021 might actually turn out to be the great year we need it to be
If you're looking for reasons to be positive about 2021, we have 8 great ones...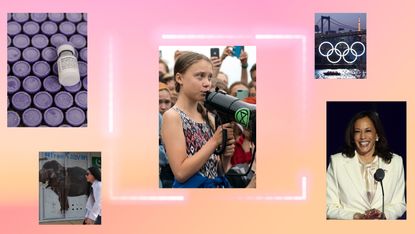 (Image credit: Getty Images)
If you're looking for reasons to be positive about 2021, you're not alone. 2020 has been a difficult year for everyone and, honestly, even the fact that you've made it here to the end of the year should be celebrated. We've all survived a global pandemic - and all the trauma that came with it.
While there's undoubtedly still some turbulent times ahead, it can be easy to get distracted by the negative news cycles and doom-scrolling. This can mean we lose sight of the positive events and good news stories happening around our big wide world that might have passed us by.
As we get ready to leave the year that truly shook us all, here are eight very inspiring things that give us a little bit of hope for 2021...
The vaccine is here - and it paves the way for more pioneering medical breakthroughs
The greatest news that we could end the year on arrived just in the nick of time in December, when Brit Margaret Keenan became the first person in the world to be inoculated with the COVID-19 vaccination. As one newspaper put it, 1 down, 54 million to go.
And as the jab gets rolled out worldwide, the hard work of the scientists who created it could lead to a shift in speeding up the process of development of other vaccines that are often bogged down in logistics and funding. The head of the UK's Vaccine task force told the scientific journal Nature.com: "COVID-19 gives us an opportunity to create a permanent system for supplying vaccines for future pandemics, quickly and safely."
There are also plans to allow all nations to be given future vaccinations equally. The COVAX initiative "allows rich countries to buy vaccines for poorer countries, alongside buying vaccines for their own citizens". After all, in a global crisis, we're all in this together.
The new President of the United States will be sworn in on January 20
...and it's not going to be Donald Trump. Joe Biden will become the 46th president of America, and with him, it's hoped will usher in a new wave of kinder politics, leading to a less divisive society. In his victory speech, Biden said: "We must stop treating our opponents as our enemy. We are not enemies. We are Americans...This is the time to heal in America."
And of course, his VP, Kamala Harris also deserves a shout out. As the first Black woman ever to hold a position in office, she said: "While I may be the first woman in this office, I will not be the last. Every little girl, watching tonight sees that this is a country of possibilities." And with that, our hearts grew a little bit bigger.
The Tokyo Olympics will remind the world of the strength of the human race in July
The 2020 Olympics were of course postponed as the coronavirus took hold, but now Japan is using all its technological know-how to ensure that the Games - starting on July 23 - are as safe as possible. According to Wired, at a recent test at at football match, this meant temperatures are checked on arrival, the Covid-tracing app must be downloaded, and "ultra-high definition cameras scanned the crowd to pinpoint fans who weren't wearing masks".
Not only that, but "bluetooth beacons fed data about the number of people in any given area, such as bathrooms or at vendors...to avoid overcrowding". Safe to say, it sounds like they've got things sorted. And who couldn't be failed to be moved by watching the incredible feats of human achievement finally go ahead? No matter who ends up taking the gold medals in the end, we're all likely to have that warm rush by the end of it.
Climate change has shown small signs of slowing down, thanks to the Paris Agreement
While we're not out of the woods just yet, the catastrophic rise in world temperature looks like it might be slowing down. According to the Climate Action Tracker group, they've examined pledges from nations on their climate and carbon promises and found that the world's warming by 2100 is likely to be 2.1C, rather than the earth-shattering 3C.
The creation of the Paris climate agreement in 2015, which was designed to avoid dangerous warming of the planet has made "a considerable impact", according to the BBC. Let's hope it continues in the same downward trend.
'The world's loneliest elephant' now has a mate
In one of the most random news stories of the year, Cher took it upon herself to campaign against the plight of Kaavan the 35-year-old elephant, who was living in squalor, alone in a zoo in Islamabad.
The Believe singer travelled to Pakistan to see Kaavan finally freed from the zoo and moved to an elephant sanctuary in Cambodia instead. She tweeted that it was one of the "greatest moments of her life" - and the elephant's too, as the sanctuary owner added that he hoped Kavaan would finally be able to mate with another elephant in 2021. Cher's now turned her attention to saving a gorilla called Bua Noi, who's been caged up in a zoo on the top floor of a Bangkok shopping centre.
Birdwatching is back
Feathered friends seem to also enjoying a new burst of life. In London, sightings of kingfishers have gone up 450 percent since 2000, thanks to river restoration projects.
And the Catchment Partnerships in London Group (CPiL) are hoping that the lockdowns that happened in the city sparked a rise in wildlife-watching that will continue into next year.
"Not only have these rewilded rivers made it easier for key wildlife species to live here, they have made it easier for people too," said CPiL's David Webb, according to Positive News. "This year's lockdown showed just how important it is for public health that people have access to nature."
Disorders like depression, body dysmorphia, anxiety and addiction are showing great improvements when treated with psychedelic drugs
Thought mushrooms, LSD and MDMA were just party drugs? Time to think again. Since the 60s, studies have shown that psychedelic drugs have beneficial effects on people suffering from anxiety, PTSD, addiction, and other mental health issues.
Now, researchers at London's Imperial College and Baltimore's Johns Hopkins centre have seen a marked improvement in patients who suffer from everything from body dysmorphia, eating disorders and depression, when they are dosed with small amounts of psilocybin (the active product in psychedelics) as part of their one-on-one therapy.
David Badcock from Drug Science told Metro: "We don't advocate doing mushrooms recreationally, but advise it as part of a therapeutic session with psychosocial support. Once the scientific evidence is confirmed, we would love to see the NHS use it as part of the way they treat certain health issues." With Oregon declassifying psychedelics in November, this could mean other countries also eventually follow suit.
Space exploration blasts off with the first fictional Hollywood movie filmed in space
Earlier this year, NASA confirmed that Tom Cruise is set to make a film while hurtling through the galaxy on their International Space Station.
The as yet unnamed action adventure will be the first narrative feature film to be shot in the multi-billion dollar laboratory that orbits Earth from 250 miles above.
Meanwhile, SpaceX - Elon Musk's spacecraft and rocket company - announced in February that it will launch four private citizens to orbit around Earth at the end of 2021 or in early 2022. To infinity and beyond!
Laura is a freelance entertainment and lifestyle journalist who writes for The Guardian, The i newspaper, Metro, BBC Culture and Grazia. She's happiest travelling the world and discovering new trends and, within reason, is willing to give most things a try. From feasting on rancid camel milk cheese in Morocco to jumping into the shimmering aquamarine cenotes of the Yucatan; it's all out there to be explored, then written about. A firm believer of Nora Ephron's mantra: "everything is copy".