Do Roman and Gerri end up together on 'Succession'?
Roman and Gerri make up the most unlikely coupling on 'Succession,' but what's really going on with them?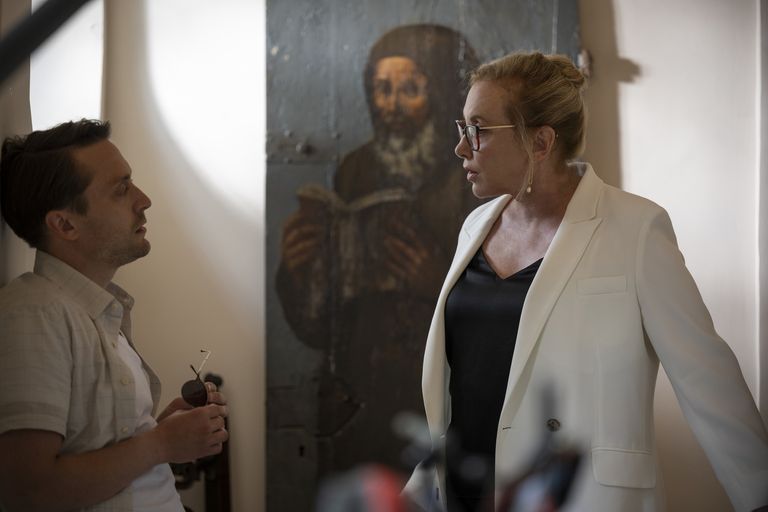 (Image credit: Graeme Hunter/HBO)
By Christina Izzo published
The Rock Star and the Mole Woman, the General Counsel and the Slime Puppy—Roman and Gerri go by many names, but their main title could very well be Most Unlikely Pairing on TV.

After all, back in those innocent season-one days, who could've possibly predicted any sort of romantic or sexual entanglement happening between Logan Roy's youngest, snidest son, Roman, and Waystar Royco's most trusted legal mind, Gerri Kellman?
The unconventional couple has plenty working against them, from a three-decade age difference to Roman's psychosexual issues, but after three seasons of will-they-won't-they-omg-will-they back-and-forth, RomanGerri shippers can't help but root for this messy May-December match.
Here's everything to know about the fan-favorite Roman and Gerri "romance" and whether this beloved TV pairing has "endgame" written all over them.
*Warning: Spoilers ahead!*
---
---
Roman and Gerri: How it all started
Kieran Culkin's Roman Roy flits off sexually inappropriate jokes and innuendos to basically everyone in his orbit on Succession, so when he started sending them in the direction of Gerri Kellman (J. Smith-Cameron), the firm's sixtysomething General Counsel, back in season one, viewers didn't really think much of it.

That all changes, however, in season 2, as the two characters become closer through their corporate alliance. The lines between professional and personal quickly become blurred when Roman shockingly segues one of their regular business calls into a phone-sex situation, and the usually-buttoned-up Gerri not only surprisingly goes along with it but seemingly enjoys it herself!
That phone call kicks off a psychosexual attachment between the two throughout the second and third seasons, as well as a deepening of their Waystar alliance and, yes, even a marriage proposal. (That was a marriage proposal, right?!)
The Roman and Gerri ship was actually the brain-baby of its actors, Kieran Culkin and J. Smith-Cameron. Having known each other for years prior to starring in the HBO hit—they co-starred in the 2011 film Margaret, directed by Smith-Cameron's husband and Culkin's frequent collaborator Kenneth Lonergan—the actors would improv with each other throughout their Succession scenes.
"What happened is that Kieran and I were friends. When you're on a film set, your creative juices are going and you're also nervous and you keep having to pick yourself up....And so Kieran and I, in a friendly way, started this sort of silly flirtation, because we found we were sympathetic to each other. We got each other's sense of humor. We would riff off each other," J. Smith-Cameron told The New Yorker.
She continued: "It was funny that Roman was flirting with Gerri, to us. Well, inappropriate and funny. So we just kept it up. At some point, the writers became aware of it," and used the actors' easy chemistry and sexual tension as a jumping-off point for Roman and Gerri's relationship.
Will Roman and Gerri end up together on 'Succession'?
Though the inappropriate flirting between Roman and Gerri is alive and well throughout Succession season three ("I'd lay you badly, but I'd lay you gladly"), when the legal counsel is named interim CEO of Waystar Royco in the beginning of the season, she attempts to put the brakes on their illicit liaisons, telling Roman that for their corporate alliance to work, they have to set boundaries between their personal lives and professional partnership.
However, those secret liaisons become public knowledge in the season's penultimate episode, "Chiantishire," during which a nude pic that Roman had intended to send to Gerri is accidentally messaged to Logan Roy, Roman's father and their terrifying Waystar boss. It goes without saying that their relationship doesn't go over all that well with Papa Roy.
There's only one episode left of Succession season three, so we'll have to tune in to the big finale on Sunday, December 12 to see how the dust settles on this particular explosion, but with a season four already picked up by HBO, we're certain there are more Roman and Gerri shenanigans in our future.
Whether that future sees Roman and Gerri actually together now that their secret is revealed remains to be seen. In that same interview with The New Yorker, Smith-Cameron touched on fans' love for the pairing: "It's wild. And I think it's adorable. But it's also a little worrisome."
"[Succession creator] Jesse [Armstrong] is absolutely not someone to pander to fans. He wants to be true to how the characters feel," she told the outlet. "The fans all want Roman and Gerri to ride off in the sunset together. It's very neutralized in real life. Although there is some chemistry there that I never expected. Like, there is undeniable chemistry with us."
Is Roman Roy asexual?
One of the major questions surrounding Roman Roy is: what is his sexuality? The character has displayed issues around sex and intimacy throughout the last three seasons, from not being able to perform with past girlfriends to the sub-dom scenarios that he engages in with Gerri to his frequent allusions to childhood trauma.
Many viewers have questioned whether or not Roman is actually asexual—someone who doesn't experience sexual attraction and/or doesn't desire sexual contact—but the character nor the actor playing him has officially defined his sexuality.
Kieran Culkin told Vulture: "I don't think Roman knows what it is. If he doesn't know, I don't know. It's the same when it comes to his sexuality in general. I don't really want to know what that is. It's tough doing interviews to talk about the thing with Roman and Gerri, because it's like, I don't know! But it just makes sense."
The final episode of Succession season 3 will air on HBO and HBO Max on Sunday, December 12.
Christina Izzo is the Deputy Editor of My Imperfect Life.
More generally, she is a writer-editor covering food and drink, travel, lifestyle and culture in New York City. She was previously the Features Editor at Rachael Ray In Season and Reveal, as well as the Food & Drink Editor and chief restaurant critic at Time Out New York.
When she's not doing all that, she can probably be found eating cheese somewhere.