Everything we know about Selling Sunset's spin-off, 'Selling Tampa'
New Selling Sunset spin-off alert!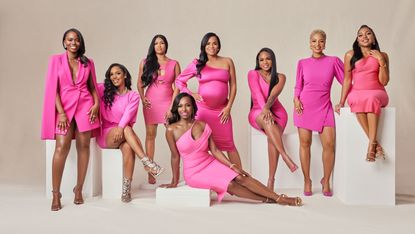 (Image credit: Nino Muñoz/ Netflix)
PSA for fans of Selling Sunset! We have major news—not only are we getting an OC spin-off but Netflix just announced we are also getting another luxury real estate reality TV show over on the East Coast called Selling Tampa. Yep, new city, new homes, new girls, and of course—more drama.
That means you don't have to worry about being without a luxury real estate reality TV show while we wait for season 5 of Selling Sunset as Selling Tampa is on it's way. So what do we know about it so far? Let's dive in.
---
---
When is Netflix's Selling Tampa's release date?
As we said above the wait is not long at all—the first season of Selling Tampa is due to drop on the 15th December 2021 on Netflix.
The streaming giant has confirmed we'll be getting eight 45-minute long episodes.
Who are Selling Tampa's realtors?
Selling Tampa brings girl-boss vibes to the next level as it's based around an all-female, all-Black agency.
Instead of Justin Oppenheim, our leading star is Sharelle Rosado, a military veteran who now runs Allure Realty. We're told no challenge is too big for our leading lady, Sharelle, as she manages to be a mother-of-three, soon-to-be mother-of-four, and run a super successful real estate empire.
Her team includes Juawana Colbert, Colony Reeves, Anne-Sophie Petit-Frere, Rena Upshaw-Frazier, Alexis Williams, Karla Giorgio, and Tennille Moore. What has Netflix teased about the women so far? They've said the women can be "equally as fun as they are fiercely ambitious, with all of them vying to be on top of the lavish world of luxury waterfront real estate". Sounds like Selling Tampa's going to be great.
What's going to happen in Selling Tampa?
Netflix has kept this series very hush-hush, so details on the plot are a little tight. What we can expect are some luxury homes to be sold and a lot of drama to be had, as it is a Selling Sunset spin-off after all.
Real estate mogul Sharelle, who is currently pregnant with her fourth child, revealed to People that the cameras were there the moment she found out she was pregnant agin back in August.
"It was shocking. I think I was crying and laughing at the same time. I just can't wait. It's actually going by so fast. I found out I was pregnant while we were filming, so time is flying. It doesn't even seem like it's been that long. I always wanted a big family, So I think with this last one, she's just the perfect number to finish it off", she said.
Sharelle is expecting a beautiful baby girl with her fiancé, former NFL player Chad Johnson. The latest addition to their family will be Chad's eighth child and Sharelle's fourth.
When is the Selling Tampa trailer going to be released?
No idea! Again Netflix is keeping their mouths zipped on when a trailer is going to be released. So far all we have is a small teaser for Selling Tampa, which includes Selling Sunset boss Jason Oppenheim handing over the keys to the real estate reality world to the Selling Tampa crew.
We will of course update you the moment there is a full-length trailer
Liv is a freelance journalist currently studying English at university. She loves covering everything from entertainment and politics to lifestyle and travel. As well as writing for My Imperfect Life, Liv has bylines in The Times, HuffPost, Den of Geek, Bustle The Metro and The Bookseller.