Who is the man that both Christine and Emma from 'Selling Sunset' dated?
All of the ex-boyfriend drama between Christine and Emma on 'Selling Sunset,' explained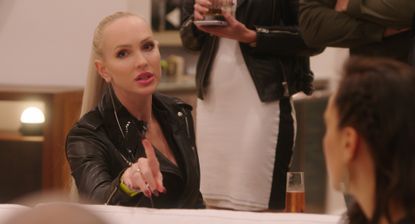 (Image credit: Netflix)
Selling Sunset's fourth season just dropped on Netflix, introducing us to two new realtors, one of whom has a history with the one and only Christine Quinn.
Christine and Emma Hernan, the Oppenheim Group's newest real estate personality featured on the Netflix show, previously dated the same man. As you can expect, this leads to a lot of drama on the show's fourth season, as Christine insists their relationships with him overlapped, while Emma and Mary contest that he and Christine had been broken long before Emma entered the picture.
So who is this man that both Christine and Emma dated on Selling Sunset? Here's everything you need to know about the ex-boyfriend drama.
---
---
Who is the man both Christine and Emma dated on 'Selling Sunset'?
Christine and Emma's mutual ex is a major talking point of Selling Sunset's latest season and yet neither of the women ever mention him by name. After some serious extensive internet sleuthing, which took a while, we were able to find out the man in question is Peter Cornell.
An insider told Us Weekly that Peter Cornell is also a realtor but the big shocker is he also works for the Oppenheim Group as their sports and entertainment director! Since he works for the same company, there is a small chance that we may see him in the next season, for the sake of making some big reality tv drama.
What else do we know about the mysterious Peter Cornell? As the Oppenheim Group's sports and entertainment director you'd be right to expect he'd have a history of playing sports. He played college basketball for Loyola Marymount University as well as overseas prior to his 2009 retirement, at which point he tried his hand at being a realtor.
There is also photographic proof he was dating Christine Quinn (at the time known as Christine Bently) as he was seen with her in February 2015 at the Los Angeles premiere of Hot Tub Time Machine 2.
Also, *SPOILER ALERT!* We find out in the latest season of the show that Heather also went on a date with Emma and Christine's ex, Peter, too!
So what do we know about Christine and Emma's relationship with Peter? We know that the relationship occurred a few years before Christine began dating her now-husband. It also seems Emma is no longer dating him either. We also know from the show that Christine and her best friend caught said ex cheating when she saw him coming out of the gym holding hands with Emma. In typical Christine fashion, she was not having any of it and blocked Emma from leaving the gym with her car.
We saw from Selling Sunset's season four trailer that even though the drama occurred a few years ago, it is far from over. The trailer showed their issues in the workplace as Emma is brought in to cover Christine's listings while she's on maternity leave. We see Christine storming out crying after hearing the news from Jason Oppenheim, who tells Christine: "I hope you see it as a professional decision."
Emma addressed her ongoing feud with Christine in a recent interview with Cosmopolitan, saying: "I mean, with girls in general...if there's a guy or their relationship involved, there's going to be some feelings. You'll definitely see it play out on camera. I stay true to who I am and I definitely try to take the high road with everything in life...Just pay very close attention to the facts. I can't give too much away, but let's just say you guys will be having some popcorn with that interaction."
Emma Hernan ex-fiance: Is she single now?
Emma confirmed to People in September that she's now single after previously being engaged.
Currently, there is no sign of any of her romantic relationships on her Instagram, nor has she made any public declarations of her dating life. So for now the only committed relationship she's in is with her dog, Benny.
However, we did find a picture of her kissing a man on Emma's mother Stephanie's Instagram from 2014. The man in question is Gregory Kelleher, but he's now married to another woman.
Christine Quinn husband: Who is she with now?
Christine Quinn got married to Christian Richard (officially known as Christian Dumontet) in December 2019 after dating for less than a year. The couple met in 2019 and recently welcomed their first child together in May 2021.
In typical Christine fashion, their courtship wasn't drama-free and during season two of the show, there were rumors that Christine began seeing Christian while he was still in another relationship.
However, Christine set the record straight on the Not Skinny But Not Fat podcast, saying: "I met [Christian Richard] through a girlfriend of mine. She went on a date with him and she just wasn't into it. And she was like: 'Hey, I went on a date with this guy and just like, not feeling it, but I do know that he is looking for a house.' So I went on a date with him and, I was like, oh, I really...like this guy. He's, like, different. He's funny. And then, you know, we started dating immediately."
Liv is a freelance journalist currently studying English at university. She loves covering everything from entertainment and politics to lifestyle and travel. As well as writing for My Imperfect Life, Liv has bylines in The Times, HuffPost, Den of Geek, Bustle The Metro and The Bookseller.