Should you brush curly hair dry or wet? We asked the experts
Should you brush curly hair dry or wet? The results will be different depending on which you opt for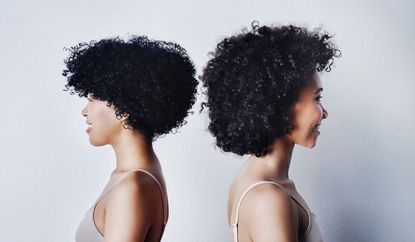 (Image credit: Getty Images)
If you're wondering whether you should you brush curly hair dry or wet, we've got you covered.
Every head of curls is so different that it can be hard to know (or even judge) what is the best way to brush it, in order to create the most defined and detangled style for you. There is, however, a set of expert-confirmed truths that can be applied to all curls when it comes to brushing and detangling. And this all starts with your tools; regardless of your curl type, in order to reach the desired outcome for your locks, you'll need to find the best brush for your hair, as well as good products to nourish and hydrate as you style.
Before you start brushing though, take a look below to see what the optimum base condition is for curls. You may be surprised...
Should curly hair be brushed when it's wet or dry?
According to the experts, in most instances you should really only brush curly hair when it's wet. In terms of detangling, rather than styling, you should only ever attempt this when curly hair is wet. "I would strongly recommend that you brush curly hair only when it's wet, not when it's dry," says hairdresser and Imbue Curls ambassador Michelle Sultan. "This is because once it's dry it loses its elasticity and is therefore more likely to snap."
You can use a detangling brush in the shower when your conditioner is still in (like the Imbue Curl Restoring Intensive Mask), working the product from root to tip while easing out kinks and knots. Alternatively, while your curls are still damp post-wash, you could spritz in a leave-in conditioner – such as Shea Moisture's 100% Virgin Coconut Oil Leave-In Conditioner – and run a detangler through it section by section.
"Coily and curly hair types can become quite tangled," says hairstylist Dionne Smith. "Once dry, it can be quite painful to try to brush out. Using water and/ or a good water-based detangling product helps to comb through hair, and untangle it a lot more easily."
The key to both wet-brushing styles is ensuring you have product in your hair that creates a 'slip', which essentially makes your locks silkier to brush through. It's also important to remember that, because wet curls become more elastic, they are less likely to break when brushed. That said, the hair can still snap when pulled too far so do be mindful and gentle as you work.
Is there ever an instance when you should brush dry curls?
Of course you can still brush curls while dry, but go into this knowing that you will probably lose the definition of your curl pattern. If you are going for a big, voluminous and fluffy look then you can use a paddle brush in sections, teasing out your curls from tip to root.
Another instance when a brush is handy is if you're looking to style your curls into a sleek ponytail; you'll need to brush it back into this style while dry, as pulling it back with your fingers alone will leave you with lumps and kinks. For this, depending on your hair thickness and curl type, use some pomade or gel along with a dense bristle dressing brush – like the Kent Perfect for Smoothing Narrow Oval Bristle Brush – to help smooth your hair back into a ponytail.
Does brushing curly hair wet cause damage?
"Caution should be used when brushing hair both wet and dry," says Stefan Bertin, celebrity hairstylist and Shea Moisture ambassador. "But wet hair has much more elasticity so you'll experience less breakage." Curly and coily hair are two of the weakest hair textures, due to the number of cuticles each hair strand has, as well as the way that the hair bends and twists. This makes it susceptible to damage whenever you comb or brush through it, even if it is done in optimum circumstances – meaning both wet and well-conditioned.
Because of this, experts really recommend only combing or brushing wet hair infrequently in any case – try to limit your brushing to post-wash detangling and minimise how much you style it in between washes. This will limit the strain you might be putting on your hair, reducing the chances of it snapping and breaking and resulting in healthier, bouncier curls.
Keeks is an award-winning digital & social content specialist a hair & beauty writer and a brand consultant. You can find her work in Cosmopolitan (in print and online), Refinery29, Harper's Bazaar, Woman and Home, Women's Health, My Imperfect Life, OK! Online and Hairdressers Journal