Shows like 'Money Heist' to watch now that the Netflix hit is over
These shows like 'Money Heist' will fill the 'La Casa de Papel'-shaped hole in your life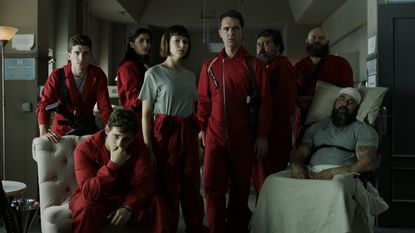 (Image credit: Netflix)
Sorry fans—Money Heist, also known as La Casa de Papel, is over. (Will there be a Money Heist season 6? We're here to clear up any confusion) Money Heist season 5 part 2 of the Netflix hit launched on Friday, December 3, and it was a fantastic ending to a much-loved franchise.
If you're wondering what to do to fill the crime-drama gap in your life, never fear, because My Imperfect Life is here and we have a bunch of captivating shows that are ready to stream and are bound to be as equally captivating.
Below, find a list of series full of twists, turns and criminal activity, all similar to the late, great Money Heist.
Shows like 'Money Heist': what to watch next
1. 'Killing Eve'
You may have already heard and devoured the hit BBC series Killing Eve, but we couldn't make a list of shows similar to Money Heist without including it. If you haven't heard of the show, it's quite similar to Money Heist in the sense that, like the Professor's crew, Killing Eve's main characters are hard to define as good and bad, and first impressions aren't always what they seem.
The show series, which was created by Phoebe Waller-Bridge, is a British spy thriller that centers around assassin Villanelle (Jodie Comer) and agent Eve Polastri (Sandra Oh), who are each trying to catch each other. While on this journey, they discover their secret circles may be more connected than they are comfortable with and this leads them to focus less on the initial missions and more on each other.
2. 'Sky Rojo'
If you're after another show created by Money Heist's Álex Pina, we recommend Sky Rojo, a Spanish action crime drama about three sex workers who are on the run from pimp Romeo and his henchmen Moisés and Christian. These women have no idea where they're going but have high hopes to find freedom and financial independence wherever they go.
3. 'Who Killed Sara?'
Who Killed Sara? or ¿Quién mató a Sara?, as it's known in Spanish, is a Mexican mystery thriller. The show is an international hit, as the answer to the title's question is anything but clear.
When the show starts, Alex (Manolo Cardono) is framed for his sister, Sara's, murder and has spent time in prison for the crime. When he gets out of prison, he seeks to find answers about what truly happened to his sister that day. With the third season in the works, it's safe to say that we still don't know who killed Sara.
4. 'Lupin'
Another show that is an international hit, this French Netflix heist series focuses around Assane Diop (Omar Sy), a skilled thief who learned the art of stealing from Maurice LeBlanc's Arsene Lupin, Gentleman Thief novels.
When we meet him, Assane is using his skills to exact revenge on the family responsible for his father's death. If your love for Money Heist is because of the actual heists, this would be the show for you!
5. 'Narcos'
Unlike Money Heist, Narcos is based on a true story. It tells the real-life story of how Colombian drug lord Pablo Escobar rose to power. The show's three seasons are packed with lies, ambition, betrayal, and, yes, drugs.
6. 'Peaky Blinders'
This British period crime drama has been a hit everywhere. It has both the operatic edge of Money Heist as well as the great relationships and lots of drama. The show, which was created by Steven Knight, tells the story of the notorious Shelby crime family, also known as the Peaky Blinders. This is the perfect series for lovers of period dramas and TV programs with lots of twists and turns.
7. 'Breaking Bad'
Breaking Bad is all about Walter White, a high school chemistry teacher who turns to cooking and selling meth, with the help of Aaron Paul's Jessie Pinkman, after he gets diagnosed with inoperable lung cancer. The show gets darker and darker as Walter dives deeper and deeper into the dangerous world of drug cartels, and you won't want to miss a single minute of it.
8. 'Prison Break'
If your favorite thing about Money Heist is the relationships, particularly between The Professor and Inspector Raquel Murillo, then we'd recommend you check out Prison Break.
There is a trace element between Inspector Mahone (William Fichtner) and Michael Scofield (Wentworth Miller), as the show tells the story of Lincoln Burrows (Dominic Purcell), an innocent man sent to death row while his brother, Michael, tries to rescue him by getting himself sent to the same prison. It definitely has that Money Heist element of people trying desperately to get into places they don't belong and it gives us five fantastic seasons of it.
9. 'White Lines'
White Lines is another great show created by Álex Pina. The show takes place in the hot clubs of Ibiza, with a timeline alternating between the 1990s and present-day when Zoe Walker (Laura Haddock) returns to the site of her brother's disappearance and tries to find out what happened.
Zoe gets dumped into a world full of murder, wild sex parties, and deals gone wrong. If you're looking for a show with a strong mystery element, steamy romances and fast-paced drama, this is the one for you. The only downside is it was canceled after one season.
Liv is a freelance journalist currently studying English at university. She loves covering everything from entertainment and politics to lifestyle and travel. As well as writing for My Imperfect Life, Liv has bylines in The Times, HuffPost, Den of Geek, Bustle The Metro and The Bookseller.