Will there be a 'Money Heist' season 6? We're here to clear up any confusion
Want more 'Money Heist?' This season 6 news might have fans wondering when they'll see those final episodes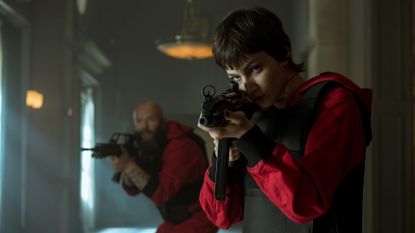 (Image credit: Tamara Arranz Ramos/Netflix)
Will there be a Money Heist season 6? Now that The Professor and his codenamed gang have captured the world's attention—all while attempting to score a large chunk of change from the Royal Mint and the Bank of Spain—we are curious what's next. Is there more to come from the action-packed thriller?
It's hard to believe that the Spanish-language hit, originally named La Casa de Papel, flopped in 2017 when it premiered in Spain. Fast-forward five seasons and now we're not ready to part ways with the twists and turns. Here's everything need to know about a potential Money Heist season 6 and those new episodes that just hit Netflix.
*Warning: There are spoilers ahead!*
---
---
Will there be a Money Heist season 6?
No, unfortunately, all good things must come to an end and that means that Money Heist is wrapping up after five seasons.
But there's still good news: there is a second half to season five that just dropped on the streaming platform on Friday, December 3, and creator Álex Pina rewrote the ending a total of 33 times so that it's the absolute perfect resolution.
"The anguish and anxiety of the viewer are also going to be at the limit in this last season. And this also allows us to blow everything up into big pieces," Pina told Esquire.
Even better news? We might not be treated to season 6, but a Money Heist spinoff is in the works. Yay to more heists for us to enjoy!
When is the Money Heist season 5 part 2 release date?
Money Heist season 5 part 1 has been available for streaming as of September 4, 2021, but the nonstop action of the first five episodes has us ready to devour more. Thankfully, the season's final five episodes are available on the streaming platform as of December 3.
Netflix announced the show's schedule in May 2021 with a tweet. Fortunately, it also gave anxious fans a look at the teaser for part 1!
La Casa de Papel / Money Heist is finally coming back!Part 5: Volume 1 premieres September 3 Part 5: Volume 2 premieres December 3 pic.twitter.com/kHQfVhw84FMay 24, 2021
See more

We're not terribly anxious to wait three months either for the final episodes of the series, but we have a feeling that it'll all be worthwhile in the end as the Professor's crew and the Spanish army go head-to-head.
How many episodes in Money Heist season 5?
Money Heist season 5 part 2 will also consist of five episodes, meaning that the show's fifth season will have a total of ten episodes. This makes season 5 the longest season Netflix has produced of the show so far.
Money Heist cast season 5: Who's who?
BIG SPOILER ALERT! PROCEED WITH CAUTION!
Since the shocking death of fan-favorite Tokyo in season 5 part 1 as she sacrificed her life for the team, we can expect that Tokyo's role will be significantly less in part 2 but that hasn't stopped fans speculating that she still might appear in the crime show's final season.
Money Heist uses flashbacks and so there's every chance that Úrsula Corberó, who plays Tokyo, may come back to add more to her story through flashbacks as other ex-characters have done.
However, Tokyo's death leaves a big question to be answered, as she was our narrator for the Spanish crime show. So will she still narrate from beyond the grave or will we get a new narrator?
Other central characters will return such as The Professor (Álvaro Morte), who at the end of part 1 is in an alliance with disgraced police inspector Alicia Sierra (Najwa Nimri), and it is yet to be determined whether the alliance will continue or if Alicia will turn him over to the police.
Some could say The Professor isn't the only one who is in a sticky situation when the show returns as other returning characters such as Rio (Miguel Herrán), Denver (Jaime Lorente), Stockholm (Esther Acebo) and Helsinki (Darko Peric) are currently trapped in the Bank of Spain. Let's also not forget Helsinki is badly wounded as his legs were crushed in an explosion. Talk about a hard time!
Newcomer Rafael, Manila (Belén Cuesta), Rodrigo de la Serna (Palermo) and Bogotá (Hovik Keuchkerian) will probably also make a return in the second half of season five.
Is there a trailer for Money Heist season 5 part 2?
Before you kickstart your final Money Heist binge watch, get a sneak peek at the grand finale with this official trailer.
Liv is a freelance journalist currently studying English at university. She loves covering everything from entertainment and politics to lifestyle and travel. As well as writing for My Imperfect Life, Liv has bylines in The Times, HuffPost, Den of Geek, Bustle The Metro and The Bookseller.